Wordle, owned by the New York Times, has been all over the internet for the past year. Many variants of the puzzle game have come up online to capitalize on the growing craze for Wordle, such as Duordle, Quordle, Crossword, etc. Recently, Wordle players have loved Sedecordle- a Wordle spinoff that challenges your word-guessing skills with multiple words to guess in a single set. Let's know how to play Sedecordle.
What is Sedecordle?
Sedecordle lets you solve 16 mysterious 5-letter words. These words are hidden in the screen's grid. So, every letter you guess will apply to all words and help you guess all the words accordingly.
So, if you are trying to solve one word and apply your mind to it, you might end up unlocking the clues to the other 15 words. You get a total of 21 tries to guess all 16 words. Some letters will be greyed out as the game progresses because these letters are incorrect. So, you will be restricted from using these words again.
What makes it different from Wordle?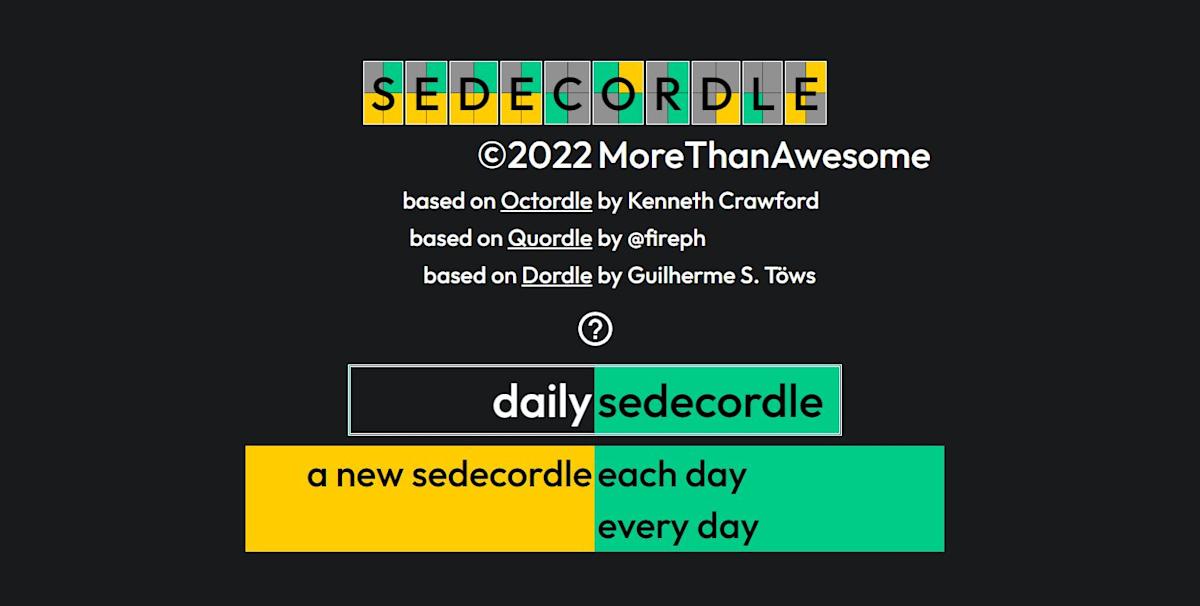 The basic difference between Wordle and Sedecordle is the number of words you have to guess and the number of tries you get to crack them.
However, Sedecordle also gives you the Free mode, in which you can access unlimited puzzles and play as much as you want. On the other hand, Wordle doesn't allow you to replay previous games or try more puzzles.
Once you decide on a 5-word puzzle for the day, you cannot find more puzzles to solve. So, if you love solving puzzles and want to challenge your word-guessing skills, then Sedecordle is the game to play.
Where to play Sedecordle?
This is the best part. You don't have to download an app from the Playstore/ Appstore. Simply check their official website- Sedecordle.com. The website works on both desktops and mobile phones. So, you can also pick the device of your choice.
How to play Sedecordle?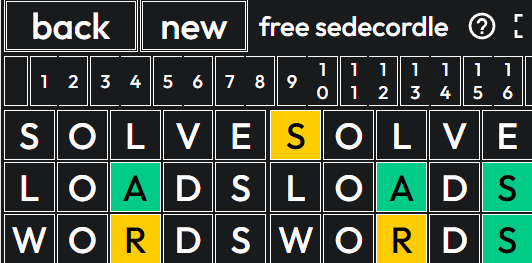 It is pretty simple, actually like any other Wordle game.
Once you open Sedecordle in your browser, two options will prop up: Daily Sedecordle and Free Sedecordle. You can choose Daily Sedecordle if you want to play the daily puzzle with sixteen 5-letter words. But if unlimited puzzles and some practice with the words are what you need, then you should choose Free Sedecordle.
Rules of the game
Sixteen 5-letter words to guess per challenge.

21 tries per challenge.

Correctly guessed letters will turn green.

Letters that are correctly guessed but are placed in the wrong positions will turn yellow.

Incorrectly guessed letters will turn grey.

Non-acceptable words will turn red.
How to master the art of playing Sedecordle?
There are puzzle numbers on the top of the screen. Each number is for a mysterious word that you have to guess. When you solve the corresponding word puzzle, the number will turn green. You can jump to different puzzles by clicking on the corresponding number.
Use vowels at the start. Most of the words in the English language use at least one vowel. Some words use even two to three vowels, and once you guess a few letters, cracking the word might become a cakewalk.
You have only 21 tries. So, keep checking the yellow and green words. Try to piece the different letters together and think of the possible words that can be formed to crack the correct words.
Fixing the bugs while playing Sedecordle
Like all other games, Sedecordle also has glitches and bugs. If you are unable to play the game properly, it may be due to some fault on your end, and you can resolve it successfully with a few tips-
Check your internet connection:
This is the issue that is usually at the root of all problems. We recommend that you check your internet connection. 9 out of 10 times, it is a weak internet connection that is not letting you play the game.
Use another network:
Your ISP may have blocked the website. But that shouldn't be a cause for worry. You can switch your WiFi connection or connect to your mobile data, and you are good to go.
Check your firewall:
If you have an automatic firewall manager activated on your browser, it may be blocking Sedecordle. We advise you to disable it so that you can get down to solving some challenging puzzles.
Clear cache to play Sedecordle:
Clearing the browser cache for Sedecordle.com will help you get over leftover data that may hinder your game access.
Disable VPN:
VPN is a great tool on your device and helps you access websites anonymously. However, it may set a region that blocks Sedecordle.com and prevents you from playing your favorite game. So, try deactivating your VPN; maybe you can access the game again.
Sit back and relax:
Okay, you have tried everything, but the game doesn't work. Well, don't worry. Perhaps, everything is fine on your end, but the website is not working properly. So, you have to wait a few hours and try again to see if it has started working.
Conclusion
If you love Wordle puzzles, then Sedecordle is the game to play. But it isn't for the faint-hearted. It is the most challenging game that you will get when it comes to word puzzles. So, if you love challenging puzzles and want to solve many of them in one go, Sedecordle is what you should play.
So, that's all for today. If you have any queries on playing Sedecordle, feel free to comment below. For more updates, follow GetDroidTips!