WhatsApp Web is a client for on-the-go users to send and receive messages. However, with WhatsApp Web, you can send and receive messages over the internet via a desktop or tablet. Meanwhile, the most interesting part is it allows you to use the same account on both devices.
Through WhatsApp Web, one can easily send and receive messages instantly as you would on your smartphone. Also, you can see all of your WhatsApp messages on both devices as all of the messages are synced across. Moreover, on your mobile phone will be able to access any message you send via WhatsApp Web.
But unfortunately, for some users, the WhatsApp Web is not syncing after the recent Chrome browser update. That's why here in this guide, we have tried to resolve the WhatsApp Web not syncing error. So, make sure to follow this article all the way until the end.
How To Fix WhatsApp Web Not Syncing
You may be facing this issue for a number of reasons, but here we have explained everything you require to know about fixing the problem. Therefore, make sure to follow them carefully and check if these fixes help you.
Fix 1: Rerun The Browser
Restarting your browser will remove the software's current state. Any code that is stuck in a bad state will be wiped away as well. However, if just after restarting your browser the issue doesn't get fixed, you must restart the device so that it works just as well as it did before.
So, we advise you to restart your browser and check if the not syncing issue gets resolved or not. However, if needed, then reboot your system too.
Fix 2: Check If WhatsApp Works on Your Phone
WhatsApp, as of now, has a multi-device beta program that allows users to get early access to new versions of WhatsApp for Web, Desktop, and Portal. In addition, it enables WhatsApp users to use linked companion devices without having to keep their phones connected at all times.
WhatsApp Web enables you to access WhatsApp from your desktop. It does, however, still necessitate a mobile phone to scan the QR code for authentication and tends to work only when the mobile phone is connected to a network.
So, you need to make sure that your phone is connected to the internet before trying to access the WhatsApp Web. However, if your smartphone is connected to the internet, you must wait until the connecting process gets completed, and you will see that the WhatsApp Web gets synced properly.
Fix 3: Verify Browser Compatibility
You need to check if your browser is compatible with the WhatsApp Web or not. Although almost every browser supports WhatsApp Web such as Microsoft Edge, Chrome, Firefox, Opera, or Safari. But, if you have Internet Explorer, then sadly, but Facebook has already stopped the WhatsApp Web support because of security reasons.
This is because Internet Explorer has no patches or security updates, due to which your PC becomes vulnerable to viruses and malware. So, you have to make sure to check whether the version of the browser that you are using supports the WhatsApp Web.
Fix 4: Reload The Page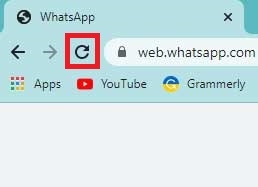 It is possible that the Chrome browser is experiencing difficulties in loading if you get the "not syncing" error or another error code instead of opening WhatsApp.
However, there are chances that you may also notice that the page loads slowly or does not open at all. Therefore, in that case, you must hit the reload button located at the top-left corner of the screen.
Fix 5: Use The Incognito Tab

If you are still frustrated with the issue, we advise you to use the Incognito or private mode to keep your browsing data private. However, it will also keep your online presence private from your ISP, colleagues, etc.
Moreover, you know what, generally, your ISP has all the access to your browsing activities, but they will not be able to access them using the Incognito mode.
However, many users reported that WhatsApp again starts syncing once they start opening their WhatsApp Web using the incognito mode. Therefore, you must also try this out and check if private browsing is the option that helps you.
Fix 6: Remove The Cache And Cookies
It is also possible that there's some cache data that is stored on your browser may get damaged or corrupted. Therefore, removing them will be the right choice for you. So, let's see how to remove the cache and cookies on your Chrome browser:
First of all, tap on the

Three-dot

button and click on Settings.

After that, select

Privacy And Security

from the left of the screen.

Then, hit the

Clear Browsing Data

button.

Now, checkmark the box beside the

Cookies and Other Site Data

. Then, hit the

Clear Data

button.
Fix 7: Turn Off The VPN
So, are you using any VPN on your PC? If so, we suggest you turn off the VPN while opening the WhatsApp Web. However, many users are there who reported that once they have disabled the VPN on their PC and opened the WhatsApp Web, it again started syncing. Therefore, you should also try disabling it and let us know if it helps.
Fix 8: Check Your Internet Connection
A good internet connection is very important to access the WhatsApp Web on your PC. Therefore, you just have to make sure that you have a good and stable internet connection. So, if it is not syncing on your Chrome browser, then we advise you to hover over to the Ookla Speed tester website and check out your connection speed.
After that, if it won't give you proper speed, then power cycle your router and check the speed again. Then, again open the WhatsApp Web and check if the issue gets resolved or not.
Fix 9: Scan The QR Code Properly
There are also possibilities that you may not have scanned your QR code properly. So, we advise you to again scan the QR code properly. Then, wait until the syncing process gets completed. This time you will see that you can successfully able to access the WhatsApp Web on your browser.
From Author's Desk
So, that's how you can fix the WhatsApp Web not syncing error. We hope that this guide has helped you. Meanwhile, comment below if you have any other questions related to the same topic.