World of Warcraft, known as WoW is a popular-looking game of the era. Even tho the game has been out there in public for many years, normal issues like game freezing or memory issues with the game are common. Even though you have a good gaming PC, you will occasionally see World of Warcraft Not Enough Memory error on the screen. It is not mandatorily the fault from the developer's end, but the game is not much optimized to run on low-end computers. Especially if you have 8GB RAM, you will frequently see such errors, which ruins the gameplay.
Games like World of Warcraft are very high graphic-intensive games and might need additional RAM slots to run the game properly. Most gaming users have 16GB of RAM in their PC and still face not enough memory issues. So how much RAM or memory the game needs to run properly. The right answer would be 4-8GB of RAM is enough to play the game. Although if you face memory issues, then here are some troubleshooting tips to fix the problem.
Fix: World of Warcraft (WoW) Not Enough Memory Issue
IN general, games like World of Warcraft require users to keep 8GB of RAM in the PC for smooth gameplay. But in spite of this requirement, the game runs fine even with 4GB of RAM. In order to remove the memory issues, you need to optimize the game settings, and here are some tips to do that.
Check Minimum Requirements
The possible reason behind the error message might be due to poor configuration of the game. War of Warcraft is a very heavy and graphic intensive game. So make sure your computer follows the minimum requirements to run the game.
Windows 64 bit system version with 2.0 GHz CPU power.
World of Warcraft requires 4GB of RAM with an additional graphics card for the lowest possible settings.
In case you have an integrated GPU along with your processor, then 8 GB of ram is needed to match the requirements.
Restart the Computer
When you run multiple apps on your PC, the RAM may get clogged up with unsaved work. If you run the game on top of unsaved memory, then you are bound to see some memory-related issues. So save all the pending work and restart your PC. If this doesn't fix the issue, follow the below troubleshooting steps.
Disable Background Applications
Background applications, especially firewall and antivirus apps, take a lot of CPU resources. WoW is a heavy game and needs full access to your computer CPU power. So make sure you disable or close any background applications that are running.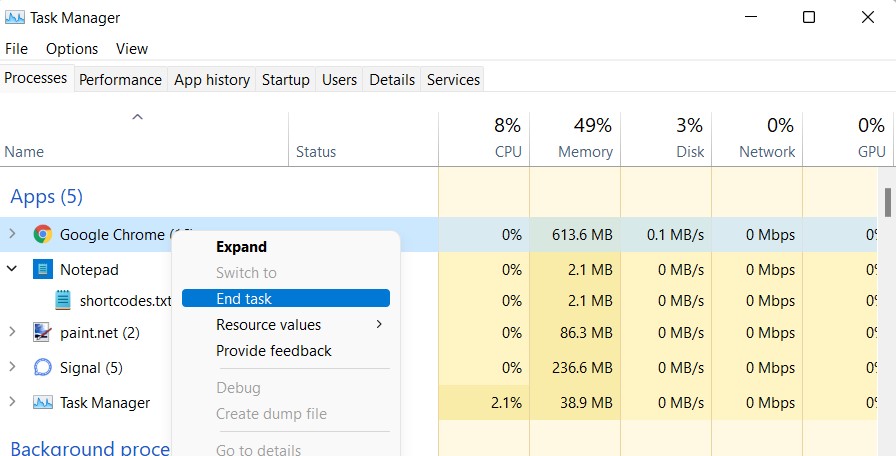 In order to disable background applications, open task manager and end all the apps which are running but not required.
The main applications that you have to watch out for are applications such as VPNs, Proxies, Antivirus apps, and more of the sort. These are usually running all the time, and they can cause memory problems playing World of Warcraft.
Reduce Game Settings
When you run the game in full graphic settings, you need at least 16GB of RAM and minimum 3GHz CPU power to run the game. But you can change these settings according to your PC capacity. If you see the World of Warcraft Not Enough Memory Issue frequently, then you can reduce the game settings.
Go to settings. Open graphics settings.
Set display mode to your screen size.
Remove anti-aliasing and vertical sync.

Set the resolution level to a maximum of 90%
After reconfiguring the game, save the settings and restart the game. Hopefully, the issue will not bug you again.
Install 64-bit Operating System
Games like WoW are designed primarily to keep 64bit architecture in mind. 64 Bit OS architecture can take advantage of large memory chunks in the RAM memory and also make the loading of files much faster. If you are using the 32Bit version of Windows, then we recommend you upgrade to 64Bit. You may get in touch with your computer technician to install a fresh version of 64Bit Windows.
Conclusion
It is quite understandable if you have a low-end PC. But World of Warcraft still can be run on your Desktop with ease if you follow the troubleshooting tips above. If the game is still facing issues, I recommend you to get your PC checked and remove any unnecessary programs that might be consuming CPU power and RAM.