In this tutorial, we will list out the detailed instructions to use the Xbox Game Bar on Windows 10. There are tons of useful features baked into Windows 10. However, the Xbox Game Bar is perhaps the most underrated one, especially in the gaming domain. For the uninitiated, this feature allows you to record your gameplay, broadcast it, take screenshots, and a bunch of other features that give a new dimension to your gaming experience.
Apart from that, it also holds a pretty nifty function that allows you to play and chat with your friends simultaneously. This is perhaps the most interesting and among the most used feature. However, if you are new to Xbox Game Bar on your Windows 10 PC, then you might initially face a hurdle or two. But once you get hold of these features, then you will find it pretty easy from next time onwards. Therefore, in this guide, we will make sure that you get hold of every feature of this game bar and also get to know the steps to launch and subsequently use it.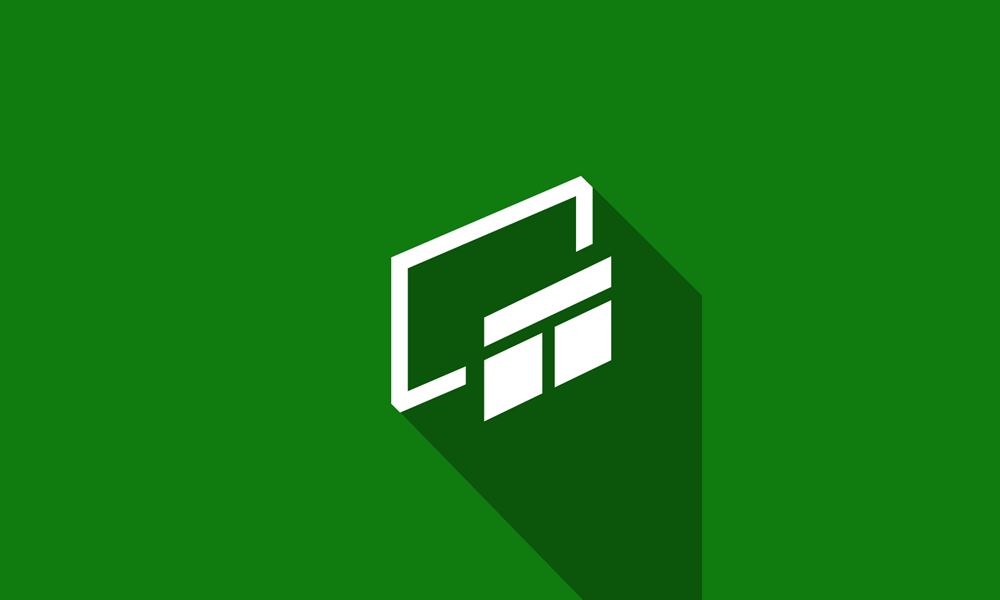 How to Use Xbox Game Bar to Play and Chat with Friends on Windows 10
First things first. If you wish to use the Xbox social features, then you will require a Microsft account. So if you haven't created one already, do so right away. Then open the Game Bar using the Windows+G shortcut key combinations. Click on Settings and head over to the Accounts section. Choose the Sign-in option and proceed with the on-screen instructions that follow. Once you have successfully logged in to the Xbox Game bar on Windows 10 using your Microsoft Account, here are some of the Xbox Social features to check out.
Friends List in Xbox Game Bar
This section contains a list of all your Xbox friends and what they are currently up to. Furthermore, you could also chat and interact with them or create a party chat as well (i.e. a group chat). Along with that, you could invite your friends to join your game, could send them the invitation to join yours, and even search for new people to follow. To do so, use the Windows+G shortcut keys to open the Game Bar.
Head over to the Widget menu and select Xbox Social.

Finally, choose the Friends tab to check out your friend's list or select the Chats tab to begin a new conversation.
You could also double-click your friend's Gamertag to start a chat as well. For more advanced options like joining party chat, viewing their profile, and inviting them to your game, you will have to right-click on their tag and select the desired option.

To find a new member/friend, head over to the Search bar and enter that person's Gamertag. Now from the search results, choose the one that best matches your query and double-click on it to start the conversation or right-click for more advanced features, that have already been mentioned.
On the other hand, if you wish to start a new chat, head over to the option by the same name, choose your friends, and hit Done.

Conversations in Xbox Game Bar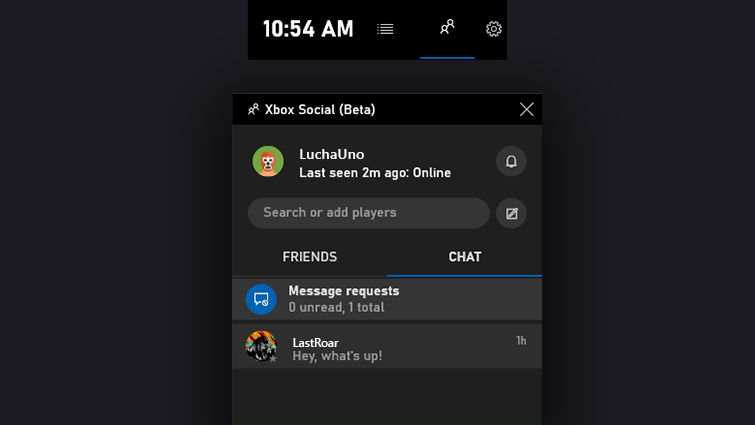 Conversations are a great addition to the Xbox Game Bar that allows for a one to one chat or a group conversation. When you begin a conversation with any of your friends or a group chat, they could be accessed anytime from the Chats section. You could also double-click on any chat to resume the talk or could use the right mouse button to try out some advanced functionalities like clearing chat history, muting the conversation among others. Likewise, if you wish to create a new party or group chat, first of all, open the chat section and click on the Invite to Party next to the username of the person who you are inviting.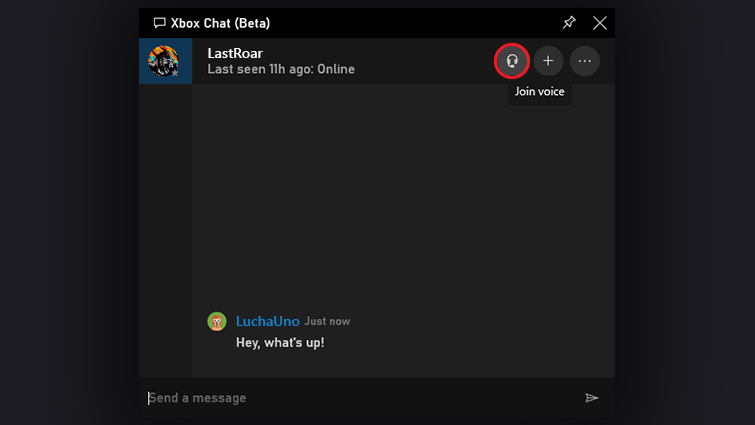 The Looking For Group (LFG) Feature
It is not always that your taste in the game necessarily matches that of your friends. Sometimes, you wish to play a multiplayer game but none of your friends might be interested in that genre. This is where the Looking For Group feature will come in handy. Using this, you could browse tons of posts created by the Xbox community and take part in those that match your needs.
Likewise, you could also create a new post and appeal to the users to show their interests in the game that you wish to play in multiplayer mode. When you get a handful of users sharing your thought, gather them, create a group, and hop on to the gaming zone. Here are the complete instructions for each of the above-mentioned things.
How to Open Looking For Group (LFG)
To open an LFG, hit the Windows+G shortcut key combination to open Xbox Game Bar on your Windows 10 PC.
Now select the Widgets menu and choose the Looking for Group option.
To Respond to Post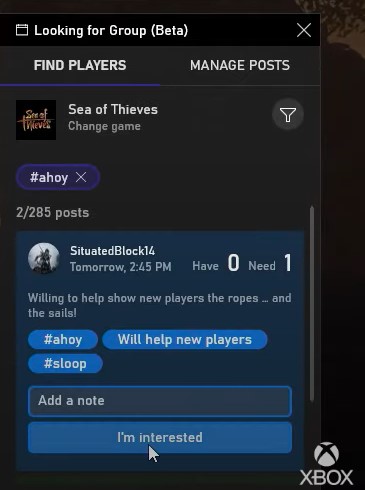 If you wish to respond to a new post or browse through created posts, select the Find Players tab from the Game Bar.
Then choose a game of your choice and the post that belongs to that game. You may also use the Filter to further trim-down your search to your likings.
As and when you find a post that appeals to you, hit the I'm Interested option.
Create a New Post
If you wish to create a new post, head over to the Find players section, and select the Create a post option.
You will now have to add the description to your post, which will make other community members easy to understand what the post is all about. Make sure to mention the number of players needed for your online game.
Apart from that, tags are also a useful addition to your posts. Likewise, consider adding the date and start time of your game as well if you need to schedule the game or use the Now option to start the game at that instance itself.
You could further manage all your posts, created as well as responded to, in the Manage posts section.
Conclusion
With this, we conclude the guide on how to use the Xbox Game Bar feature on Windows 10. We outlined all the necessary pieces of information needed to make new friends, carry out single and group conversations, creating a new post, etc. Do let us know if you are having trouble with any of the above-mentioned tips. Before rounding off, here are some iPhone Tips and Tricks, PC tips and tricks, and Android Tips and Trick that you should check out as well.