Xbox One is a state of art gaming console designed by Microsoft Inc. The first Xbox was released around 2001. After that, the second generation came to be known as the Xbox 360, which was the most selling video game console of that time. Microsoft sold more than 84 million units of Xbox 360, that was the biggest hit of that time, and after that, there was no looking back.
The world of console gaming was rising as well as changing, so Microsoft always had to do something new in order to keep up with the competition. So with the introduction of the Xbox one, everything changed. The Xbox One had everything anyone would require for his gaming needs. It has the ability to run all games in ultra high quality as well as 4K. The Xbox One is a staggering model of console. But with all the pops and whistles, something terrible has to come. And that was the Green Screen of Death. Xbox One has to deal with this Green Screen of Death most of the time with the addition of new games. So if you are here, it means that you have run into the same problem. But don't panic. We have all the fixes ready for you. So let's get started.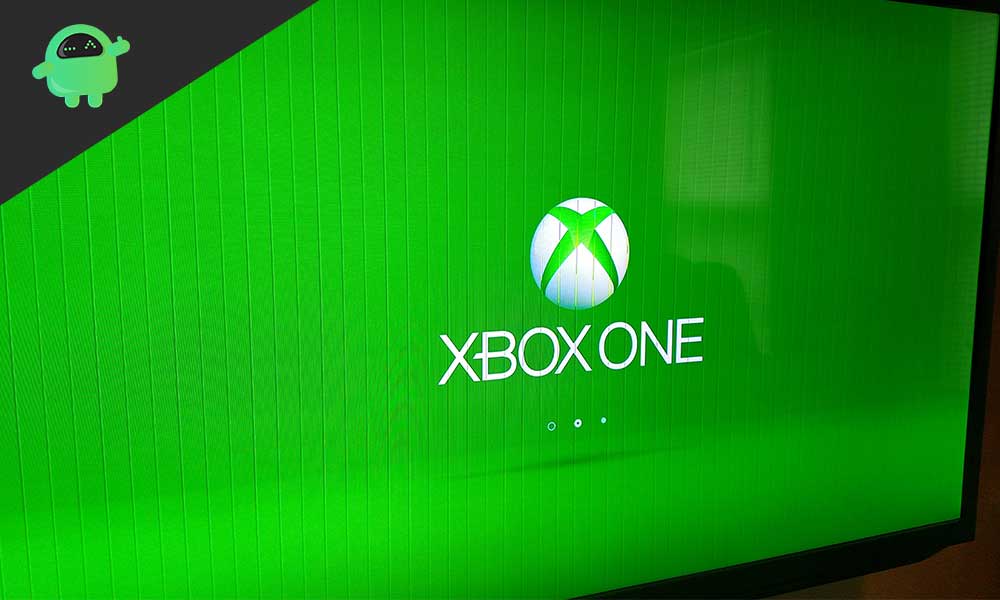 What Causes the Green Screen of Death on Xbox One?
The Green Screen of Death is not a small issue to handle. It has many other problems, along with ruining your gaming experience. All the downloaded games and updates will get deleted if proper care is not taken. You may also end up with a bricked console. So first understand what causes the Green Screen of Death. The leading causes of GSoD are mentioned below:
There is a random system update failure
Your Hard Drive in the console is corrupted
Xbox One and Windows Server are not able to interact
There has been a power failure during an update
So now you know what can cause the Green Screen of Death. So why waiting, let's get to the fixes as fast as possible.
How to Fix Xbox One Stuck on Green Screen of Death?
Now, we have some solutions and fixes that will help you come out of the Green Screen of Death and probably save your console from such vulnerability. Also, you won't have to lose any games during the following of these steps.
Fix 1: Hard Reset your Xbox One
This is the easiest way to recover your Xbox One from the Green Screen of Death. It will force restart the device and will solve all the problems that you're experiencing. Follow the steps below to hard reset.
When your device is on the Green Screen of Death, Press and holds the power key for 10 seconds.
Let the system reboot to normal
When the system reboots, you won't see the Green Screen again. But if your issue is not fixed, move on to the next Fix.
Fix 2: Update your Xbox One
If the firmware of your Xbox One is outdated, it may give the Green Screen error. To tackle this, follow the below steps.
Go to the Xbox Support website.
Click on the game you want to play in your Xbox One
Click on "System" Tab and Select "Update."
Now click on "How to use the Offline System Update Diagnostic Tool."
After that, download the OSUDT2 in your Flash Drive
Proceed to install the Xbox One update
Now play the game you want. We are sure you won't be troubled by the Green Screen of Death anymore. But still, somehow you face the problem, we have got more for you.
Fix 3: Restore Factory Default
As we all know, Restoring the Factory Default file cures and fixes everything wrong on a device. The same thing applies here too. If you're ready for a Factory Update, head on to the steps below.
Press the Eject+Accesory Paring button+Power button together. Your Xbox One will start internal repairing
Wait for some time; then, a message will pop up "Apply Update," insert your Flash Drive that has the OSUDT2 from the previous Fix.
Now the factory default update will get installed. If it has issues while installing, don't panic.
Download the Factory Reset Default File in your Flash drive and connect
Now it will ask to Keep the Games installed or not? Click on yes
After performing each and every step carefully, we are sure you won't run into the Green Screen of Death again. But wait, we still have a Bonus Fix as always.
Fix 4: Factory Reset Xbox One
If, by chance, any of the above methods didn't work right with you, this bonus fix will do the trick. To perform a Factory Reset of your Xbox One, follow the steps below and you will be fine.
Press and hold Eject+Sync+Power buttons together
Now you will see four options: Restart, Update off of Flash Drive, Factory Reset, and Power off.
Click on Factory Reset
Again it will ask you to keep the games installed or not. It's your choice.
Wait some time for your Xbox Box one to reset.
Your Xbox One will reboot to normal
Now you will surely not see the Green Screen of Death Again. Enjoy Gaming
Conclusion
This was a troubleshooting guide to help out folks with the Green Screen of Death error on their Xbox One gaming console. If you have followed each and every step discussed, we are sure that you won't face the Green Screen issue again.
I hope this troubleshooting guide will help you with your Xbox One device. If you have any queries or feedback, please leave a comment down below with your name and email. We will then surely get back to you. Before rounding off, do check out our detailed iPhone Tips and Tricks, PC tips and tricks, Games Tips and Tricks, and Android Tips and Tricks as well.