Where phones are getting more security in terms of durability for the screen, there is a special segment that protects them from water damage. Xiaomi Poco M3 is the latest smartphone from the company, but Xiaomi does not have a good record of launching waterproof and dustproof smartphones. So are the new Xiaomi Poco M3 waterproof and dustproof smartphones? Let's find out in our waterproof test.
When it comes to the budget segment, Xiaomi is always coming up with a bang and grasp the mid-range market. Poco M3 looks to be impressive and one of the best entry-level mobiles of 2020. All of these features are nice but for security from after damage, it's important for Poco M3 to have waterproof and dustproof protection.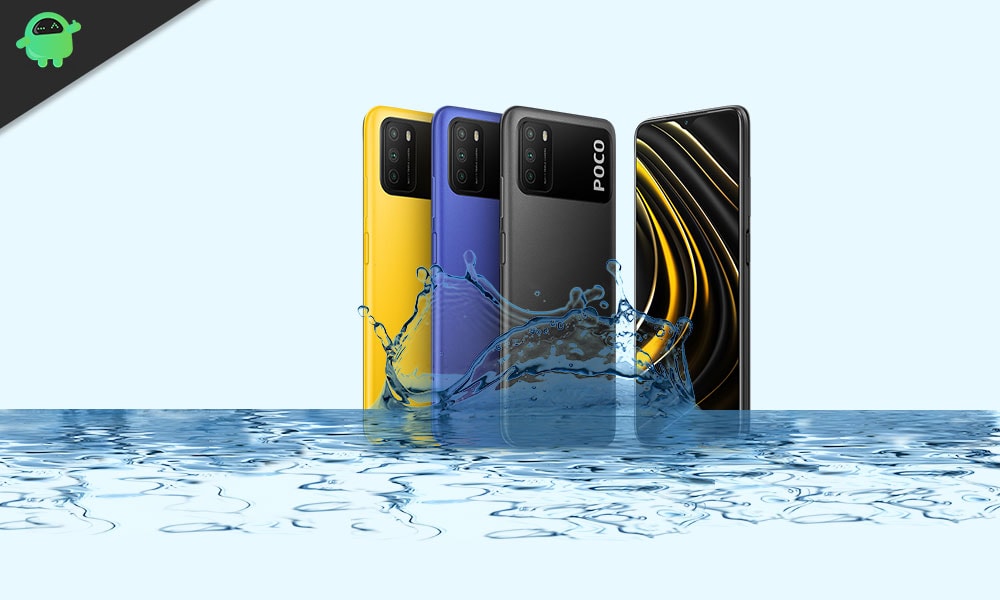 Is Xiaomi Poco M3 Waterproof and Dustproof Specs?
According to some unofficial news sources, Xiaomi Poco M3 is dustproof and water-repellent. The device is shielded with additional seals to prevent crashes caused by dust, raindrops, and a few water splashes. But till now, Xiaomi didn't make any positive statement that whether the device is Waterproof and dustproof or not. As per the official company's claim, the device won't have any IP rating, thus Poco M3 features no IP rating.
Although, we intended to do several tests to make sure about the sources news. We tested it in three parts such as:
Splash Proof test
Waterproof test
Dustproof test
Xiaomi Poco M3 Quick Specs
Poco M3 is a successor of the hit Poco M2 Pro, which was well supported by the market this year. It highlights the most glorified triple rear camera with a 48 Mp main camera that seems to cope well with the trickier condition, 2 MP Macro lens, 2 MP depth sensor.
For front-facing selfies, this time, Xiaomi gives an 8M selfie shooter. An IPS LCD full HD+ display (2340×1080 pixels) of 6.53-inch. Poco M3 comes in two versions, one with 4GB Ram and 64GB storage priced at 149$ and the other renders 4GB of Ram and 128GB of storage priced at 169$.
Xiaomi also listed some additional features for the phone, which are apparently found in other mid-range also, such as 400 nits of display brightness, support for an IR blaster, and Corning Gorilla Glass. Reflecting on the problem of smartphones expelling heat during games or other heavy apps, Xiaomi has executed a feature—LiquidCool, a technology that prevents the device's heat even when operating high-end games.
It renders a massive battery of 6000mAh, handles everyday use and fast charging, ships with an 18W charger that takes care of rapid charging— 50% charge in 40 minutes. If you're not bothered about NFC, then definitely you should go for it.
Poco M3 Splash Proof Test
In the splash-proof test, a device is detected to false splashes to test its resistance to water splashes and whether it can confront the real situation. After testing the Poco M3, It was operating normally.
| | |
| --- | --- |
| USB Interface, Ports, Headphone jack | Working |
| Camera | Working |
| Screen | Perfectly working |
Poco M3 Waterproof Test
In this test, we tried to merge the phone, running the water over it for more than one minute. This is surely confirmed, If the Poco M3 is waterproof. We noted down the results after cleaning the device.
| | |
| --- | --- |
| Camera | Damaged |
| Speaker | Damaged |
| Touchscreen | Flickering |
| Power and Volume Button | Only Volume Button Working |
| Charging Port | Damaged |
| Earpiece and Mic | Works Partially |
| I/O Ports | Damaged |
| Water Went Inside | Yes |
Poco M3 DustProof Test
It is complicated to say that whether the Poco M3 is dustproof or not cause it doesn't come with any official IP rating. So we conduct a test to make sure about the dust resistance of this device.
The result is an exceptional cause in our dustproof test its camera won't affect at all but talking about the screen, the IPS LCD panel of Poco M3 won't withstand the dust. Overall, if we say then, Poco M3 is not either Water resistance and dust resistance.
Xiaomi Poco M3 waterproof test results
As Xiaomi Poco M3 does not get an authentic IP rating is assuredly not waterproof or dustproof for that matter. Nevertheless, some company's value several waterproofing methods and ratings, but they can't attain with a smartphone which has an official IP rating.
| | |
| --- | --- |
| Splash Proof | Yes (not official) |
| Water Proof | No |
| USB Interface | Damaged After Washing |
| Water Went Inside | Yes |
| Cameras | Damaged After Washing, but Dust won't affect it either. |
| Screen | Flickering After Washing and Doesn't withstand against Dust |
| I/O Ports | Damaged After Washing |
| Speaker and Mic | Damaged After Washing |
Conclusion
This test is purely based on individual/team observation. This test will only give an idea whether a device is waterproof or not. So users are advised not to try this at home, as it might damage your device.
After operating the tests, we come to the result that Poco M3 is not waterproof. It is hardly a splash-proof phone. It was obvious because the phone does not attain an official IP rating. So users must take precise care of their device to bypass any reasonable water or liquid contamination.