Unless you don't have any other resort, you won't stream an entire movie or play a hardcore online game on mobile data. Thus, WiFi makes up for quite a huge chunk when using the internet. However, just like any other feature on any smartphone such as Xiaomi Redmi Note 8 2021, WiFi does fail. There are many impending issues from being unable to connect to the Wi-Fi or the Wi-Fi keeps disconnecting or no internet when connected to Wi-Fi and these are just a few of the issues users face.
But as always, every problem has a solution and we at GetDroidTips have a troubleshooting guide on fixing Redmi Note 8 2021 WiFi problems. And yes, you can use the same methods on other Android (and iOS) devices too.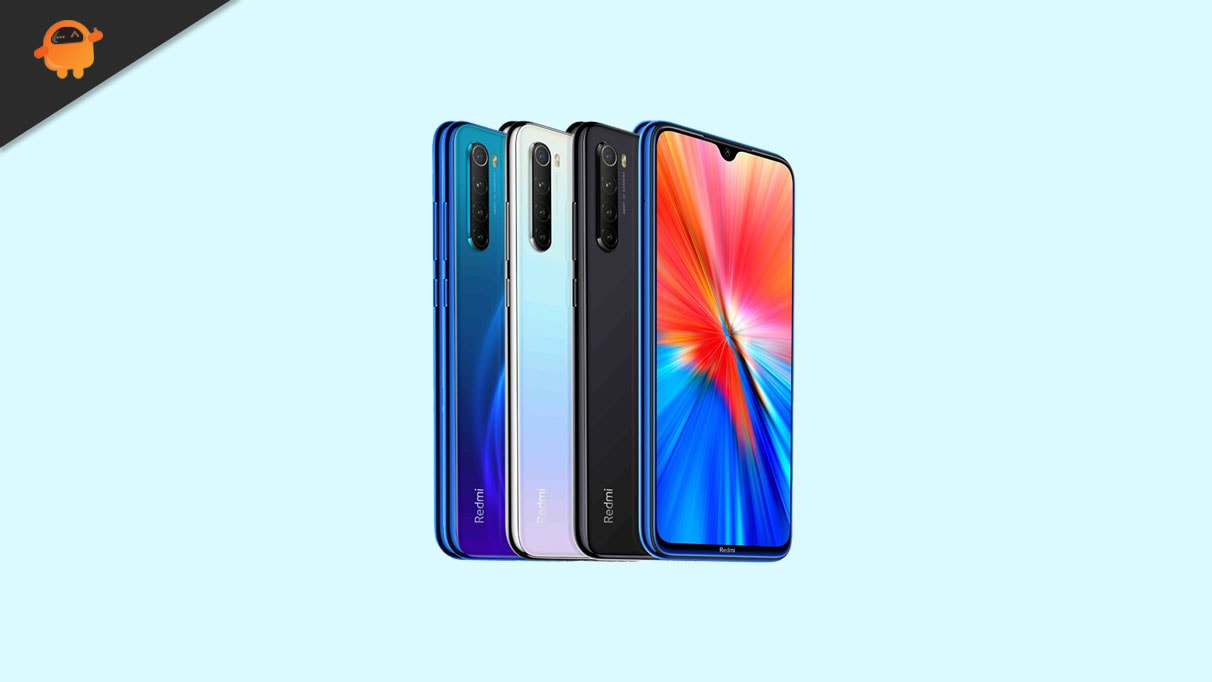 Redmi Note 8 2021 Device Overview:
The Redmi Note 8 2021 features a 6.3-inch IPS LCD panel with a resolution of 1080 x 2340 pixels and an aspect ratio of 19.5:9. It is a standard 60 Hz panel protected by Corning Gorilla Glass 5. Under the hood, we have the MediaTek Helio G85 processor built on a 12nm manufacturing process. It is an octa-core processor with two Cortex-A75 cores clocked at 2.0 GHz and six Cortex-A55 cores clocked at 1.8 GHz. For handling the graphics-intensive tasks, we have the Mali-G52 MC2.
In terms of optics, we have a quad-camera setup at the rear and a single camera setup at the front. The rear setup consists of a 48MP primary sensor paired with an f/1.8 lens, an 8MP ultrawide sensor paired with an f/2.2 lens, a 2MP macro sensor paired with an f/2.4 lens, and a 2MP depth sensor paired with an f/2.4. The single selfie sensor is a 13MP sensor paired with an f/2.0 lens. Both the front and rear camera setups are limited to 1080p video recording.
We get two storage options for this device: 4GB RAM + 64GB internal storage and 4GB RAM + 128GB internal storage. There is also a dedicated slot for storage expansion. In terms of communications, we get Wi-Fi 802.11 a/b/g/n/ac, Bluetooth 5.2, GPS, Infrared, FM radio and USB Type-C 2.0. And for sensors, we have a rear-mounted fingerprint sensor, accelerometer, gyro, proximity, and compass. Powering it all is a 4000 mAh cell that can be topped up quickly using an 18W fast charging adapter. The smartphone is available in three color options: Neptune Blue, Moonlight White, and Space Black.
How To Fix Redmi Note 8 2021 Wi-Fi Problem?
Here are the various troubleshooting methods you can use to fix the Wi-Fi problems with your Redmi Note 8 2021.
Start With The Basics
Assuming that you are facing trouble using Wi-Fi on your Redmi Note 8 2021 (or other Android smartphones), there are a few basics that you should take care of.
Firstly, check if you have switched on Wi-Fi or not. This might sound bizarre though but you could be trying to connect to the Wi-Fi without turning it on. Another possible basic issue here is you tapped on the Wi-Fi tile on the Notification Panel but the phone didn't register the stimuli.
In simple words, although you tapped on the Wi-Fi icon to enable it, it either didn't turn on due to non-registry on touch or it could be a minor glitch preventing you from enabling Wi-iF in the first instance. Simply tap on the Wi-Fi icon multiple times to subside these instances. On the router's front, check if you are connecting to the right router.
Turn Off Bluetooth
Somehow, Bluetooth causes various issues with Wi-Fi in case if you are using Wi-Fi over the 2.4GHz band. This is because both Wi-Fi and Bluetooth are using the same frequency, thereby Bluetooth does end up interfering with the former. There is a simple fix available and that is to simply fire up 5GHz frequency and this should fix the problem. Redmi Note 8 2021 supports both 2.4GHz and 5GHz bands, so do check if your router supports it too.
Check if you are connecting to the right band
Both your router and the phone should connect over to the same band to allow a seamless Wi-Fi experience. Check which bands your phone supports, in the case of the Redmi Note 8 2021, it supports both 2.4GHz and 5GHz both you need a router that supports both the bands in order to connect to whichever band you want. Some older devices support 2.4GHz which means their devices are not compatible with the 5GHz frequency band.
Reboot
Rebooting the smartphone is like a swiss army knife of fixing problems. Be it Wi-Fi not connecting issue or if Wi-Fi is working properly and so on, this method will surely work (in most cases). Take your smartphone, long-press the power button, and shut it down or restart it.
If the Wi-Fi router not working, disconnect the router from a power source and keep it idle for a few minutes, and power it ON. Check if the Wi-Fi problem is sorted or not. If not, proceed with this guide.
Toggle the Airplane Mode
Another effective method to fix impending Wi-Fi problems on Redmi Note 8 2021 is to toggle the airplane mode. Once enabled, all cellular and Wi-Fi connections are disconnected automatically albeit you can enable the latter during an airplane mode too.
Toggling ON the airplane mode will give your phone a quick refresh from any radio transmissions, possibly fixing any impending issues with the Wi-Fi. Disable it after a few seconds to check if this troubleshooting method worked in your favor or not.
Refresh Connections
Issues like "not able to connect to the WiFi network" or the "Wi-Fi connection problem" or "if Wi-Fi keeps dropping", and others, you can use this method to get it fixed.
Step 01: To pull it off, go to the Wi-Fi options either via tapping on the 'Wi-Fi icon via Notification Panel' or via 'Settings >> Wireless & Networks'.
Step 02: Tap on "Wi-Fi".
Step 03: Long press on the said network (for e.g. GetDroidTips Wi-Fi) and select "Forget".
Once you are done forgetting the said Wi-Fi network, wait for a few minutes and then reconnect by entering the right password.
Refresh Network Settings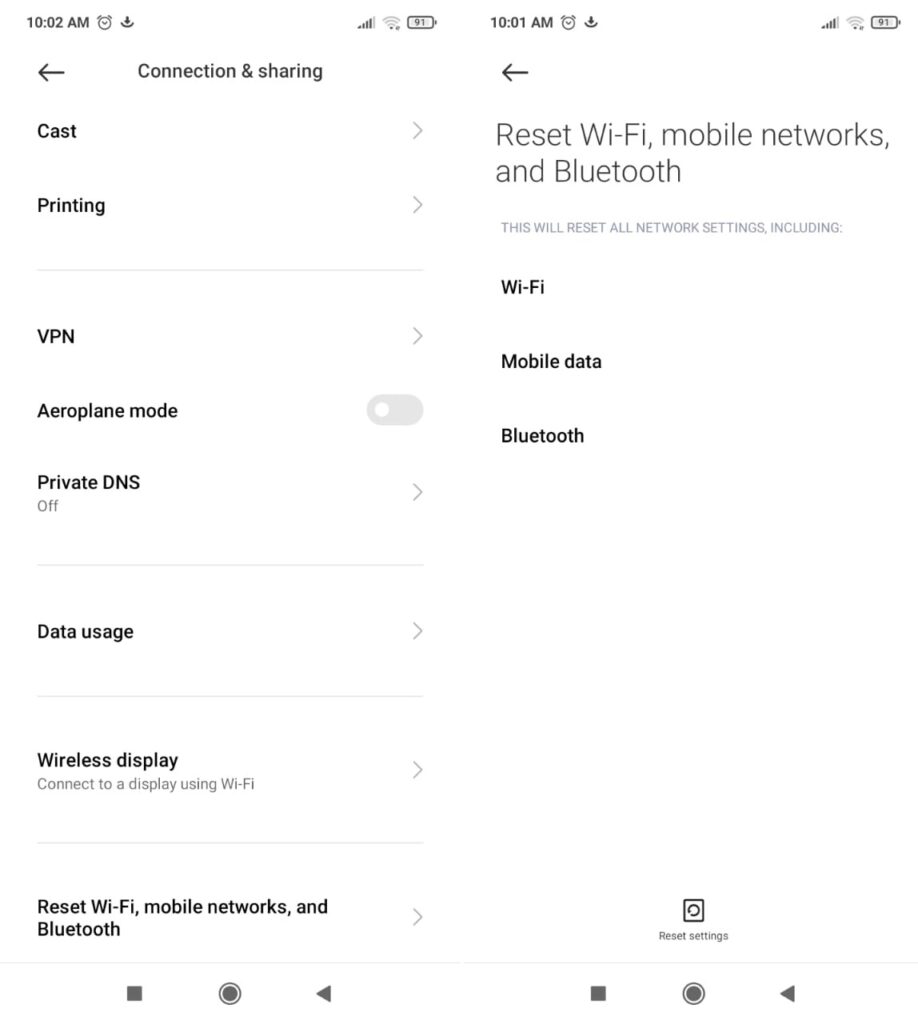 Many times, network settings can affect working on a connectivity feature and there are many reasons for that such as incorrect network configuration or some glitch that caused the settings to go haywire. Here's how to reset network settings on Redmi Note 8 2021.
Step 01: Tap and launch the 'Settings' app.
Step 02: Now, proceed to 'Connection & Sharing' and then, select 'Reset Wi-Fi, mobile networks, and Bluetooth'.
Step 03: Select 'Reset Settings' and it is done.
Connect a different device
One way to find out if it's your phone or if the router/ISP is to be blamed for Wi-Fi problems is to simply connect to another device. For this, you need a separate phone or tablet, connect it to the Wi-Fi network in talks and check if it works. Assuming that you place the phone in the same place you would usually use it to see if the distance between the two nodes was to be blamed or if your main smartphone is at fault.
Wi-Fi Keeps Disconnecting Issue
This is one of the common Wi-Fi problems reported by the Redmi Note 8 2021 users and pretty much any smartphone can end up with this issue.
One of the most common reasons is distance. Although you can connect to a said Wi-Fi network over a long distance (assuming you are still in range), the phone could end up losing a Wi-Fi connection at times. This is perhaps what's causing the Wi-Fi to disconnect intermittently. As it goes without saying, drawing closer to the router will do the trick and would help you get away with the issue. Also, using a set of routers and amplifiers to boost the Wi-Fi range will do the trick as well.
Wi-Fi Authentication Error
If that's the problem you are facing, you can do either of the two possible troubleshooting methods you can deploy. The first is to check whether the password you entered is correct or not. If not, you will get an authentication error for sure so rectify it.
On the other hand, if the password is correct, here's what you can do.
Step 01: Firstly, go to Settings >> Wi-Fi >> Advanced Settings.
Step 02: Proceed to "IP Settings".
Step 03: Next up, change the IP from 'DHCP' to 'Static' and enter the IP address of your router and save the settings.
Check if the problem is sorted or not.
Update the software
This works on both ends i.e. the smartphone and the router. Apparently, outdated software updates can open up and allow bugs to infiltrate over time. It is possible that a bug is causing the Wi-Fi to drop intermittently or causing the Wi-Fi not working problem. Software updates will bring the firmware to the latest ones, probably fixing the issue for good. Do check out for updates on your Redmi Note 8 2021 as well as the router to verify it is to the latest patch level.
Restore Factory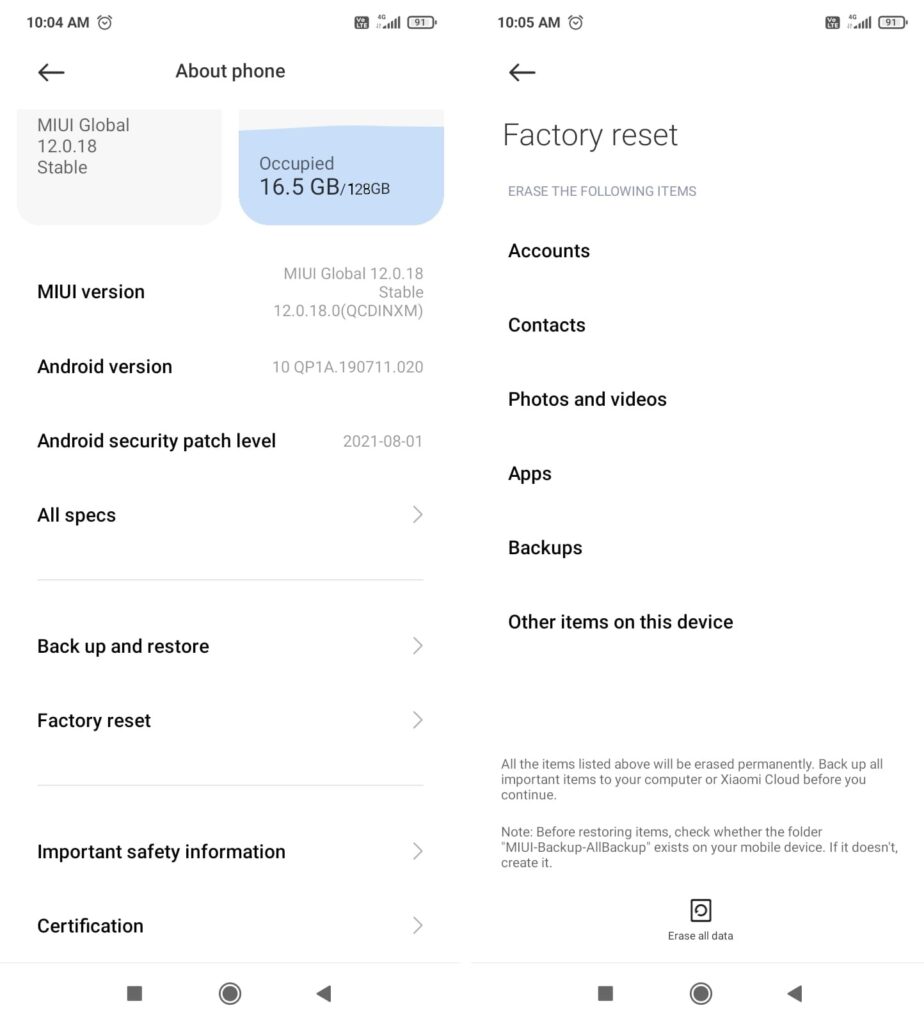 This is the last resort towards fixing Redmi Note 8 2021 Wi-Fi Problem if nothing works, although you must be aware that it will delete all the data stored on the device. Take a backup of the phone before going forward.
Step 01: First up, open the Settings app.
Step 02: Proceed to the 'About Phone' section on the device and then, tap on 'Factory Reset'.
Step 03: On the bottom of the screen, you will see "Erase All Data", tap on it and it is done.
Note that the procedure could take a few moments to complete but once it does, you will have almost a new smartphone so you will have to install apps and change settings just as you would set up a new smartphone.
Could It Be A Hardware Issue?
If nothing works and you have done everything listed here or technically anywhere else, it is possible that it could be a hardware issue. Although it is rare for a smartphone to have such an issue it happens and more so in the case of older devices or new ones with faulty Wi-Fi-related hardware. You can't fix it yourself unless you know what needs to be fixed and how and it will void the warranty as well. Take the phone to a nearby service center and get it diagnosed for a problem and seek a fix.
You can go to an authorized service center where you have skilled technicians, the phone will stay in warranty, and so on. On the other hand, third-party service centers might provide a fix faster and cheaper but it will void the warranty so decide wisely.
These were some of the troubleshooting methods for fixing the Redmi Note 8 2021 Wi-Fi problems that you could intercept at times. Also, these troubleshooting methods work for other Android smartphones as well.