Xiaomi launched the latest selfie-focused budget Android smartphone called Xiaomi Redmi Y2. The device was first launched in China with the name Redmi S2. Today in this guide we will guide on to fix the Xiaomi Redmi Y2 WiFi Issues. While it is true that Xiaomi Redmi Y2 Wi-Fi problems may be a common issue among the connectivity option, this can be an extremely frustrating situation too on a daily use.
Talking about the device specifications, Xiaomi Redmi Y2 features a 5.99-inch IPS display with 18:9 aspect ratio screen of 720 x 1440 HD+ resolution. It is powered by Qualcomm Snapdragon 625 processor, paired with either 3GB of RAM and 32GB storage or 4GB of RAM and 64GB of storage. The Redmi Y2 boasts an impressive 12MP + 5MP dual-camera setup on the back with PDAF for fast focusing speeds and electronic image stabilization (EIS) to help capture steady videos. On the front, the device sports 16MP selfie camera which is powered by AI. Under the hood, the device runs on Android 8.1 Oreo with MIUI 10 software.
As the phone comes with decent specs and comes with a number of features, many buyers are reporting the problems with WiFi issue on Redmi Y2. The common one is no proper functioning of Wi-Fi. In this post, we will guide you on how to fix Xiaomi Redmi Y2 WiFi Issues.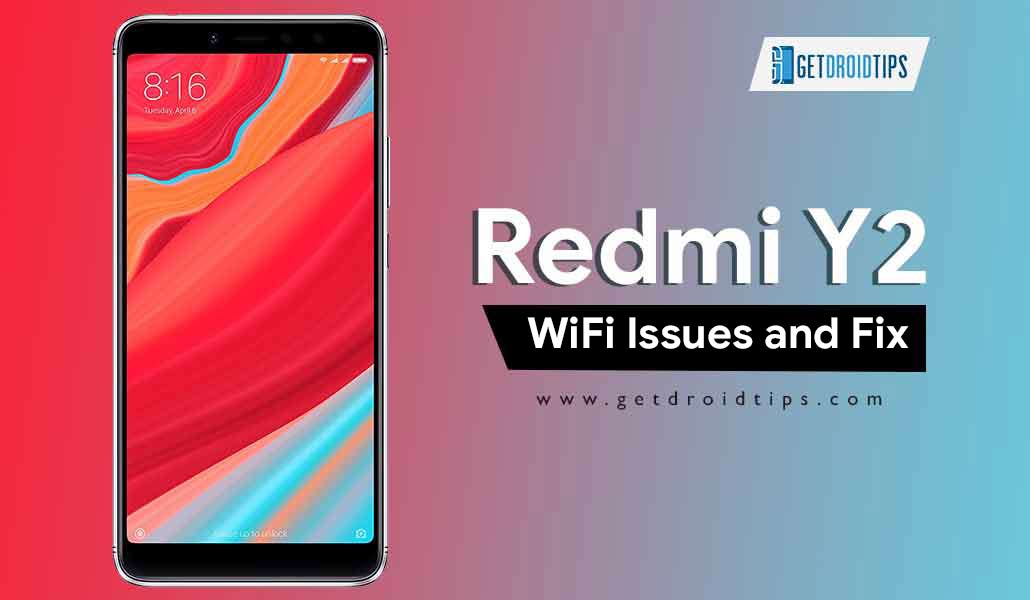 As already mentioned Xiaomi Redmi Y2 is an amazing smartphone but just like other devices it also has some common problems associated with it. Just after its launch, many people reported that Wi-Fi is not working properly. To fix Wi-Fi issues that are pretty common in Xiaomi Redmi Y2, follow this guide.
Steps to fix Xiaomi Redmi Y2 WiFi Issues
Here is the solution to fix wifi problems on Xiaomi Redmi Y2.
Solving basic Wi-Fi issues
Before you proceed with anything, simply restart the phone and see if it works. If not, Reboot your router and check if the problem is gone. In case both methods fail, proceed further.
Make sure your Wi-Fi connection is working. Take another device and connect it to your Wi-Fi network. See if it works properly on it. In case you find everything alright, obviously the problem is with your router or connection.
Ensure the signal strength is enough at the place you are trying to connect your Xiaomi Redmi Y2 with your Wi-Fi connection.
Always remember if you have recently changed the Wi-Fi password.
[su_note note_color="#fef0ef" text_color="#000000″]Guide to Boost WiFi signal on your Android phone[/su_note]
Forget your connection
This is considered as one of the methods that often work for solving Wi-Fi issues on Xiaomi Redmi Y2. You simply need to forget the connection and try connecting the device again. For this simply follow the below instructions.
Open the Settings menu and click Wi-Fi.
Touch and hold for a while your network connection. Soon you will see an option saying "Forget Network Connection" will appear. Click on it to proceed.
Now try connecting to the same network by entering your password.
Clear Cache on Redmi Y2:
Another solution to fix the WiFi issue on Redmi Y2 is to clear the cache memory. To do this, you need to reboot your phone into recovery. Follow the procedure given below to clear the cache on Redmi Y2.
Turn off the device.
Now turn it on again by pressing the and holding the power and volume up buttons.
Select the language
You will see the recovery window –> Wipe and Reset
Now you can just select wipe cache. A process will start and you can restart the phone once it's completed.
Make sure your Wi-Fi is always on
Latest Android versions are equipped with some unique features such as battery saving. For this, they simply turn off the Wi-Fi option automatically on the device when it is not in use for a long time. Thus to fix Wi-Fi issues on your Xiaomi Redmi Y2 keep the settings on "Always-ON" mode. The instructions for this are given below.
Open Settings and tap Wi-Fi
At the top right corner, you will see an option "More"
Click on it and then click "Advanced"
From the pop-up menu, select "Always"
That's it! This may fix the regular WiFi turn off problem on Redmi Y2
Keep your phone updated
Xiaomi always gives importance to their software update. They keep sending the regular software update to their devices with monthly security patches, features, improvements and bug fixes. So we recommend keeping your phone updated. There is a chance that they may have improved the WiFi issue on Xiaomi Redmi Y2 with their recent update. Here is a simple guide to check for the software update on Xiaomi Redmi Y2.
On your Xiaomi Redmi Y2, Go to Settings
Tap on About Phone
Now tap on System Update
Wait until you see a screen showing the latest build.
If it shows no updates available, then make sure to follow our link: Xiaomi Redmi Y2 Stock Firmware Collections
[su_note note_color="#fef0ef" text_color="#000000″]Here is the complete guide to Flash MIUI Stock ROM on any Xiaomi Devices[/su_note]
Make sure your router is in working condition
Well, many times the reason for Wi-Fi issues on Xiaomi Redmi Y2 and other devices is a faulty router or incompatible settings. To fix Wi-Fi issues, simply switch to 2.4GHZ on your router's settings.
Factory Reset:
If none of the above methods has been able to solve the Xiaomi Redmi Y2 Wi-Fi issue, then the last option is to perform the factory reset. By doing this method, you will ring the phone to factory state and would delete every data, media, music, videos and other important files. So keep a backup before you go ahead with resetting your Redmi Y2.
Go to the phone's Setting menu – Additional settings – Backup & reset – Factory data reset, then press Reset phone. Do remember to back up the important data to an external location like a PC or hard disk, because this reset will also remove all the data stored in SD card.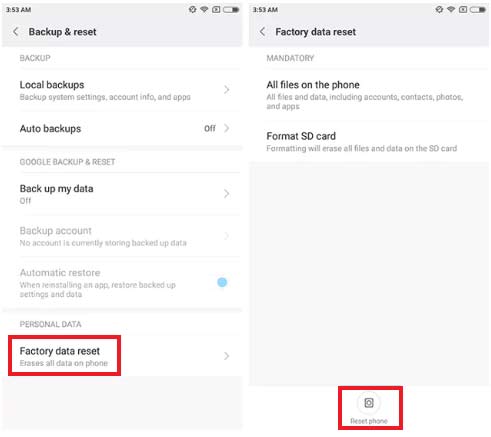 These are some of the best available methods and there are certain chances that they work on your device. If not, you must visit an authorized Xiaomi service center around you.
I hope this guide to troubleshoot Xiaomi Redmi Y2 WiFi Issues was helpful. Any Queries, please leave a comment below.