In this Covid-19 Pandemic, video conferencing applications gained lots of popularity, and Zoom is among one them. Now, in almost every institution, Zoom is essential during meetings. But unfortunately, since the last patch update, users are reporting that the Zoom app gets stuck on connecting screen for the past couple of days, and they cannot join the meeting.
Well, this type of error is common with video conferencing applications. But, nothing to worry about as we have some fixes that will help you eliminate this situation. So, let's get started with the guide and see if you can resolve the Zoom stuck-on connecting issue by following these fixes.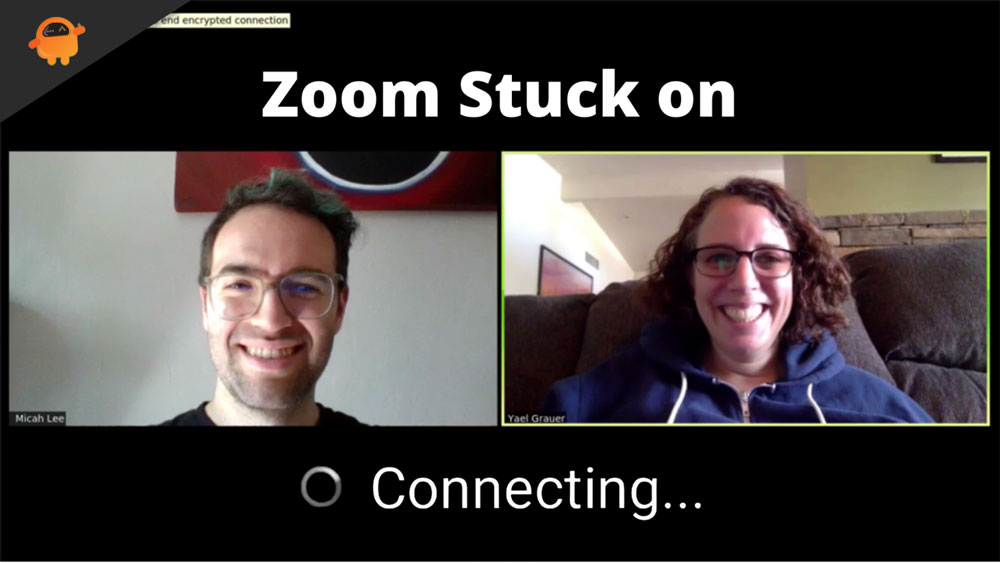 What Are The Best Fixes To Resolve The Zoom Stuck on Connecting Issue?
So, here are some fixes that will help you resolve the Zoom stuck-on connecting issue. Therefore, read and apply them properly, then let us know which method worked for you.
#1. Close Background Programs
The best option is to close background programs so your PC can concentrate on one specific application. The Zoom application does not receive the resources it needs because certain resource-hungry applications consume many resources. You should close the background processes. However, to do so,
Open the

Task Manager

.

Go to the

Processes

tab.

Select the applications running in the background.

Hit the

End Task

button.
#2. Check Your Firewall and Proxy Settings
Make sure that your firewall and proxy settings are appropriate for the network you are using. You may not be able to access the network if you are not the administrator. In that case, we recommend you speak with your administrator and ask him to take a look at it.
#3. Disable Your Antivirus and Firewall
There are times when your Antivirus and Firewall will prevent your application from accessing your system's resources. Therefore, you might find it easiest to disable or whitelist your zoom application on Windows Defender and Windows Firewall in that situation.
Whitelist Zoom on Windows Defender:
Hover over to Settings and select Update & Security from the menu.
Next, follow the steps: Windows Security< Virus & threat protection< Manage settings< Exclusions.

In the next step, you must add or remove exclusions.

Click Add an exclusion.
Once you have chosen Zoom, click on the apply button.
Whitelist Zoom on Windows Firewall:
You can find the firewall section under Windows Security in the Control Panel on your Windows PC.
Thereafter, choose to Allow an app or feature through Windows Defender Firewall under Windows Defender Firewall, and then click on Allow.
Select Change Settings from the menu.
The last step is to select Zoom and checkmark the box. After that, click the OK button.
#4. Mark Zoom.us as a Trusted Website
Zoom.us was reported to fix a stuck connecting screen issue by many Windows users after they marked it as a trusted website.
You can open Internet Options by typing internet options into the Windows search bar and then selecting it.
Thereafter, click on the Trusted Sites tab under the Security tab.

Go to the Sites section, and click on the zone this website button.

Afterward, click on the Add button and save your changes to zoom.us.
Enable Authenticode:
Go back to the Internet Options page.
Click on Trusted Sites under Security.
Click on Custom Level after selecting the Security level for this zone.
After that, click the Run Authenticode-signed components button. If this option hasn't already been enabled, you must enable it.
#5. Check Internet Connection
It is primarily necessary to check the internet connection in order to resolve the bug. Zoom is an application that is available over the Internet. In order to communicate with other users, you need a stable internet connection. There has been an increase of more than 170 percent in the use of the Internet from earlier times in today's world.
Additionally, some operators are upgrading their 5G networks or fixing their backends because of the upgrade. Due to this, the app is behaving in an unusual way because of the Internet.
Restart the modem after disconnecting all internet connections. To know your internet speed clearly, plug in again and check it with any software or website. To resolve the issue, contact the internet provider technical support.
#6. Check for the App Update
Zoom says in the afternoon that they receive many reports about the outrage of the application across different platforms. Their sincere apologies go out to the user for any inconvenience caused. A fresh update is now being worked on to solve the issue by the developers.
In addition, you can check the App Store, Microsoft Store, and Google Playstore for updates whenever they are released. You must first download and install the latest update to use the app smoothly on your devices.
#7. Go to DownDetector
All of us are familiar with the name. On the Internet, we occasionally hear about the website. The platform is a real-time information source for most online services and websites. Based on outrage reports from various sources, the website analyzes the outrage of other users.
It will also show a map to see where the issue has the most impact and how it has affected other regions. You can also find out what other users have reported about Zoom's stuck-on connecting screen issues. This requires frequent visits to Downdetector. In this way, you will have a better understanding of what the problem is.
#8. Contact Officials
There are chances that you may face the Zoom stuck-on connecting screen issue just because there's some issue at the end of the server, or your account may get disabled due to some reasons. However, to know the real cause behind this problem, you must contact them and ask about it. They will further surely help you get rid of this situation.
So, that's how to fix the Zoom stuck-on connecting screen issue. We hope that this guide has helped you. Meanwhile, in case you need more help regarding this topic, comment below and let us know.