When it comes to executing ADB (Android Debug Bridge) commands on Android devices via a computer, ADB & Fastboot Tools (Platform Tools) really come in handy. But what if we say that there is a very fast and basic ADB installer available without the full SDK (Software Development Kit) which you can use quite easily. Well, you can now Download 15 Seconds ADB Installer (Latest 2023 Update) by following this article.
It's an all-in-one installer for Windows computers that offers a Minimal ADB & Fastboot Tool interface apart from setup and allows users to install Android USB Drivers too. The installation process can take up to 15 seconds maximum that's why it's known as 15 Seconds ADB Installer. Once installed, you can connect your Android device and start running ADB Fastboot commands.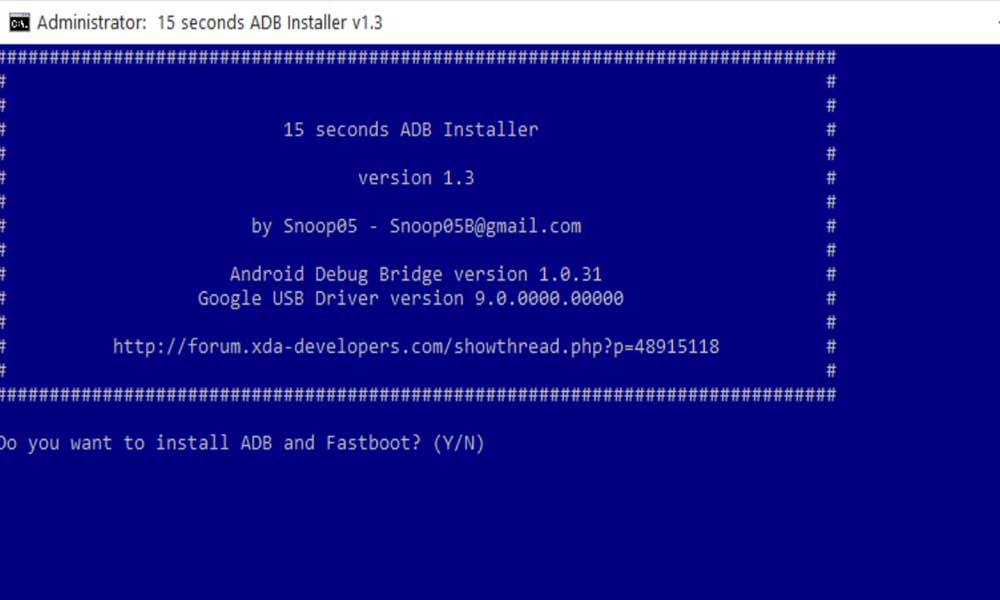 Features of 15 Seconds ADB Installer
ADB Installer is created and distributed by Snoop05 (XDA Developer). So, full credits go to the respective authority. Here we've shared a couple of highlighted features that you should know before downloading it.
1. Small File Size
The 15 Seconds ADB Installer tool comes in a smaller file size that may take a couple of seconds to download on your Windows PC and around 15 seconds to install completely. It's a lightweight installer that offers you all required ADB Fastboot Drivers, Android USB Drivers, etc.
2. Easy to Install
As we've mentioned, it's easy to install on your Windows computer and doesn't come with a full SDK which is a big advantage.
3. Easy Interface
No matter whether you're used to it or new to this field, the 15 Seconds ADB Installer tool offers you an easy-to-use interface without any complications. Just follow the on-screen instructions to install the required Android and ADB drivers or tools.
4. All-in-one Tool
As mentioned, it basically contains ADB Fastboot drivers and Android USB drivers that you'll need to install on your Windows computer. Just follow the on-screen prompts and type Y to proceed with the installation.
5. Compatibility
This tool supports all Windows OS versions such as WinXP, WinVista, Win7, Win8, Win8.1, Win10, and Win11 (32-bit and 64-bit) without any issue. Just download and install it.
Download 15 Seconds ADB Installer | Latest 2023 Update
Steps to Install 15 Seconds ADB Installer
Here we've provided the YouTube video tutorial on how to install it. Let's take a look.
For further details or installation process, you can read our full-depth ADB Fastboot Tool guide here.
That's it, guys. We assume this article was helpful to you. For additional queries, you can comment below.