In recent years, VPNs have grown in popularity. Adding an additional layer of encryption on your data for online privacy, VPNs are more than a tool for security. Another exciting use of a VPN is for streaming.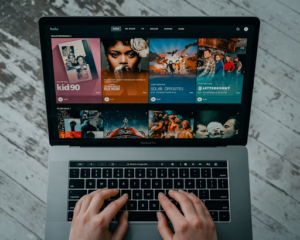 With a VPN for streaming, you can hide your real IP address and spoof your geo-location to bypass geo-blocks and access international streaming sites from anywhere in the world.
If you are an avid content binger, you must know that most popular streaming sites such as Netflix, Hulu, HBO Max, BBC iPlayer, and ITV are geo-restricted and can only be accessed from within a specific country.
However, with a streaming VPN, you can unblock any streaming platform you wish, thus broadening your content library.
Here are 5 major reasons why you should consider using a VPN for streaming:
1. Access geo-restricted streaming sites
Due to content distribution rights, most streaming services are geo-restricted. They either restrict their services to a specific region like BBC iPlayer, Hulu, and HBO Max. Or, they offer different content libraries in different regions like Netflix and Amazon Prime Video.
In the case of BBC iPlayer, it is only available in the UK. Similarly, HBO Max and Hulu are only available in the USA. However, in the case of Netflix and Amazon Prime Video, these services have different content in different regions. For example, movies and shows on US Amazon Prime Video are different from content available on Canada Amazon Prime Video and such.
The good news is that with a VPN, you can bypass these geo-blocks and access content from anywhere in the world. If you are abroad and want to watch British shows on BBC iPlayer outside the UK, you can simply connect to a UK VPN server (get a British IP address) and trick the platform into thinking you are trying to access it from within the UK.
VPNs offer servers in multiple locations and countries, so you can access any regional content from anywhere in the world.
2. Watch exclusive shows on Netflix
This might not be news for you, but Netflix content is different everywhere in the world. Although Netflix has a presence in over 190 countries, each regional library has different content.
For example, Netflix US has over 5750 movies and shows.
While the UK Netflix has over 2028 shows and movies. So, if you're in the UK, you are missing out on a lot of content that American viewers can watch. To be more specific, popular shows like Dexter, Twin Peaks, Parks and Recreation, and Wentworth are missing from the British Netflix library.
Luckily, with a VPN for streaming, you can access various Netflix libraries in the US, UK, Japan, Australia, France, and many more. This way you can watch exclusive shows and movies on Netflix from anywhere in the world.
3. Watch Live Sports from anywhere in the world
Due to content licensing agreements, live sports broadcasting is limited to specific regions. For example, you might not be able to watch NFL, NBA, or other local sports outside a specific country. Even if you do get access, you will have to wait for a day or two to watch your favourite game.
However, with a VPN, you can watch the regional broadcasts of your favourite sports from anywhere in the world. For example, you watch NBA Playoffs, World Championship, and FIFA Club World Club on Fox Sports and BBC from anywhere outside the US and UK with a VPN.
4. Stream Live TV channels abroad
With a VPN, you can stream live TV from any country. For example, you can unblock Hulu and access 50+ US live TV channels such as NBC, ESPN, Fox News, BBC America, and more. Hulu is geo-restricted to the US only, but with a VPN you can get an American IP address and unblock Hulu from anywhere in the world.
Apart from Hulu, you can also access other live TV streaming platforms such as Paramount Plus, and BBC iPlayer. What's best is that both these platforms offer live streaming for free. It makes a great replacement for cable TV.
With a VPN, you can connect to a UK server and unblock BBC iPlayer abroad to watch movies, shows, and live TV for free.
5. Avoid buffering issues
If you frequently experience buffering issues, a VPN can be a perfect remedy. Buffering occurs due to inconsistent connection speeds.
If you are a heavy streamer and watch movies and shows in HD quality, you are taking up a lot of bandwidth. This does not sit well with your ISP, and considering your online activities, your ISP may throttle your bandwidth.
To avoid potential network congestion, your internet service provider (ISP) reduces your internet speed as a result you might experience buffering, and more loading time. If that happens, you will need to load the video and wait for a few minutes to stream.
Thankfully, with a VPN, you can bypass ISP throttling. When you connect to a VPN server, you get a new IP address. This way your ISP cannot track your online activities.
A VPN keeps your streaming and online traffic hidden from your ISP, thus avoiding bandwidth throttling. In short, you can stream all you want in HD quality with zero buffering.
Stream Away!
If you love streaming, then it's worth considering opting for a VPN. With a VPN, you can unblock geo-restricted streaming sites and access your favourite movies and shows from anywhere in the world. You can also watch content for free and bypass speed throttling from your ISP.
And if you are wondering about legality, using a VPN for streaming is perfectly legal, and rest assured it is legal in almost all countries.