Beats Studio is one of the fewest brands that offer some premium quality headgear. However, after Apple acquired Beats, its value increased overnight and became more popular among the youngsters. They have a great range of headphones with premium specs and Beats Studio 3 is one of them. Beats Studio 3 gives you some really great experience of your listening experience as it comes with the Pure Active Noise Cancelling (Pure ANC) feature.
However, unfortunately, many users started reporting that their Beats Studio 3 doesn't work properly in the past couple of days, and the sound started muffled, crackling, or audio cutting out. When our team started inspecting this issue, we found some fixes to this that will surely help you resolve this sound muffled, crackling, or audio cutting out error.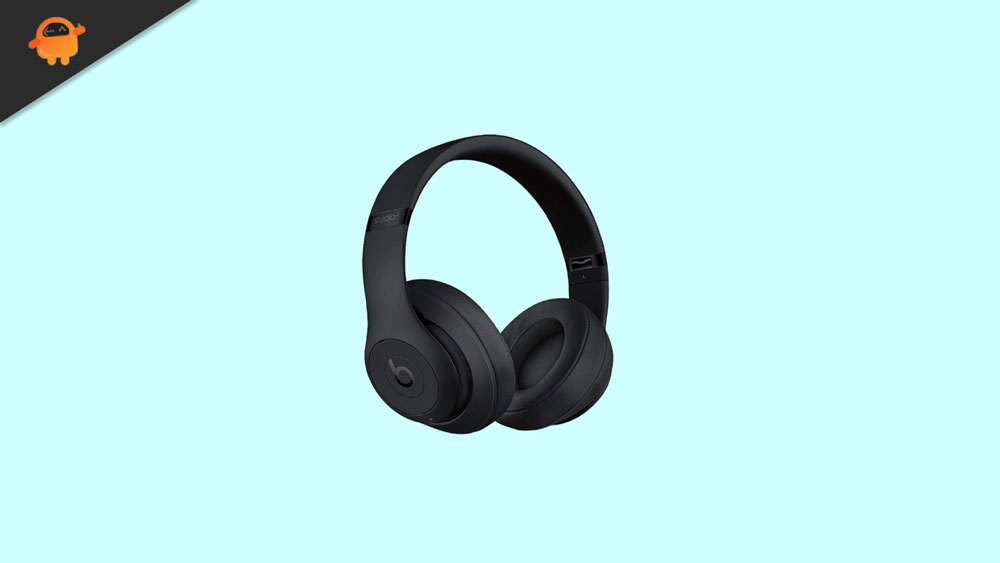 How To Fix Beats Studio 3 Sound Muffled, Crackling, or Audio Cutting Out
Fixing the Beats Studio 3 sound muffled, crackling, or audio cutting out the issue isn't a tough job to do. However, you can fix this issue just by performing the fixes mentioned below. Therefore, if you are facing this problem, make sure to perform these fixes mentioned below:
Fix 1: Restart Your Beats Studio 3
If you recently started getting this sound muffled, crackling, or audio cutting out the issue, then restarting your headphone might be a good option for you as it has the potential to resolve this kind of issue by removing the random bugs and glitches. Therefore, you must also try this out and check if it helps you or not.
Fix 2: Restart Your Device
Did you try this before? Well, if not, then you must try this as many users previously reported that by rebooting the device in which they are using their Beats Studio 3 headphones, the issue gets resolved. Therefore, why not you try this out to check whether it really helps. Therefore, simply reboot your device and then reconnect your Studio 3 headphone to see if the audio issue gets resolved.
Fix 3: Check If It Has a Charge
Do Beats Studio 3 headphones sound muffled, crackling, or audio cutting out? In that case, make sure they have been fully charged. When the batteries have not been charged or are drained, we recommend trying charging them repeatedly. So, charge it for hours.
Meanwhile, if you are having trouble charging your Beats Studio 3, make sure they are working properly. In this case, the battery cannot be charged, as the percentage of the battery does not increase when the headphones are plugged in; check your Beats charging accessories to see whether they are working.
Fix 4: Change The Batteries
Your Beats headphones will definitely sound better if you try one or more of these solutions. But unfortunately, it is most likely a faulty battery that causes your headphones to lose sound.
It is best to have it replaced immediately. However, it may be necessary to contact a professional because the motherboard may get damaged if you try to replace the batteries without an expert's inspection.
He can identify the real problem. As such, you should contact Beats customer support if the professional says you need to replace the battery. You can get a replacement or a refund if your Beats are still covered under warranty.
Fix 5: Check For Damage
If you experience muffled, crackling, or cut-out audio, your headset may have some external damage. In addition, if a headset is dropped or gets externally damaged, it may also be internally damaged. Thus, if there is any damage to your headset externally, then it must be inspected and repaired immediately.
Fix 6: Reset The Headphones
You should reset your Beats headphones if none of the above methods work. For example, it could be the software that makes the sound muffled, crackling, or audio cutting. You may also be able to fix this issue by resetting your headphones.
When you do so, you should be able to use your device normally. The Beats Studio 3 headphones' sound should be coming up properly by following these steps:
It is necessary to hold both the power and volume buttons together for a few seconds.

Upon seeing the Fuel Gauge flash, release the power and volume buttons.

You're done. Resetting your Beats Studio 3 headset is now complete. So, now you will see whether the sound cutting issue gets resolved or not.
Fix 7: Clean The Drivers
You can also try the steps below if none of the methods work for you. However, if you are not technically savvy, we recommend that you seek guidance from an expert.
Locate the power button on the Beats headphones. It will likely be on the left ear cup.

Once that has been done, be sure to remove the ear cushions from the ear cup. Make sure not to damage the cushions. Since these cushions can be removed without tools, you can be done it by your hand.

Once the cushion cap is removed, you can see the screws. You need to remove them with a screwdriver. The earcups can now be disassembled.

The next step is to clean the headphones' drivers and reassemble the earcups to see if you can resolve the issue.
Fix 8: Use Different Device
There are chances that your headphone may not have any issue, and the issue is occurring from your device's end. Therefore, it is better to connect your Beats Studio 3 headphones to any other device to check if the cracked audio issue is occurring on it or not.
However, if you find that the headphone is started working properly on your secondary device, this indicates that there is some compatibility issue with your primary device.
Fix 9: Contact To Support Team
We regret if none of our suggestions worked for you. However, this does not mean that there are no other ways to repair headphones muffled, cracked, or cutting audio.
If you want more details about these problems, then you can contact the Beats Studio 3 support team directly. Depending on the situation, you may be suggested to visit a service center or be offered more fixes.
So, that's how you can fix the Beats Studio 3 sound muffled, crackling, or cutting out the issue. We are just hoping that the troubleshooting methods we have mentioned earlier in this guide have helped you. Furthermore, if you have any suggestions or queries, comment below.