Beats by Dre is a premium segment headphones brand for music listening and calling features that offer a wide range of wireless earbuds or headphones products in the market. Beats Studio 3 is one of the popular wireless over-the-ear headphones supporting the Apple W1 chipset and ANC feature. Meanwhile, some users are reporting that the Beats Studio 3 Not Connecting to their PC, Laptop, or Macbook Series via Bluetooth unexpectedly.
Now, if you're also one of the victims to encounter such an issue then make sure to follow this troubleshooting guide completely. It seems that several Beats Studio 3 users have experienced multiple kinds of connectivity issues something as battery juice running out, pairing issues, Studio 3 isn't discoverable in Bluetooth, Studio 3 and the computer or laptop isn't close enough, headphone connectivity glitch, etc. In all scenarios, your headphone won't connect.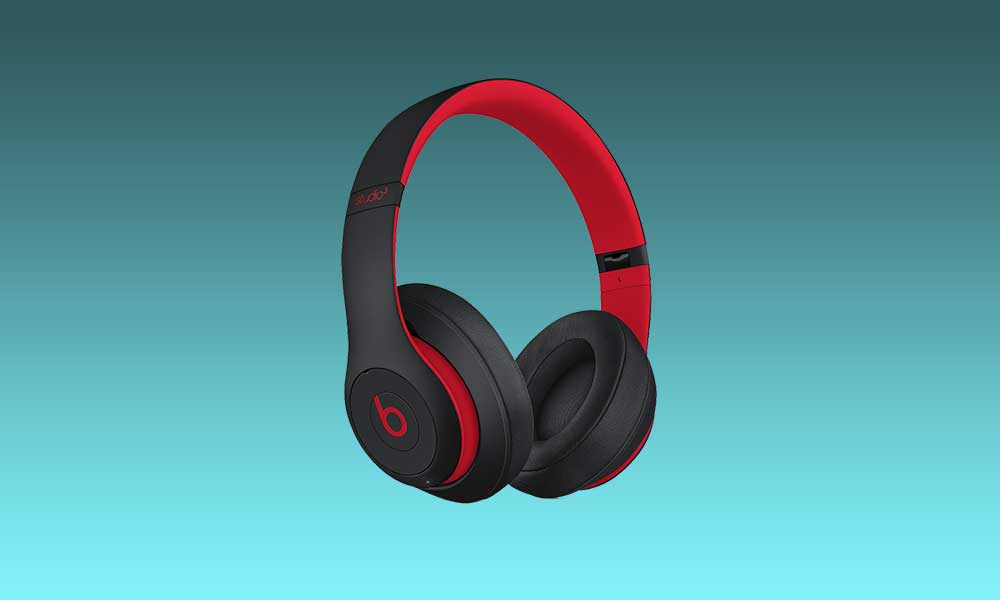 Fix: Beats Studio 3 Not Connecting to PC, Laptop, Macbook Series
If in case, you're unable to find out Bluetooth connectivity issues like the connection drop, no connection at all, poor sound, or delay in the sound outcome then don't worry. Here we've shared a couple of possible workarounds that should help you a lot. So, without wasting any more time, let's jump into it.
1. Check the Sound Settings
First of all, you should try checking the sound settings option on your Windows PC or Mac whether the volume level and actual sound output or input device are configured or not. To do so:
For Mac:
On your Mac, choose the Apple menu > Click on System Preferences.
Click on Sound > Select your Beats Studio 3 in the Output and Input option.
Then apply changes and make sure to increase the volume level. Check if the audio for the headphone is muted or not.
For Windows:
Press the Windows+I keys to open Windows Settings > Click on System.
Click on Sound > Select your Beats Studio 3 in Output and Input. [playback/recording device]
Make sure to check for the audio level and ensure the audio isn't muted.
2. Keep Beats Studio 3 Closer
It's also recommended to place your headphone near your computer or laptop to avoid any kind of Bluetooth connectivity or signal range issue. The preferred distance between both the devices should be within 30 feet or less. Make sure to avoid placing Bluetooth devices near other active Bluetooth devices, microwaves, wireless routers, etc to avoid frictions in the connectivity or range.
3. Forget Beats Studio 3 and Pair Again
You should try forgetting the Beats Studio 3 wireless headphone with the Windows or Mac computer and pair it again to easily fix any kind of temporary glitch with the Bluetooth connectivity in most scenarios.
Note: Some Bluetooth devices are configured to require a PIN or a passkey. If that's the case, make sure to check the documentation or user manual of your Bluetooth device before trying multiple troubleshooting methods.
For Windows:
Make sure to set the Bluetooth device in pairing/discovery mode by pressing & holding the power button for at least 5 seconds.
Now, click on the Start menu on your Windows computer > Click on Settings.
Click on Devices > Select Bluetooth & other devices from the left-pane.
Make sure that the Bluetooth toggle is turned on.
Click on View More Devices > Click on Add Device.
Search for the specific Bluetooth device and click on Connect from the list.
If it asks to enter or verify the passcode then do the same.
Click on Done > After the pairing was successful, the Beats Studio 3 wireless headphone will show the Paired status under its name.
If it's already connected then make sure to follow the steps below:
Just Disconnect your Beats Studio 3 from the PC.
Now, pair your Beats Studio 3 wireless headphone again.
For Mac:
Choose the Apple menu > Click on System Preferences > Click on Bluetooth.
Select your Beats Studio 3 headphone > Click on the X icon.
Then choose to Forget Device.
Press and hold the power button on the headphone for around 5 seconds to get into the pairing mode.
Now, click on Connect on your Mac when the Beats Studio 3 wireless appears on the screen.
Pair your headphone and enjoy!
4. Reset Beats Studio 3 Wireless
Another thing you can do is simply reset your Beats Studio 3 Wireless headphone because sometimes issues with the Bluetooth connectivity can appear on your headphone themselves. Once you reset it and connect to the computer again, the problem should go away. To do so:
Press and hold the power button + volume down button for 10 seconds on your headphone.
Once the LED indicators start flashing, release the buttons.
Now, your Beats Studio 3 headphones are reset and ready to be set up with your devices again.
Search for the headphone on your computer and connect it.
5. Charge the Headphone
Make sure to charge your headphone properly using the stock cable and a genuine adapter for around 1-2 hours. A low battery level can also deny the system to get paired and connected until it charges up to a certain level. So, simply plug the micro-USB cable into your headphone and connect it to the computer or power bank or power socket via an adapter. Your Beats Studio 3 will begin to charge and after an hour, you can try connecting it.
6. Power Cycle the Beats Studio 3 Wireless
If in case, the RemoteTalk isn't working then it's better to simply turn off your Beats Studio 3 headphone and then turn it on again. It will basically disconnect the glitch of music playback or call session from the device and renews the connection. As the headphone isn't connecting, make sure to perform a power cycle on your wireless headset to clear out temporary glitches or cache data issues.
Press and hold the power button on your headphone to power it off.
Wait for around 10 seconds then press and hold the power button once again to power it on.
Now, check whether it's able to connect to the computer or not.
7. Contact Beats By Dre Support
If none of the methods did work for you then make sure to contact Beats by Dre Support using this link to create a ticket for your specific issue. If your device is under warranty, you can claim for a replacement or get it repaired by the professionals for free unless somehow you've damaged any part of the headphone physically.
That's it, guys. We assume this guide was helpful to you. For further queries, you can comment below.