Entering the recovery mode on Redmi Note 5 is a simple task. But it would be difficult to find an official guide on the Internet. Since recovery mode is a powerful bootloader that gives the users and developers various powerful functionalities over the phone. This bootable partition has many uses and that is why we have covered in on GetDroidTips where you can learn what is recovery mode on how you can access it on your Redmi Note 5 and virtually every Android device as well.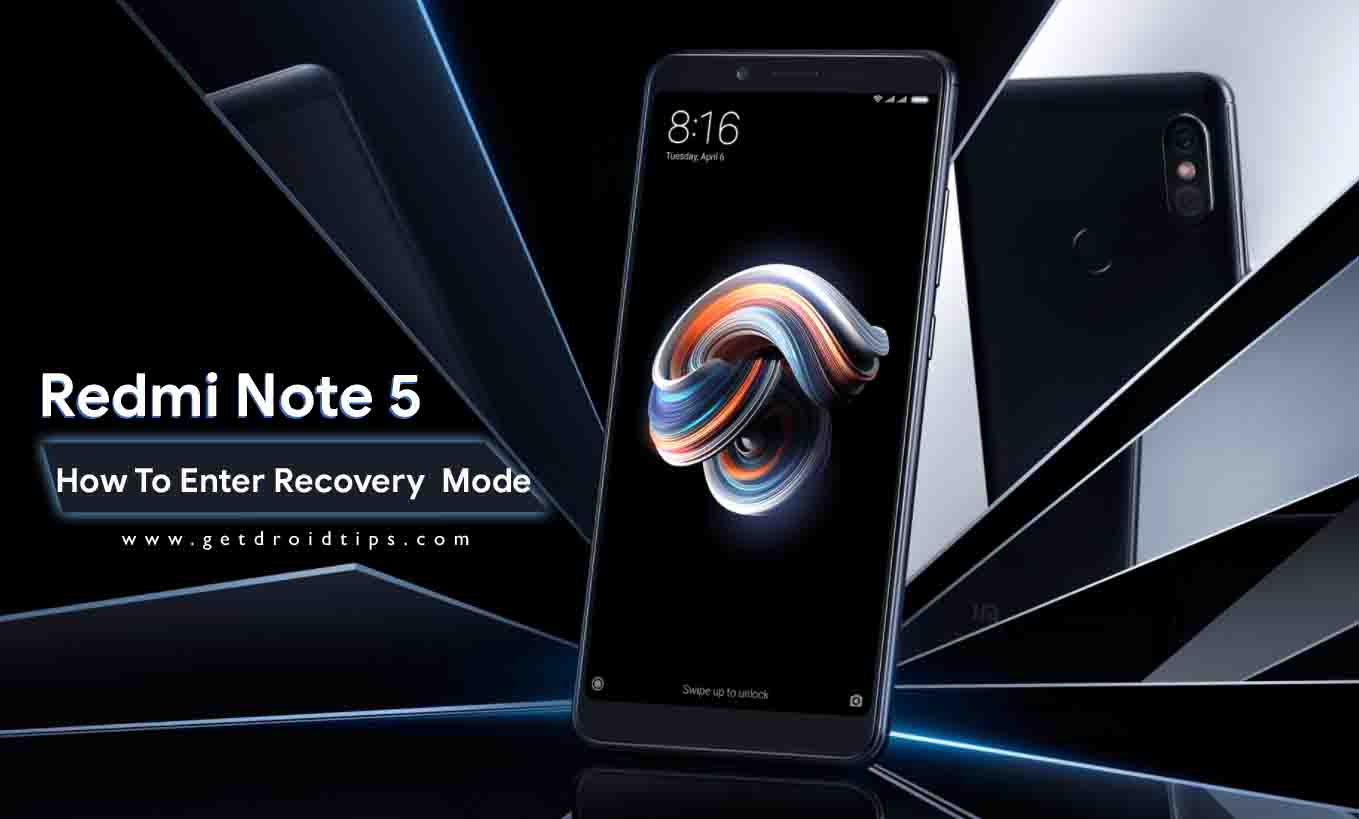 What is the Recovery Mode?
Android is an open-source operating system that allows the users to make modifications, repairs, recovery and lot more to their phones. The Recovery mode is the bootable partition that hosts several powerful functions. Using it will enable the user to repairs or install new updates or firmware or they can wipe cache partition and lot more.
There are basically two types of recovery modes available. First is Stock Recovery which is the normal mode that users use on their phone for repair and installation purposes. Though it is powerful, the functions are limited and the users cannot add or do more with the stock option. Another is Custom recovery and as the name suggests, it is customizable and can be used to add and install updates, packages, selection deletion of data, adding or subtracting partition, wiping off cache or factory reset, backup functionalities, firmware updates through ADB or SD Card and more. These are two types of Recovery mode that you will see on Redmi Note 5 and other android devices based on their configurations.
How to boot into Recovery Mode on Redmi Note 5?
Firstly, remember that the phone has minimum 15% of battery life to perform functions while in the recovery mode and that, you will have to connect to the computer to use it thoroughly. Follow the step-by-step as mentioned below.
Power down the device completely and wait for few moments.
Now, press the Volume Up button and the Power button simultaneously and hold it.
After few seconds, you will see a splash screen.
Now, release the button and wait for the next dialog box to display.
A dialog box will pop up on the screen containing various options to boot into different bootable partitions.
Scroll and select 'Recovery Mode'.
The screen will prompt the users to connect it to the computer via USB cable.
Once connected, use the Mi PC Suite to use the recovery mode.
Now you can perform installations or other repair work on the phone as required.
Recovery Mode usually has features such as Apply Updates via ADB, Apply Updates via SD Card, Data reset / factory settings, wipe cache partition, advanced settings, Install zip from SD Card, mounts, and storage among others. The Redmi Note 5 has Safe Mode and Fastboot Mode in its bootable partition which the users can access to perform required functions. At GetDroidTips, you can refer the guide on how you can access their bootable partition without any hassle.