Are you thinking of buying a refurbished Graphics card? you might be stuck on many questions like What could possibly go wrong? The best place to buy Refurbished Graphics Cards? The price difference to note? How to know the condition of the products and many more… Well, Guess what? You have come to the right place because today in this post I will clear all your doubts and query on Refurbished Products and Graphics Card.
Before giving our own pieces of advice to you on How to Buy Refurbished Graphics Card, we thought to pick most general FAQ and answer each precisely, Below you can find all each 6 FAQ.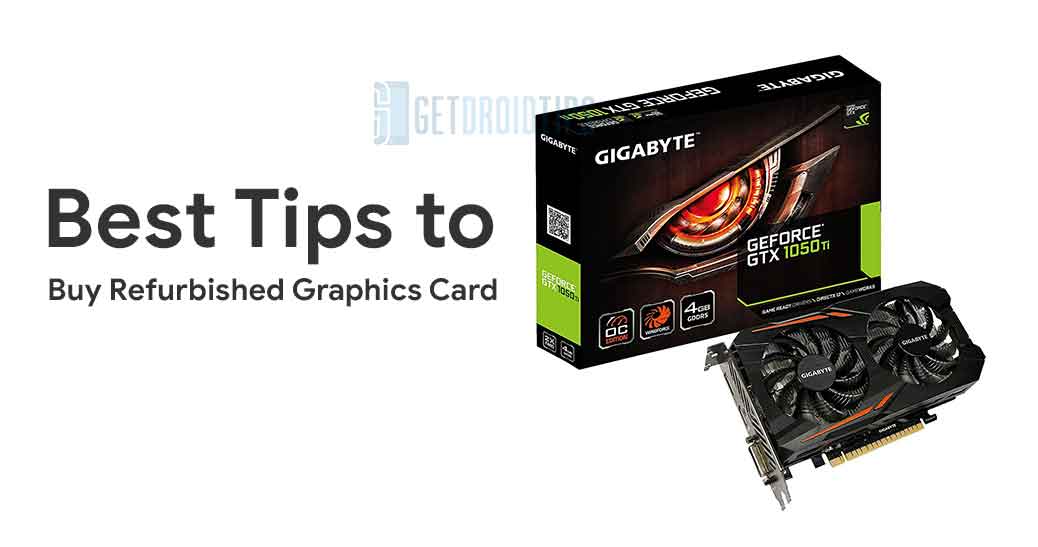 1. What is a refurbished graphics card?
– Refurbished – these video cards are restored by the manufacturer's specialists at the manufacturer's factory with the help of professional equipment. Want to Find differences between the new and the restored video card? as a rule, there is no possibility. Refurbished cards are supplied in boxes that differ from standard retail packages; have in the complete set of the driver, the instruction and all necessary adapters (including power) for connection of a video card.
2. In what cases is the video card restored?
– Video cards are restored for many reasons, but as a rule, it is: the video card did not pass the output control, the defect was revealed during the sale, the video card went out of order from the user and returned to the service center.
3. I'm worried about the quality of the malfunction fix, will not it break with me in a week?
– First, I'll give you a couple of simple examples, you bought a new smartphone and you crashed the screen (((What do you do with the device? Throw it into the trash? No! You change the screen and use it!
So if the video card caught a defective capacitor or the resistor was badly soldered, then it's very costly for a manufacturer to simply utilize an expensive card. It is much easier to replace this component on your equipment and sell it at a substantial discount.
Secondly, for all the refurbished graphics cards a manufacturer does provide a 3-6 month warranty. Plus, you have the opportunity to purchase an extended warranty and to be reinsured additionally.
4. Is it possible to find out what the fault was with the video card I want to purchase?
– No, sellers usually don't give such information. Visually, this is also not possible, because all the work is on the same equipment as the production of maps. There are no traces of soldering, scratches, chips and so on. no.
5. What is the category of refurbished maps?
– This is a conditional degree of card recovery.
1st category – the map visually does not differ from the new one. In most cases, the presence of a film on the glossy parts of the cooler shell.
2nd category – there are minor scratches and abrasions on the cooling system casing.
The third category is color changes (but in no case structures) of a textolite map (usually around a graphics chip due to overheating).
If the product name does not specify the second or third category, then the goods are the first category.
6. Does Restored Video Cards often conflict with other devices?
I have almost decided to buy a restored video card, but I still doubt whether it will work in my system – I heard from one "user" that the restored video cards often conflict with other devices, Is it True?
– First, as mentioned above, the refurbished (refurbished) cards are functionally absolutely no different from those that just got off the production line.
Secondly, stay away from the "computer workers" who claim that the Intel processor will work well only with the nVidia graphics card or Kingstone memory and so on. Read the forums, articles, and better, contact the professionals.
Best Tips to Buy Refurbished Graphics Card for Gaming in 2018:
Here are the best tips you can follow while planning to purchase a refurbished graphics card for your gaming.
The Price:
If for example you are buying a Refurbished GTX 1080 Graphics Card, and its price in that state is $600 and you are easily getting a New one for around $700-$800, then DON'T BUY IT, until and unless you limited strictly to that budget and the graphics card is just released.
The recommended places to Buy Refurbished Graphics Card?
Well, there a refurbished/reconditioned graphics card can almost be found anywhere, Maybe your friend is the one selling, maybe your nearby Electronic Store has one, or tons of website where you can find it online. But it comes down to Personal Preference/Experience from where you prefer the most.
If you are buying Refurbished Graphics Card from your local or known places, then look out for these things:-
Ask why did they Refurbished the Graphics card you are about to Buy.
Ask what part the fault or defect was, in that Refurbished Graphics Card.
Look for all the drivers and accessory, that should come in the Box.
Get a severe check of that device on your computer.
Check the date of Purchase, and be sure to have the Bill.
If you are buying a Refurbished Graphics Card from an Online store, look out for these things:-
Try to get in touch with the seller or Online marketplace customer service
Look out for Seller/Product feedback rating, and don't buy it, If the overall Seller/Product Rating is Below 3/5.
Compare different websites prices and buy from Trusted Store
Look out for Warranty on that Graphics Card, Make sure it's Atleast above 3 months.
Recommended Websites to Buy Refurbished Graphics Card:-
Amazon
Flipkart
eBay
Newegg
How old is it?
Don't buy a refurbished Graphics Card of a model which is above 1.5 yeard old, Nowadays games are becoming more and more demanding, and with the continuity to it, you might lose on to keep the pace with Your old refurbished graphics card, which the Brand itself won't support it and give substantial drivers update.
I hope this guide makes it very clear where to buy a refurbished graphics card. If you have any queries, please leave a comment down below.