If in case, the Adobe Creative Cloud software seems not useful to you and somehow you really can't Uninstall Adobe Creative Cloud on your Windows 10 computer then make sure to follow this troubleshooting guide. Here we've shared how you can properly remove or delete the particular application from your PC and it won't gonna bother you again.
To recall, Adobe Creative Cloud is an application that offers a full set of Adobe developed programs to the subscribers for video editing, photo editing, graphics design, web development, cloud services, and more. Although if you're using a single Adobe program on your computer that you've owned then there is no meaning to having this Creative Cloud application.
Most importantly, this application basically runs in the background and starts when Windows boot up every time. That means not only it will gradually slow down the system performance but also try syncing to the cloud services all the time which is frustrating to plenty of users. Well, another bad thing about Adobe Creative Cloud is that users can easily delete this application from the computer due to its weird development or user interface.
Fix: Can't Uninstall Adobe Creative Cloud on Windows 10
It basically asks users to either enter a valid email address and password to sign in to the existing account before completely uninstalling the program from the computer. Therefore, most of the users fail to enter login credentials properly, and the application still remains installed on the PC.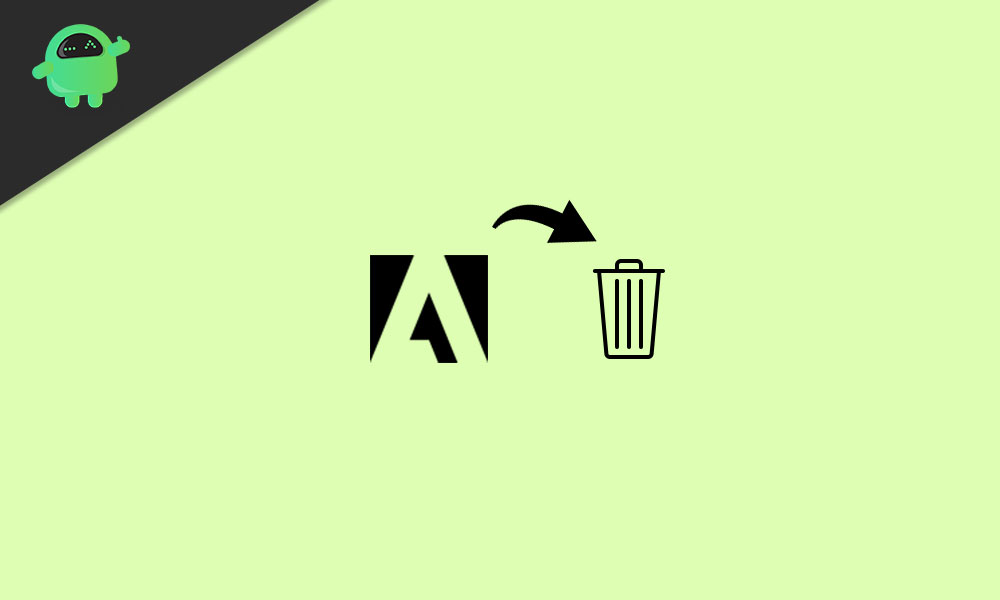 Luckily, there are a couple of possible ways to easily uninstall the Creative Cloud program that we've mentioned below. So, without further ado, let's jump into the guide below.
1. Run Adobe CC Cleaner Tool
There is an official Adobe CC Cleaner Tool available that you can use Creative Cloud modules such as registry files, local storage data, temporary files, and more. To do so:
Keep in mind that you're logged into the Windows system as an administrator.
Now, head over to the official Adobe Creative Cloud Cleaner Tool webpage on the PC.
Then select the correct version of the Windows OS on your computer.
Press Windows + R keys to open the Run dialog box.
Type appwiz.cpl and hit Enter to open Program and Features.
Locate Adobe CC and click on it to select > Then choose to Uninstall.
If you can't uninstall the program easily then make sure to download and install the Adobe CC Cleaner Tool on the PC.
Once done, right-click on the exe file and select Run as administrator.
Click on Yes if prompted by UAC to open the tool.
Within a couple of seconds, a command prompt window will open.
Select your preferred option and press Enter to perform the task. [Select 3 and 4 to clean all CC apps and especially Creative Cloud itself]
The cleaner tool will automatically uninstall and remove the selected programs from the computer.
Finally, restart your computer to apply changes.
2. Sign in to Adobe CC Desktop App
Well, Adobe basically allows its users to sign into a valid account using the proprietary Adobe ID or Facebook/Google ID whatever you have chosen to do so initially. But if you've created the Adobe account using your email address and password then the chances are high that you may have forgotten the login credentials.
In that scenario, you won't be able to sign in to the account as well as you can't delete the Adobe CC. It's quite uncommon for such kind of a popular and widely used program but it's obviously there.
3. Remove All Adobe Creative Cloud Apps
So, if you're able to log in to the Adobe account, then you will need to remove all Adobe Creative Cloud apps like Photoshop, Lightroom, Illustrator, etc using the same desktop app. To do so:
Click on the 'Apps' tab > Then click on 'Installed Apps'.
Scroll down to the specific installed app and click the little down arrow next to 'Open' or 'Update'.
Click on 'Manage' > Select 'Uninstall'. [Select 'Yes, Remove App Preferences' if prompted]
The app uninstallation process will start. Do the same thing for each and every Adobe cloud apps.
Finally, restart your computer to apply changes.
4. Remove Adobe CC Desktop App
The Adobe CC desktop app is one of the main software items that allows you to install and remove Adobe apps on your computer. Once all Adobe apps are uninstalled, the next step is to remove the Adobe CC desktop app for sure.
Just head over to the Programs and Features section by pressing Windows + R keys to open the Run dialog box > Executing the appwiz.cpl command.
Next, locate the Adobe Creative Cloud App and select it.
Then simply Uninstall it.
Unfortunately, most users may receive an error notice while uninstalling this program on the computer.
In that scene, you'll need to follow the next method to run the Adobe CC Uninstaller tool.
5. Run Adobe CC Uninstaller
Just visit the official Adobe website and download the Adobe CC Uninstaller Tool on the PC.
Next, open the tool, and run the Uninstaller.
Follow the on-screen instructions to complete the CC desktop app removal process.
6. Delete Adobe GC Invoker
Please Note: Perform this particular method if you're an advanced user or knows what you're doing.
Press the Windows + R keys to open the Run dialog box.
Type regedit and hit Enter to open Registry Editor.
From the registry editor interface, head over to Computer > HKEY_LOCAL_MACHINE > SOFTWARE > Microsoft > Windows > CurrentVersion > Run.
Here you'll find 'AdobeGCInvoker-1.0' > Just select it and press the Delete button to remove this key.
Close the registry editor and restart your computer to apply changes.
7. Restart Your PC and Manually Remove Adobe Folders
As a final resort, you should restart your computer and then manually remove the remaining Adobe folders that you want to delete such as:
C:\Program Files\Adobe
C:\Program Files\Common Files\Adobe
C:\Program Files (x86)\Adobe
C:\Program Files (x86)\Common Files\Adobe
Additionally, you can simply search for other unnecessary files/folders on the File Explorer (This PC) and delete all of them manually which may cause several issues. To do so: head over to C: drive [Where you've installed Windows] > Users folder > Your Username folder and Temp folders.
That's it, guys. We assume this guide was helpful to you. For further queries, you can comment below.