Have you ever thought of disabling and clearing your significant location data stored in your Mac device. The Significant location data is used to know your location and help app services such as Maps, Photos and Calendars, among others, to improve the service. Whereas, The Mac uses Significant location data to predict the weather, Traffic and director to help you according to your preferences.
Your Mac, Store your location data on your device to analyse and improve the service. Fortunately, you can erase the Significant location data from your device.
Noteworthy
Not to mention, this feature is quite handy, but there were some users who didn't want to store or share their location data. However, today we are going to teach y our How you can disable and clear the Significant location data from your Mad devices.
However, The location and other Specific data seem to be Quite used with integration with the app.
How can you Clear and Disable the Significant Location data on Mac?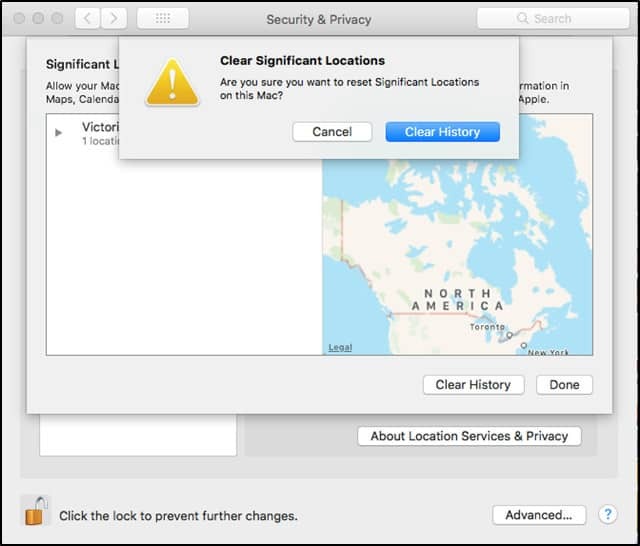 It is quite easy to remove the Significant location. Also, you can disable the Significant location data to save on your Mac. You can clear and disable it by following these steps:
First things first, click on the Apple Logo menu to head over to "System preferences."
Then you have to go to the "Security & Privacy" panel option.
Now, Choose the "privacy" options menu now and click on the "Location Services."
After that, click on the Lock icon to appear near the authentication.
Alongside, click on Unlock to allow you to make changes in the system.
Slightly scroll down, and you will find the "System Services" then click on the "Details."
There you have to go head over to the "Significant Location" from the settings.
Then click on the "Details" to view the stored significant location data on your Mac.
Now, on the new windows, it appears you have to click on the "Clear History" button.
Mac asks you to again by a prompt window to verify, and then you have "Clear History."
(

The Significant Location data will be clear from your iCloud means across your all iDevices device including iPhone, iPad, and Apple Watch among another device

.)
Then, You have to choose the Data that you want to allow the Apple system to access your location.
(

Unlock the Significant Location and Click on Done.)

That's it, and you have cleared and successfully disabled he Significant location using Mac.
Furthermore, when you initially set up your Mac, macOS asks you to control and manage the location data access by which app.Reportedly there were reports of the misuse of user data by Third-Party company. Also, you can specifically give location permission based on your preferences and requirements or disable it to share the location data.
Hopefully, this article remains helpful for you and worth your time. We assume you have Disabled successfully and Clear the Significant location from your Mac. Let us know your valuable opinion and experience, If any query. Please share with us in the comment section down below.