iOS 16 and macOS Ventura's continuity camera was probably the surprise star of WWDC 2022. You can select a Portrait mode for luxuriously blurred backgrounds, enhancing the clarity and quality of your Zoom calls. However, the most impressive trick of the Continuity Camera is not that.
It's Desk View, which shows you a live view of your MacBook desk from a straight-down top-down view given by your iPhone's ultra-wide camera and Apple's image processing algorithms. Everything is good in the Continuity Camera, but it is not working for some users after the recent macOS update. That's the reason we are here. In this guide, we have mentioned some basic fixes that will help you fix the Continuity Camera not working issue. So, let's check out the fixes: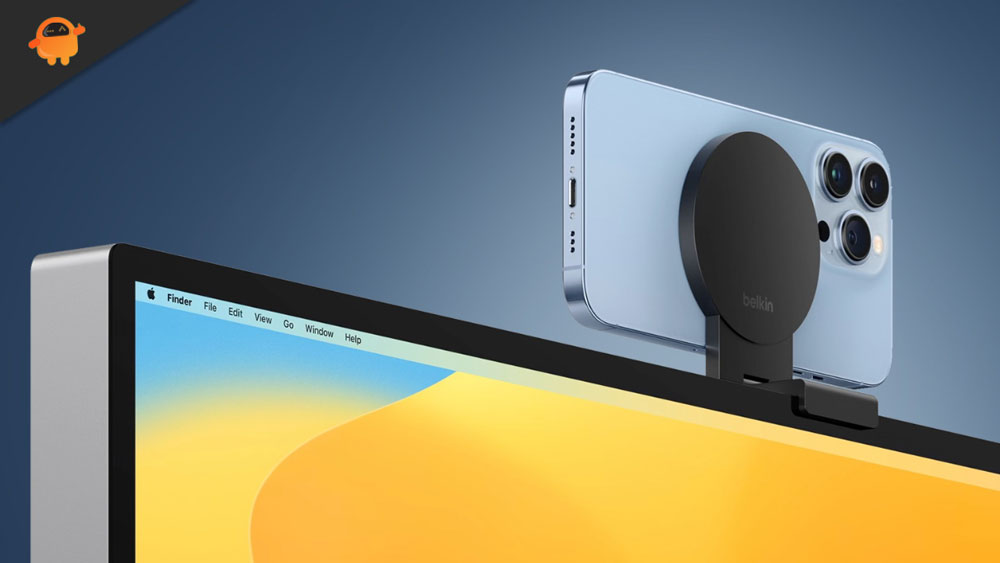 How To Fix Continuity Camera Not Working After macOS Update
So, here are some fixes that will help you resolve the Continuity Camera not working after the macOS update issue. So, let's check out those fixes:
Fix 1: Check Your Apple ID
Have you tried using your friend's iPhone with your Mac? Apple IDs from different devices will not be able to access iPhone cameras on Mac. Signing into the same Apple account on your iPhone and Mac is necessary.
For Phone:
On the iPhone running on iOS 16, go to the Settings app.

You can check your Apple ID by selecting your profile picture at the top and clicking the Apple ID link.
For Mac:
The System Preferences window will appear after clicking the Apple icon in the top-left corner of the menu bar.

Select the Apple ID in the top-right corner of the System Preferences window.

Your Apple email address can be found by selecting Apple ID.
Fix 2: Install The Latest Updates on Your Device
With the latest updates on iPhone and Mac, you can use Continuity Camera to turn your iPhone into a webcam. Download and install the updates to update iOS 16 or macOS Ventura on your iPhone and Mac. It isn't possible to use a Continuity Camera on a device that is running old software. Here are the steps you need to follow in order to complete the process of updating your iPhone to the latest iOS version.
You can open the iPhone's Settings app by tapping the home button.

Go to the General tab.

Make sure the latest iOS build is installed by selecting Software Update.
Installing macOS Ventura on a Mac is as easy as following these steps. There is a public beta version of the software available right now. Getting the beta build for your Mac is as easy as enrolling it in the Apple Beta Software Program online. Afterward, follow the steps below after Apple releases the update.
On a Mac, go to System Preferences.

Make sure Mac is updated with the latest software update by selecting 'Software Update.'
Fix 3: Enable Continuity Camera Toggle
After installing the latest iOS 16 update, Apple automatically enables the Continuity Camera feature. If you accidentally turned it off, you can turn it back on by following these steps.
On the iPhone, go to Settings.

Click on General.

Choose AirPlay & Handoff.

To enable the continuity camera, click the 'Continuity Camera' toggle.
Fix 4: Change The Default WebCam
There are a variety of third-party video apps compatible with Continuity Camera, including Zoom, Teams, and Google Meet. There is, however, an iPhone camera option that appears automatically on these apps. A Mac's default webcam can be changed by tweaking a setting. As soon as all the conditions have been met, place your iPhone beside your Mac and make the necessary changes to the video app you like. The following examples will illustrate Google Meet, Microsoft Teams, and Zoom.
#1. Microsoft Teams
You can open Microsoft Teams on your Mac by clicking the app icon.

You can access Preferences by clicking the Microsoft Teams menu in the top-left corner of the menu bar.

In the left-hand sidebar, select Devices.

You can choose your iPhone camera from the Camera menu drop-down.
#2. Google Meet
You can visit Google Meet online. You will need your Google account details to sign in.

In the top right corner, click the Settings gear.

From the left-hand sidebar, select Video.

Click on the Camera icon and select the iPhone's main camera.
Fix 5: Make Sure Bluetooth Is Enabled on Both Devices
It is required that both Wi-Fi and Bluetooth be enabled on Mac and iPhone in order to use iPhone as a webcam. Additionally, you need to connect them to the same wireless network. Checking and confirming that is as easy as following these steps.
Your iPhone's top-right corner can be accessed by swiping down. The Control Center is accessed by swiping upward from the bottom (on iPhones without a Home button).

Make sure your iPhone is enabled for Bluetooth and Wi-Fi.
Wi-Fi and Bluetooth toggles can be enabled on Macs by clicking the Control Center icon in the top-right corner.
So, that's how to fix if the Continuity Camera is not working after the recent macOS update. We hope that this guide has helped you. However, in case you have any doubt in your mind, comment below and let us know.