Microsoft releases new features with its latest versions of Windows. As Windows 10 is more advanced and complex than Windows 7 and 8, Microsoft beta tests every new feature before making it available for all its users. But even after these tests, bugs always find their way in with Windows Update.
In May, Microsoft introduced an updated version for Windows 10. The May 2020 Update, otherwise known as the Windows 10 version 2004 provides an improved Microsoft Cortana voice assistant, Windows Defender System Guard, Application Guard for the IT pros, Windows Subsystem for Linux, and better security features. Sadly, after releasing Windows 10 version 2004, Microsoft found bugs in it. So, just a day after releasing the latest version, Microsoft introduced a list of Known Issues associated with the new May 2020 Update.
After more than a year's testing process, Windows 10 version 2004 still shows many incompatibility driver issues. The new system update is more likely to be available for Windows 10 version 1903 or 1909 via Windows Update. However, Microsoft recommends to not manually update using the Update now button or the Media Creation Tool until any solutions come for the issues on certain devices. If you are curious to know more about these issues, then continue reading our article. In this article, we are going to discuss the various issues associated with the new Window 10 version 2004 and their current status.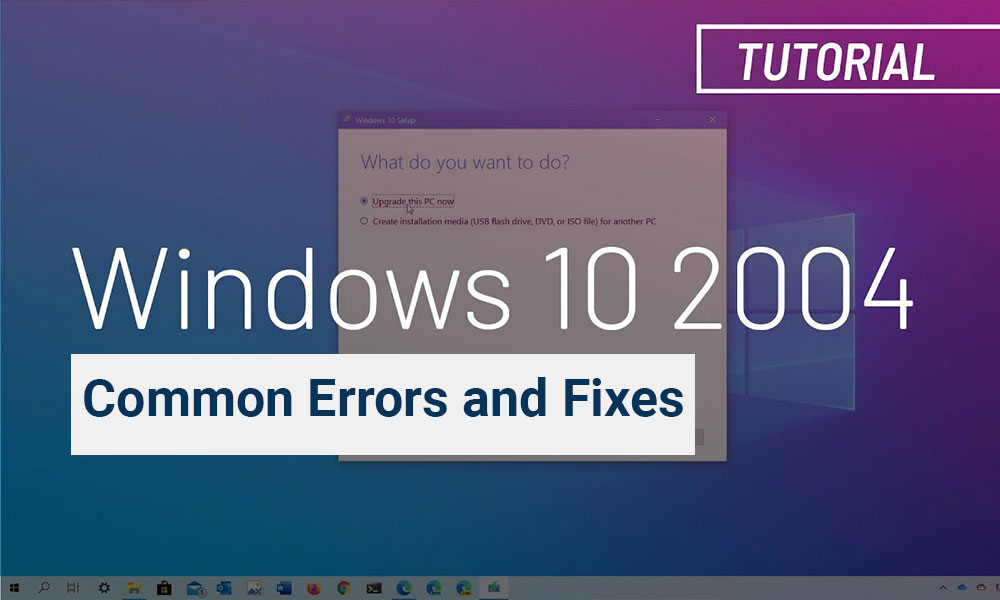 Common Windows 10 2004 Problems And Solutions
Here we will list all the common Windows 10 2004 update bugs and fixes which we find useful for our readers. If you find any common bugs on your Windows 10 running 2004 version, you can report it in the comment section below.
The issue with the devices using the Always On, Always Connected feature
There are a few Windows 10 version 2004 users who use network adapters with "Always on,"Always connected" settings, and they face this error. In this problem, users face unpredicted restarts/shutdowns or several error codes. The network adapters that they use include Microsoft Surface Pro 7 and Microsoft Surface Laptop 3.
To solve this issue, you need to have a KB4557957 update. For this, Windows have removed the safeguard.
The issue with older drivers for Nvidia display adapters (GPU)
Certain versions of Nvidia display adapter drivers are incompatible with Windows 10 version 2004. The affected Nvidia display drivers might start showing Blue Screen errors. To solve this issue, you can check with your device manufacturer (OEM) to see if an updated driver is available and install it.
But until Microsoft and Nvidia come with a permanent solution together, you should not manually update to Windows 10 version 2004.
The issue with GameInput Redistributable
The incompatibility issue with GameInput Redistributable could affect the apps or games, and you might also lose mouse input. A compatibility hold was present on the devices with GameInput Redistributable to prevent the device from the May 2020 Update.
After investigations, it came into notice that the issue does not affect any version of GameInput Redistributable. So, the safeguard hold has been removed.
The issue with Deployment Image Servicing and Management
The Deployment Image Servicing and Management (DISM) is a utility used to detect and correct system corruption. But with the Windows 10 version 2004, DISM might incorrectly report that corruption is still present after repairing. To solve this issue, you can run the "DISM.exe /Online /Cleanup-Image /ScanHealth" in the command prompt window.
There's no permanent solution has been found for this issue.
Incompatibility issue with Intel and Microsoft
A device monitor with Variable refresh rate (VRR) plugged into an Intel integrated graphics processing unit (iGPU) display adapter shows issues with the Windows 10 version 2004.
To solve this problem, Microsoft and Intel are working on a resolution. The solution will come with the next Windows Update.
Driver problem for Realtek Bluetooth radios
The new Windows Update can affect the Realtek Bluetooth radios and make the drivers unable to connect more than one Bluetooth device at a time. Microsoft and Realtek are working on a resolution for this problem.
Until a resolution comes with the next update, a compatibility hold restricts your device from getting updated to Windows 10 version 2004.
Incompatibility between Synaptics and Microsoft
Some drivers for Conexant ISST audio drivers might produce problems during the installation of the Windows 10 May 2020 Updates or after the installation process. The name of the affected driver can be Conexant ISST Audio, Conexant HDAudio Drive and it will be present in Sound, video, and game controllers folder under the Device Manager option.
A compatibility hold is applied to the devices with affected Conexant or Synaptics audio drivers until a solution comes to resolve this problem.
Issues with ImeMode property
The ImeMode property controls the IME (Input Method Editor) mode for individual text entry fields to increase typing efficiency. But when you update your Windows to the Windows 10 version 2004, the ImeMode property starts showing errors like the input mode not automatically switching to Kanji or Hiragana.
A solution for this issue is present in the KB4564002- Microsoft Update Catalog.
Issues with plugging or unplugging a Thunderbolt dock
After updating your computer to Windows 10 version 2004, you will receive a stop error with a blue screen while plugging or unplugging a Thunderbolt dock. The affected devices will have at least one Thunderbolt port, have Kernel DMA Protection enabled and Windows Hypervisor Platform disabled.
A compatibility hold doesn't allow the Windows 10 version 2004 to prevent this issue.
Windows Failed to Start Error with a device where aksfridge.sys or aksdf.sys is present.
With certain versions of aksfridge.sys or aksdf.sys, the Windows 10 version 2004 might fail to install. Even after installing the new update, Windows Failed to Start Error might appear on your computer. That's why a safeguard hold prevents your device from getting the Windows 10 version 2004.
Security Authority Subsystem Service file (lsass.exe) failure error
In the case of Isass.exe failure, you will receive the error message, "A critical system process, C:\WINDOWS\system32\lsass.exe, failed with status code c0000008. The machine must now be restarted". Typically, it occurs when the Local Security Authority Subsystem (Isass.exe) fails on some devices.
The solution to this issue is unknown yet, but you can expect the same by July.
Printers unable to print error:
When you install KB4557957, a few printers stop working. Either the print spooler can cause the error or it can shut down when you are trying to print something. Also, the problem can occur to the application from which you are attempting to print action. It can also affect the software-based printers including printing to PDF.
The solution to this issue solves in the out-of-band KB4567523 update, that is an additive update. In this update, you need not download any previous update before its installation. All you need to go to the Microsoft Update Catalog and look for KB4567523 to get the standalone package for the same. Also, you can get it from the Windows Server Update Services with manual processing.
Unable to open Microsoft Office application after installing KB4557957
After installing the KB4557957- Microsoft Service Catalog, some users are facing problems while opening certain applications (Microsoft Office). However, this issue is only present on devices with certain versions of Avast or AVG applications. And it can be solved by updating Avast or AVG applications.
Microsoft has put safeguard hold on certain devices that are not ready for the Windows 10 version 2004. And if you are planning to update to Windows 10 version 2004 manually, you should once go through the list of issues we have given above. Check carefully if your device is ready for the new Windows Update.
Even after extensive testing for over a year, the latest version for Windows shows a lot of issues. At least, we are thankful that Microsoft made us aware of the issues that come with the new Window 10 version 2004. After going through the list given above if you are sure your device is ready for an upgrade, then you can manually update your Windows. We hope you were able to find everything you needed to know about the Windows 10 version 2004 in this article. If you have any queries or feedback, please write down the comment in the below comment box.