In this tutorial, we will be discussing the Death Stranding Error messages that require Windows 10 Version 1809 or Later, and its potential fixes, if any. This highly anticipated was launched for PS4 late last year and just a few days back for the PC. Controlling the Sam Porter Bridges, you play as the courier whose major objective is to deliver supplies to the few remaining isolated colonies. Furthermore, you will also have to try and reconnect them to the outside world via wireless networks. The gameplay, story, soundtrack, and visuals are also worthy of praise.
But what isn't is a quite strange error that many PC users have started facing in the past couple of days. Quite a few users are experiencing the error message in Death Stranding asking the users for the Windows 10 version 1809 or later to be installed. However, the thing is users are already having the latest Windows version installed, and despite that getting greeted with this error. In this guide, we will check out the reasons why this might be happening in the first place. More importantly, our focus will be to find out the potential fixes for this issue. So without further ado, let's begin.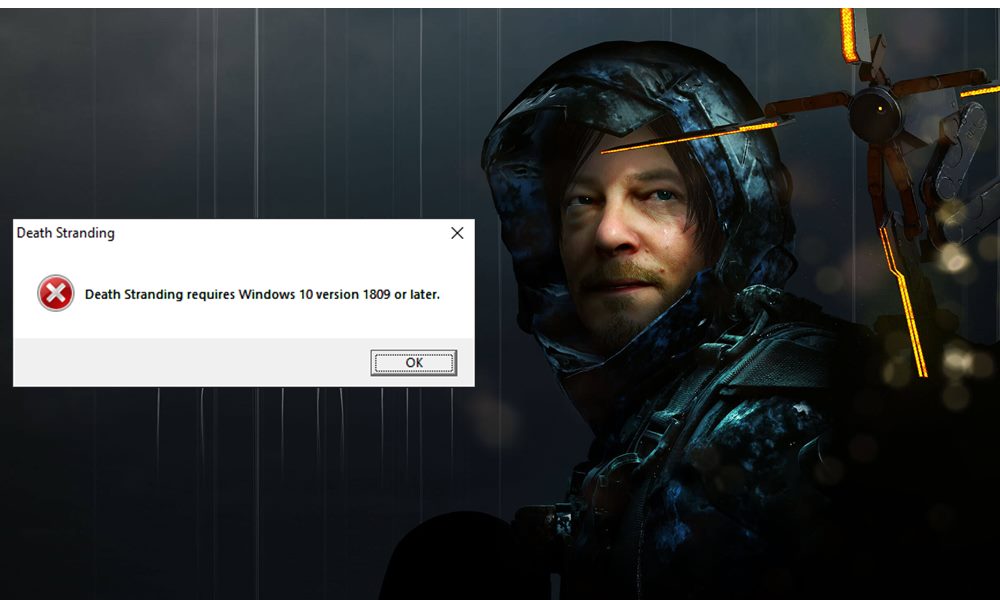 Death Stranding Error: Requires Windows 10 Version 1809 or Later
Well, it isn't an isolated error being faced by just a few errors. Across many online forums, we are witnessing discussions going on about this issue. Below is a Reddit thread where one user has voiced his displeasure.
Error on Launch. I'm on Version 1909. Anyone else having this issue? from DeathStranding
Apart from that, there is a lengthy discussion going on in the Steam Community forum as well, as is evident from the below screengrab.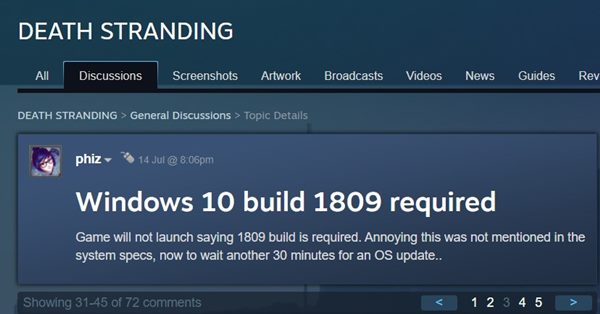 So going by the error message, it is anything but obvious that the error is simply because the user is using an old build of Windows. In that regard, getting their Windows 10 updated to the latest version should fix this issue. However, here's the catch. All the users facing this error are already running the latest build or at least the version 1809, as is called for.
So why is this happening? Well as of now, there are no official wordings on this. However, in the meantime, there are a few tips that you could try out and see if you could taste success or not. Do keep in mind that these aren't the official fixes, but just a few tricks that we managed to find out. Follow along.
Potential Workarounds
Here are some of the potential fixes that you could try out.
Tip 1: Check and Update Windows Version
To begin with, you should check the version of the Windows 10 you are currently running. There are quite a few ways of knowing that, but the easiest one involves the use of the Run dialog box. And if you are indeed running an older build of Windows, then you could update it to the latest version using the steps that follow.
Use the Windows+R shortcut key combination to launch the Run dialog box.
Type in "winver" and hit Enter.
Check your version of Windows, and if it is earlier to 1809, update it right away.

To do so, click on the Start menu icon and search for Windows Update. Launch the first search result and click on Download.
Wait for the update to be downloaded and once that is done, restart your PC.

Now launch Death Stranding and see if you are getting the" Windows 10 version 1809 or later" error message. If your reply is in the affirmative, then you could also try out another tip given below.
Tip 2: Disable Compatibility Mode in Steam
If you are running Steam in Compatibility Mode in any of the earlier versions of Windows, then also you could face this error message. So for the time being you should disable the said feature. Here is how this could be done:
Right-click on the Steam.exe file and select Properties.
Under Steam Properties dialog box, click on Compatibility.

Make sure to untick the "Run this program in compatibility mode for" option.
Finally, click on Apply > OK. Now restart your PC and see if the error has been rectified or not.
Well, these were just some of the unofficial workarounds that we hoped might work out for our readers. As and when there are any official wordings about this, we will update the guide accordingly. Along the same line, if we manage to find out more fixes for the Death Stranding Windows 10 Version 1809 or Later error, we will add it to this guide. In the meantime, you could go through our iPhone Tips and Tricks, PC tips and tricks, and Android Tips and Trick