Demon's Souls challenges your wit and skill to a large extent. To survive in this game, you need to be in possession of the right weapons and the right shields. The Large Sword of Searching is one such weapon that not only helps you defend but is also a reasonably good weapon to attack. Moreover, it is a Curved Sword that you can use to gather the farm items also.
Now, most of the Demon's Souls This guide here tells you everything you need to know about this Sword and how to get it. So we have brought a detailed guide that will help you to get the Large Sword of Searching. Let's get started without taking any more time.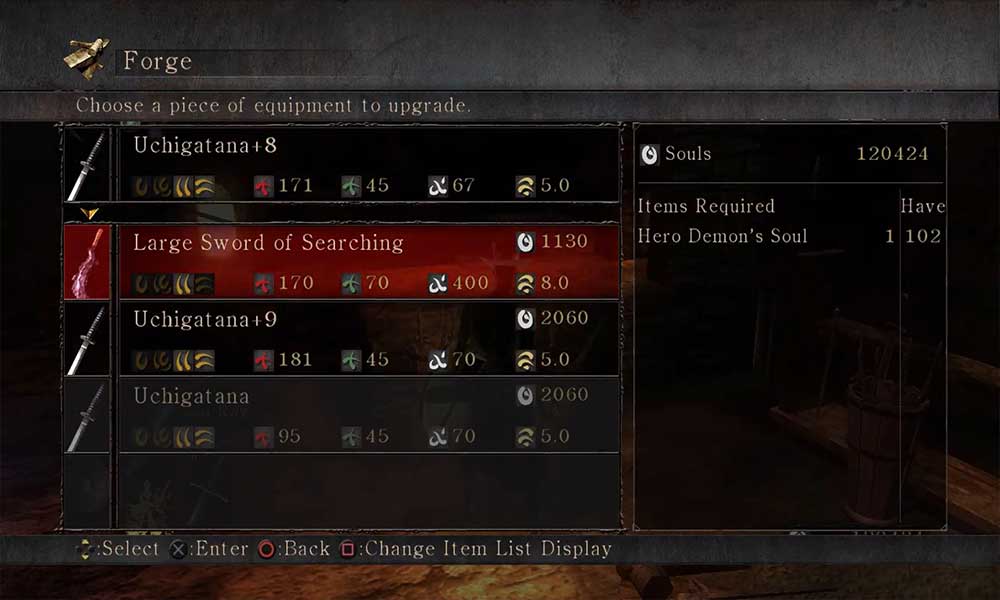 About Large Sword of Searching
This curved Sword has a large crescent blade. It is made of crystal and is reported to have been forged from the Soul of the Demon "Old Hero." The Sword does not have a fresh look, as it is being used for many years since it was forged. The Sword is lucky for the one who wields it. It is believed that the Old Hero's Soul is a source of good fortune because he was the "Searcher of Storms."
Demon's Souls: How to Get Large Sword of Searching
To get the Large Sword of Searching in Demon's Souls, you need to do a little bit of searching and need to have a few essential things in hand. For acquiring the Large Sword of Searching, go to the Smithing Grounds of World 2-1. Near the Archstone there you will find the Stonefang Tunnel. In the tunnel, you will find the NPC, Blacksmith Ed. Go and speak to this Blacksmith Ed. He would need certain items from you. In exchange for these materials, he will give you the Large Sword of Searching.
For acquiring the Sword for yourself, you need to fork over a Hero Demon Soul. In addition to this, you also need to have one of the following weapons:
Falchion +8
Scimitar +8
Broad Sword +8
Claws +8
Flamberge +8
Shotel +8
Kilij +8
War Scyth +8
Uchigatana +8
The Large Sword of Searching does not work like any other large sword, i.e., it does not attack like a large sword but can be handled with one hand alone. It is actually a curved sword and not as strong as a regular large sword. It features regular looks and does not deal a lot of damage to the enemy.
Additional Benefits of Large Sword of Searching
The benefits of a Large Sword of Searching include:
It doubles your Item Drop rate.
The Sword comes in handy when you are trying to get the farm items.
The weapon is useful when you try to get the Penetrator Armor set in the Fractured Mode.
The weapon improved the item drop rate even when you are not actually using it, i.e., when you keep it off-hand.
Well, that's all we have got for you with getting the Large Sword of Searching in Demon's Souls. We hope this guide helped you. For more gaming and other updates, subscribe to our YouTube Channel. Also, check out our Gaming Guides, Windows Guides, Social Media Guides, iPhone, and Android Guides to know more.