OnePlus smartphones are known for their flagship-killer segment that works well with Android OS on top of the OxygenOS skin (HydrogenOS in China). OnePlus users and even non-OnePlus users preferred to use OxygenOS on their devices due to plenty of features & an almost stock-like experience. However, it seems that plenty of users are interested to Downgrade their OnePlus devices from Android 12 to Android 11 (OxygenOS 12 to OxygenOS 11).
Also Read: Fix: Mobile Network Not Working After Updating to OxygenOS 12 (Android 12)
It's happening in a very short period of time after the merge of OPPO and OnePlus a couple of months ago. OnePlus users or fans were not expecting something like this to happen at all. But somehow things have changed a lot of OnePlus since Pete Lau (Co-Founder) has left the company. Now, the OnePlus brand is owned by OPPO and the company is implementing ColorOS 12 UI with features to OxygenOS 12 based on Android 12 which is weird.
That means after updating to Android 12 (OxygenOS 12), most of the OnePlus 9/9 Pro users aren't happy at all with the ColorOS-like user interface and features. It seems that the OxygenOS skin has lost its identity. Meanwhile, with the drastic changes in the user interface or plenty of bugs and stability issues, the OnePlus 9 series users have stormed the online forums. OnePlus is also aware of this issue and has pulled out the OxygenOS 12 stable update as of now.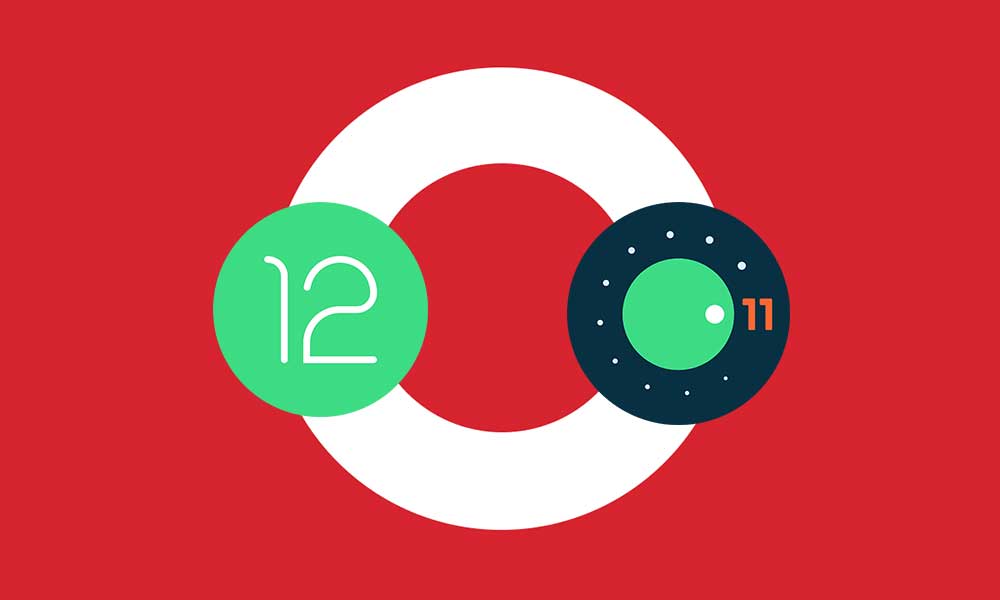 Downgrade OnePlus Android 12 to Android 11 | OxygenOS 12 to OxygenOS 11
However, some OnePlus 9/9 Pro users are still getting the OxygenOS 12 based on Android 12 OTA update notification with the warning notice that it may cause some bugs. Still, some users are updating to OxygenOS 12 that brings several bugs and stability issues whatsoever. Now, the affected users or those who're not liking the OxygenOS 12 skin, become impatient to roll back or downgrade the system version from Android 12 to Android 11.
If you're also one of them, don't worry. Here we've shared the full in-depth guide to safely roll back your OnePlus device from OxygenOS 12 to OxygenOS 11 stable version. So, without wasting any more time, let's jump into the guide below.
1. Backup your Data
To begin with, you should take a complete backup of all the data on your device. The downgrading process will automatically delete the device data completely. So, having a data backup will help you a lot.
2. Charge your Device
Along the same lines, make sure to keep your device sufficiently charged so that it doesn't turn off midway during the rollback process. So keep your device charged to at least 50%.
3. Install OnePlus USB Drivers
Install the OnePlus USB Drivers on your PC so that the latter is able to recognize your device.
4. Download OnePlus 9/9 Pro OxygenOS 12 Downgrade Firmware
Finally, download the rollback firmware for your OnePlus 9/9 Pro device from the below link. Make sure to download the firmware corresponding to your region only, cross flashing the firmware of any other region might create some issues.
Android 12 Stable 2 Downgrade Package to Android 11
OnePlus 9 Rollback Package (Stable)

OnePlus 9 Pro Package (Stable)

Download Rollback APK
Android 12 Developer Preview 2 Downgrade Package to Android 11
OnePlus 9 Rollback Package

OnePlus 9 Pro Package

Download Rollback APK
Android 12 Developer Preview 1 to Android 11 Downgrade Package
OnePlus 9 Rollback Packages:

OnePlus 9 Pro Rollback Packages:

OnePlus 9/9Pro Rollback APK:
Steps to Downgrade OnePlus From Android 12 to Android 11
Start off by downloading the rollback package for your device from the above links.
Then transfer the downloaded firmware to your device's internal storage. [Do Not place it inside any folder. Keep it outside the folder]
The firmware file should be in the .JAR extension. Now, make sure to rename the file and change its extension to .ZIP file. No need to completely rename it.
Next, make sure to download and install the rollback APK file on your device.
Launch the rollback app > Tap on the Settings icon.
Head over to the downloaded downgrade firmware package file and select it.
Wait for the rollback firmware file to install or finish completely.
Finally, tap on the Reboot button, and wait again to restart the system.
Congrats! Your OnePlus device will reboot into the OxygenOS 11 skin. Now, go through the initial setup process.
Enjoy!
That's it, guys. We assume this guide was helpful to you. For further queries, you can comment below.