LG keeps updating their smartphones with their latest software updates. However, these all updates take a lot of time to get to the end user. So if you're one of the Android enthusiasts who want to download the latest LG firmware without waiting then this trick will be helpful for you.
Keeping your devices updates is very important. By keeping your device updated with the latest updates and android patches will keep your device fast and secure. However, this is not a piece of cake for smartphone manufacturers. It takes days and sometimes months for users to get the latest android users. Since there are a lot of smartphone models, this is becoming a huge problem. However, with a simple trick, you can update your LG smartphone with latest updates. Want to know how?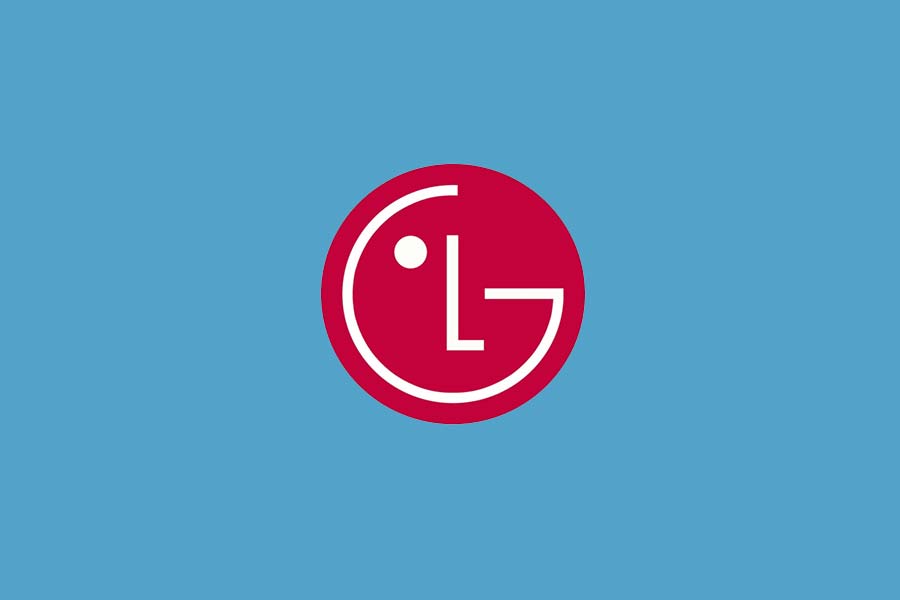 How to download official LG firmware for your phone
Downloading the latest LG firmware is easy when you know your device model and serial number. This is a simple trick to download an install all the latest updates for your LG device without waiting for OTA updates.
This trick will work for almost all LG smartphones. But before proceeding further, I want to say that this trick is unofficial. So it might get patched by LG servers. So without waiting any further, let's start with this simple yet working trick.
Also read: Stable Android Pie for OnePlus 5 and OnePlus 5T released
Prerequisites:
You need to know about your device model and serial number
A working computer and fast internet
USB drivers
Charge your device for at least 50%
Don't forget to take a complete backup of your android device
Steps to check official firmware:
1. Take out the battery from your device and copy the serial number. Also copy the device model number as well.
2. Now type the following URL
http://csmg.lgmobile.com:9002/svc/popup/model_check.jsp?model=[model]&esn=[serial_number]
Now change [MODEL] and the [SERIAL NUMBER] with your phones model and serial number
for eg. if your device model number is "VM670" and the serial number is "567408034080388". Then you would type something like this:
http://csmg.lgmobile.com:9002/svc/popup/model_check.jsp?model=VM670&esn=567408034080388
3. Now press enter and wait for the page to load. Don't be surprised if the page is blank. In order to view the information, you have to view the page source code.
Trending: Nokia X5 starts receiving Android 9.0 Pie update, Nokia 5.1 Plus get soon
4. Open the source code of this webpage.

Quik Guide: How to open source code of any webpage
Chrome: Click Customize and Control at the right of URL Line —>Tools —>View Source
Firefox: Tools —>Web Developer —>Page Source (Cntrl + U or Cmd + U)
Safari: Right click blank area anywhere on the page, select View Source in the menu.
Internet Explorer: View —>Source

5. Search for the ESN number. You will find this number between <ESN></ESN> tags.
6. Use this ESN number in the following URL
http://csmg.lgmobile.com:9002/csmg/b2c/client/auth_model_check2.jsp?esn=[esn_number]
e.g. If the ESN number is 5699659793570 then the following URL will look something like this?
http://csmg.lgmobile.com:9002/csmg/b2c/client/auth_model_check2.jsp?esn=5699659793570
7. Load the page and see the source code the firmware update link. You will find this link between <SW_URL></SW_URL> tags.
8. Copy the URL into your browser and hit enter. The download should start automatically.
How to update the LG firmware:
After you successfully download the updated KDZ file, you can flash it on your device. There are many tools to do that, but we will use LGflashtool to flash these updates.
warning
Flashing this update might void your device warranty. Also, the procedure given below is technical and any mistake might break your device.
We at Getdroidtips do not take any responsibility for any damaged or bricked devices after following this tutorial. Follow if you know what you're doing!
Pre-requisites:
Note: If the download link is not opening, try opening it with a free VPN service!
Instructions to Install:
Before starting the update, download the LG flash tool and extract all the contents from the zip file.

Copy the KDZ update file into LG Flash Tool 2014 folder

Run the program as administrator mode and fill all the details of the smartphone.

Enter download mode and connect your device with USB cable.


How to Boot your LG device into Download Mode:
Shut down your LG device.
Press and hold Volume Up button.
Connect your device to PC with a USB cable while holding the Volume Up button.
You'll boot into download mode with "Firmware Update" written on top of the screen.

Select KDZ file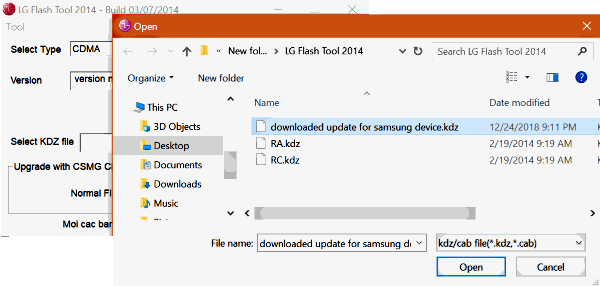 Then start the flash process (click on normal flash) and wait for a few minutes.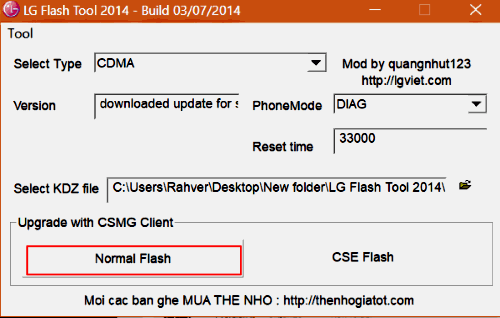 Update complete! Now you can reboot your device.
So this is how you can manually fetch and update your LG smartphone with new LG firmware. This trick will work on almost all LG smartphones. If you're facing any problem with the download or flashing process, then you can ask in the comment section below. I will be happy to help you out. Thanks for stopping by and have a wonderful day!