In this tutorial, we will show you the steps to remove FRP and the Cloud Verification from Xiaomi devices using the Mi Account Unlock Tool. All the devices from this OEM come with a Mi Account. You could easily log in and then sync all the data and files to that account. The benefits of the same are aplenty. First and foremost, all your data remains safe in the clouds. Furthermore, if you have purchased a new Xiaomi device, then you could directly sign in with your old account and the associated data will be synced over to the new device as well.
Along the same lines, when you factory reset your device, then on the next boot the Google security mechanism comes into play. Known as Factory Reset Protection, you could only go through this screen after logging in with your correct credentials. However, in some instances, users forget their account details and aren't able to log in to their devices. This is where the Mi Account Unlock Tool will come in handy. Using this tool, you could easily remove the FRP lock as well as cloud verification from your device. Follow along for the complete instructions.
What is Mi Account Unlock Tool
The tool does exactly what its name suggests- it allows you to bypass the FRP restriction set in place by Google. Apart from that, the first time you sign in with your Xiaomi account onto your device, all these details are saved on the OEM's clouds as well. Then upon entering the credentials, Xiaomi matches these details with the data stored on its servers. If it matches you are good to go, otherwise, your device will be as good as a paperweight. Well, not anymore.
If you ever forget the password to your Mi Account or aren't able to go past the FRP lock after a factory reset, then this tool is what you would be needing. Using the Mi Account Unlock tool, you could easily remove the cloud verification as well as Factory Reset Protection and access your device without any issue. Along the same lines, if you step into the custom development, you will have to register and create a Mi account using the "Add account and device" option.
After this, you will have to sign in with the same account over to Mi Unlock Tool to unlock the device's bootloader. Until and unless, the account on your device matches with the account signed in to the Unlock Tool, you wouldn't be able to proceed ahead. Well, the Mi Account Unlock tool will again come in useful in such a scenario. Just launch the tool, remove the account verification, and your good to go. On that note, let's check out the steps to remove FRP and the Cloud Verification from Xiaomi devices.
How to Use Mi Account Unlock Tool and Bypass Verification
Before we list out the instruction steps, there are a few prerequisites that you need to go through. Make sure that your device meets all the requirements, as mentioned below.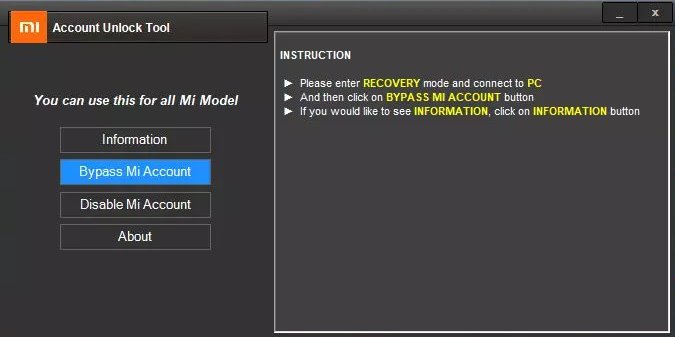 Prerequisites
To begin with, download and install Xiaomi USB Drivers onto your PC.
Likewise, you will have to reboot your device to Recovery Mode.

For that, Power off your device. Then press and hold the Volume Up and Power button for a couple of seconds.
You could also make use of the ADB commands. For that, install the Android SDK Platform Tools on your PC and enable USB Debugging on your device.
Then connect your device to PC and launch the CMD window inside the platform-tools folder. Use the adb reboot recovery command to boot your device to Recovery mode.

Finally, download the Mi Account Unlock Tool: Download Link.
Windows Defender might flag this program as a threat or virus. So you might have to temporarily disable your Firewall or Defender while dealing with this tool. But proceed with caution. GetDroidTips or its members won't be held responsible if anything happens to your device or your PC.
Instructions Steps
Extract the contents of the Mi Account Unlock Tool to a convenient location on your PC.
Now double click on the tool's EXE file to launch the application.

Connect your device to PC via USB cable. Make sure it has been booted to Recovery Mode.
Then head over to the Information section of the tool. Then verify that it is showing the details corresponding to your device only. If not, then you might have to reinstall the necessary drivers.

Moving on, once you have verified your device, click on the Bypass Mi Account button. The process will now begin and should only take a couple of minutes.

Once that is done, you should get the OK message. At this point, you may now remove the device from the PC and reboot it. Now you wouldn't face any verification or lock issue as such.

With this, we conclude the guide to remove FRP and the Cloud Verification from Xiaomi devices using the Mi Account Unlock Tool. If you have any queries, do let us know in the comments section below. Rounding off, here are some iPhone Tips and Tricks, PC tips and tricks, and Android Tips and Trick that deserve your attention as well.