From this post, you could download the all-new Apple CarPlay Wallpapers right away. For the unaware, the Apple CarPlay allows you to have full control over various connected smart car accessories and the stereo speakers as well. All this is done via Apple's own virtual Assitant Siri. And with the latest iOS 14 and iPadOS14 updates, CarPlay also seems to have been blessed with some nifty yet important features.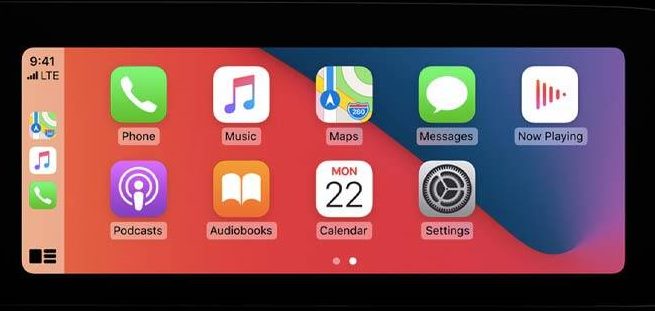 For example, you could now directly send voice messages to all your contacts via Siri. Likewise, it could now keep you informed about your Estimated Time of Arrival via the Maps App. Apart from that, Apple has also added some EV focused features to the latest OS- EV charging, parking, and quick food are some of the noteworthy ones. Then there is the highly talked about CarKey functionality. Using this feature, you could easily lock/unlock and start/stop your car directly from your iPhone itself.
Apart from all these, there are a few UI changes as well, including the new Appearance option under the Settings page. Talking about UI, you also now get five new Apple CarPlay Wallpapers. And in this guide, we will be sharing just that. But before that, you will have to connect your iPhone with CarPlay, the instructions for which is given in the below section. Once you complete the below instructions, only then you will be able to add the iOS 14 CarPlay wallpapers. So grab hold of the wallpapers' download link from the below section and then proceed with the steps to add these Carplay Wallpapers.
Download All New Apple CarPlay Wallpapers
All in all, there are a total of 10 Apple CarPlay Wallpapers. All of them are fresh and vibrant looking and comes in 2048 X 2048 pixels resolution. While they might look somewhat along the lines of iOS 14 and iPadOS 14 wallpapers, but there is something interesting that differentiates it from others. All these 10 wallpapers are dynamic in nature. This means that they will automatically change from light to dark based on the time of day. With that said, you may now preview these wallpapers from below and then download it from the subsequent section.
Preview Wallpapers
Do keep in mind that these wallpapers uploaded in the below gallery are in a compressed format and are just for the previewing purposes. To actually download them, we would recommend you to head over to the Downloads section.
Download Apple CarPlay Wallpapers
You may now download all the 10 Apple CarPlay Wallpapers from the below Google Drive Link. As mentioned before, all of them are in 2048 X 2048 pixel resolution.
How to add Apple CarPlay Wallpapers
Now that you have downloaded all the wallpapers, it is time to apply it. Follow the below steps for that:
Head over to your iPhone's Settings page.
Go to General and tap on CarPlay, followed by Available Cars.
From the menu that appears, select your car.
Now once your iPhone is connected to the CarPlay, make sure to turn on the latter.
Then head over to the Settings menu from your CarPlay.

Within that, go to the Wallpapers section, preview the one that suits your need, and hit the Set button situated at the bottom right.
So this was all from this guide regarding the all-new Apple CarPlay Wallpapers. Don't forget to check out our stock wallpaper collections from other OEMs as well.