Electronic Arts Inc. is known for its contribution to stunning video games like Apex Legends, FIFA series, Battlefield series, Madden NFL series, The Sims series, Star Wars series, and more. Additionally, the EA app is a next-generation gaming client for Windows that allows players to easily access and play their favorite EA games. However, it seems that several unfortunate multiplayer gamers are facing the EA App Not Connecting to the Server Error quite often.
Well, the EA App users are encountering the same server connectivity issue whenever they try to get into multiplayer video games like Apex Legends or FIFA Ultimate Team, or Battlefield 2042 which becomes frustrating enough. Just like other gaming clients, it has several bugs or issues that we can't deny but the frequency of getting server errors is high to handle as a player. It includes 'Unable to connect to the EA servers' or 'You lost your connection' errors.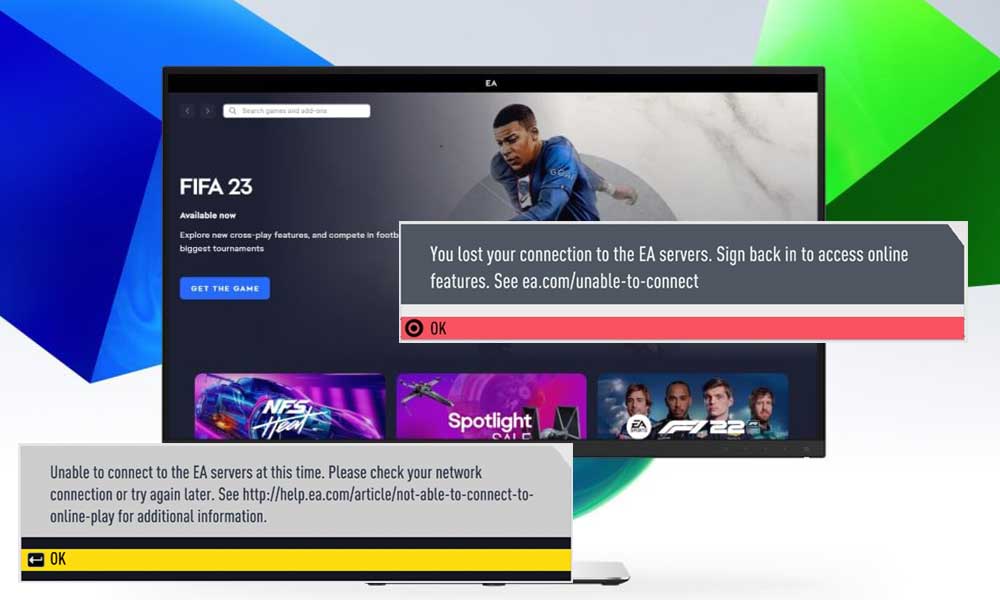 Fix: EA App Not Connecting to Server Error
Talking about the EA servers connectivity error, the chances are high that somehow your EA App is unable to fetch online services due to the poor internet connection or the EA servers are down at that moment. Mostly this issue occurs whenever there is an issue with the EA server or an overloaded number of users are trying to get into the multiplayer games at the same time in some specific regions. Now, if you're also facing the same error then don't worry.
Luckily, here we've shared a couple of possible workarounds for you that should come in handy to resolve such an issue. Make sure to follow all troubleshooting methods one by one until the problem gets fixed. So, without further ado, let's jump into it.
1. Check the EA Server Status
First of all, you should check the EA game server status to ensure online services are up and running well. If in case, you're experiencing the server connectivity error for any specific game then make sure to game's server status. Sometimes issues with the server outage or downtime or scheduled maintenance might occur in service interruptions. You can also check out the DownDetector EA Status webpage to know if EA servers are working or not.
At the time of writing this article, it seems that plenty of EA App users are experiencing a lot of server connectivity issues apart from the EA account login issues and gameplay issues. So, you might need to wait for a couple of hours or more and then try using the EA App again to check for the issue. You can also follow the @EAHelp Twitter handle to get all the real-time updates and info regarding server outages, etc.
2. Check Your Internet Connection
The chances are also applicable that your internet connection is somehow having an issue with the slow speed or stability. It's better to run a speed test of the connected internet online and try playing other multiplayer games. If in case, there is an issue with the internet connection at your end, try switching to a wired (ethernet) connection from Wi-Fi or vice versa to cross-check the issue.
Make sure to contact your internet service provider (ISP) to get it checked, and ask to fix the issue. You can also switch to a different ISP or upgrade to a higher plan.
3. Reboot the EA App and Your PC
You can also close the EA App as well as restart your computer to ensure there is no temporary system glitch or program cache data bothering you. After rebooting the PC, you can launch the EA App again & check for the issue with your problematic game.
4. Try Signing Out of Your EA Account and Sign Back In
Sometimes issues with the temporary account glitches and server syncing might trouble you a lot. In that case, you should sign out of your specific account and try signing back into it. To do so:
Make sure to open the EA App client on your PC and then sign out of your EA account.
Close the EA App client and open Task Manager by pressing the Ctrl+Shift+Esc keys.
Now, click on the Processes tab > Click on the EA App executable task to select it.
Then click on End Task to close the process completely from the system.
Wait for a couple of minutes and then launch the EA App client.
Finally, Sign in to your EA account to check the issue again.
5. Power Cycle Your Wi-Fi Router
Sometimes only rebooting the game or device or switching the internet connection may not be useful because there might be an issue with the Wi-Fi router. In that scenario, performing the power cycle on your Wi-Fi router can also fix the internet connectivity-related issues completely. To do that:
Turn off the router first > Once the LED indicators stopped, unplug the power cable from the router.
Now, wait for around 30 seconds, and then plug back the power cable into the router.
Turn on the router and check for the problematic game again.
6. Disable the Firewall and Antivirus Protection
If in case, you're using the default Windows Firewall protection on your PC then you should turn it off temporarily and check for the issue again. To do this:
Click on the Start Menu > Type Firewall.
Select Windows Defender Firewall from the search result.
Now, click on Turn Windows Defender Firewall on or off from the left pane.
Select the Turn off Windows Defender Firewall (not recommended) option for both the Private & Public Network Settings.
Once selected, click on OK to save changes.
Finally, restart your computer.
You can also try turning off the Windows Defender option on your PC to ensure there is no antivirus software blocking the game files to run properly.
Press the Win+I shortcut keys to open the Windows Settings menu.
Click on Update & Security > Click on Windows Security from the left pane.
Now, click on the Open Windows Security button.
Go to Virus & threat protection > Click on Manage settings.
Next, you'll need to turn off the Real-time protection toggle.
If prompted, click on Yes to proceed further.
If in case, you're using any other antivirus program on your PC then make sure to turn it off.
7. Try Using Google DNS
Ensure to use a Google DNS address (public DNS) to ensure there is no server connectivity issue with the problematic game. Sometimes issues with your blocked DNS address that has been provided by the ISP may have some issues. To do this, you can follow the steps below according to the gaming device.
For PC:
Press the Win+R keys to open up the Run dialog box.
Type ncpa.cpl and click on OK to open the Network Connections page.
Now, right-click on your active network adapter > Click on Properties.
Select Internet Protocol Version 4 (TCP/IPv4) > Click on Properties.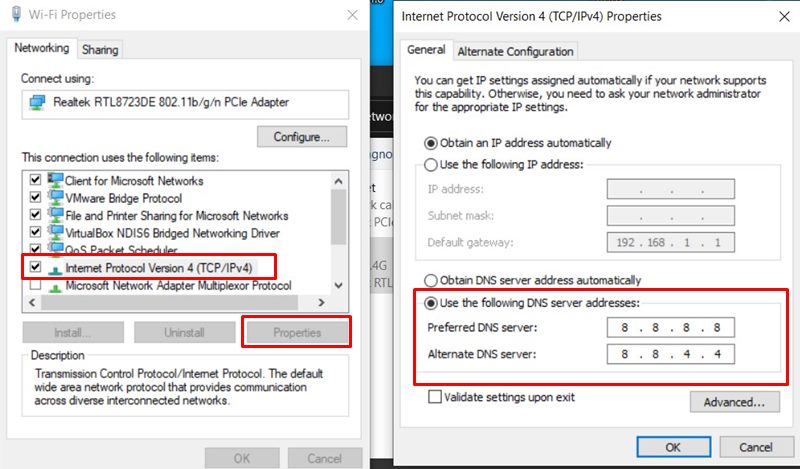 Click to select Use the following DNS server addresses.
Now, enter 8.8.8.8 for the Preferred DNS server and 8.8.4.4 for the Alternate DNS server.
Once done, click on OK to save changes.
Make sure to restart your computer to apply changes.
8. Don't Use VPN
Try avoiding VPN services at your end to ensure there is no issue with the server connectivity. A Virtual Private Network might also trouble you a lot in some cases to connect to the servers online depending on the region.
9. Contact EA Help Support
If none of the methods worked for you, make sure to contact EA Help for further assistance that will help the EA developers to investigate the issue. Make sure to create a support ticket for the same.
That's it, guys. We assume this guide was helpful to you. For additional queries, you can comment below.