EA Sports FC 24 is the new-generation football simulation video game EA Sports that works like FIFA in almost every aspect. To recall, the EA FC franchise started after the end of an era of FIFA collaboration. It delivers a true-to-football experience with HyperMotionV technology on multiple platforms including better graphics, 19000+ authentic players, and so on. The game is in Early Access right now and is expected to have some issues or bugs. Meanwhile, the EA FC 24 Web App Down issue and FUT App Not Working issue have become hot topics.
Now, if you're one of the victims of such an issue, then don't worry. The same kind of issue also happened with the FIFA 23 web companion app. Previously EA Sports did already acknowledge this issue and somehow resolved it. However, the same issue started appearing again in EA FC 24. Talking about the EA FC 24 Companion App is the better way to build a squad in Ultimate Team. With the web companion app, players can easily make every count because it allows you to unlock the first packs & collect the first rewards.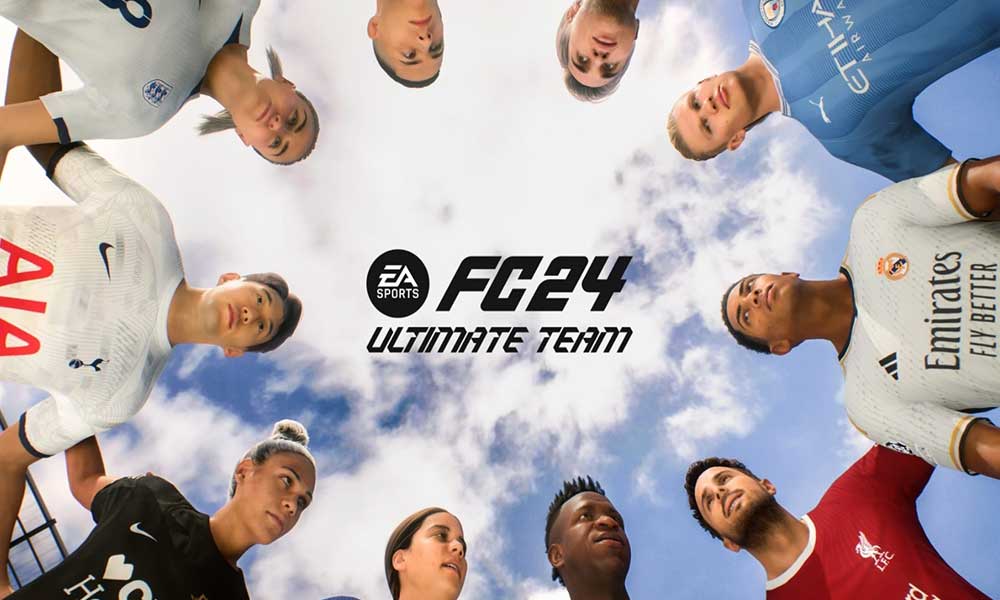 EA FC 24 Web App Down, How to Fix FUT App Not Working
If we take a quick look at the error message, it says "Your Account Doesn't Have A Ultimate Team 24 Club" with the EA FC 24 Companion App Login Error. While some players get the "It looks like you don't have a FUT Club." error notice whenever the web app is down. As the issue gets frustrating due to the continuous pop-up, players are tired of it. Mostly, this issue appears whenever the accounts are not linked correctly. But that's not happening for everyone.
Unfortunately, there are several possible reasons behind such an issue including account login problems, server downtime or maintenance, poor internet connections, an outdated browser version, corrupted system files, incorrect date & time, and so on. Here we've shared with you all the potential workarounds that should come in handy. So, without further ado, let's jump into it.
1. Check the EA Account First
First of all, you'll need to check out the EA account whether it's correctly showing and whether you're using the same valid profile or not. To do so:
Whenever you visit this official EA website, log in with your EA credentials.
Select My Account in the top left corner.
It'll basically display all accounts associated with your Origin account.
So, make sure to use only one account whatever you've used to purchase the EA FC 24 game.
Now, try to remove any other accounts that you don't need at the moment.
2. Check the EA FC 24 Server Status
Second, you should also check for the EA FC 24 Server Status here to ensure there is no server-related issue that troubles you or not. Sometimes the game servers aren't active or operational in the background which can cause web app launching issues. You can also check the official @EAHelp and @EASFCDirect Twitter pages to know the latest updates and info.
3. Restart the PC
You should restart the computer manually to refresh system glitches (if any). Just open the Windows Start menu > Click on the Power menu > Select Restart. Once the PC restarts, make sure to open the EA FC 24 web app via the web browser again.
4. Ensure You're Using the Full Game Edition
It's highly recommended to check whether you're running the EA FC 24 full-game edition or not. If in case, you're using a trial edition then you may encounter several issues. You should pre-order or buy the game completely and use the same account to play the game to avoid such issues.
5. Check the Internet Connection
You should check out the internet connection at your end because there may be several issues with the network connectivity. Using a poor or unstable internet connection can trouble you a lot. If you're using a wireless network then switch to the wired connection or vice versa to ensure there is no issue with the network access.
6. Update Chrome
Just like a Windows OS build or an application, it's recommended to update your Chrome browser once a week or so if in case, it doesn't update automatically. This will obviously fix plenty of issues with your browser.
Launch Google Chrome > Click on the Menu (three vertical dots icon) from the upper right side.
Go to Settings > Click on About Chrome from the left pane.
It'll automatically check for available updates. If yes, it'll automatically download and install the update.
Finally, close and restart your Chrome browser to apply changes.
7. Clear Browsing Data and Cookies
Web browser cache data and cookies can cause several issues with the webpage loading or forcefully redirect too much to throw out errors. It's recommended to clear browsing data and cookies manually to check for the issue.
Open Chrome browser > Click on the Menu (three vertical dots icon) from the upper right side.
Now, hover over the More tools field to expand the drop-down list.
Click on Clear browsing data.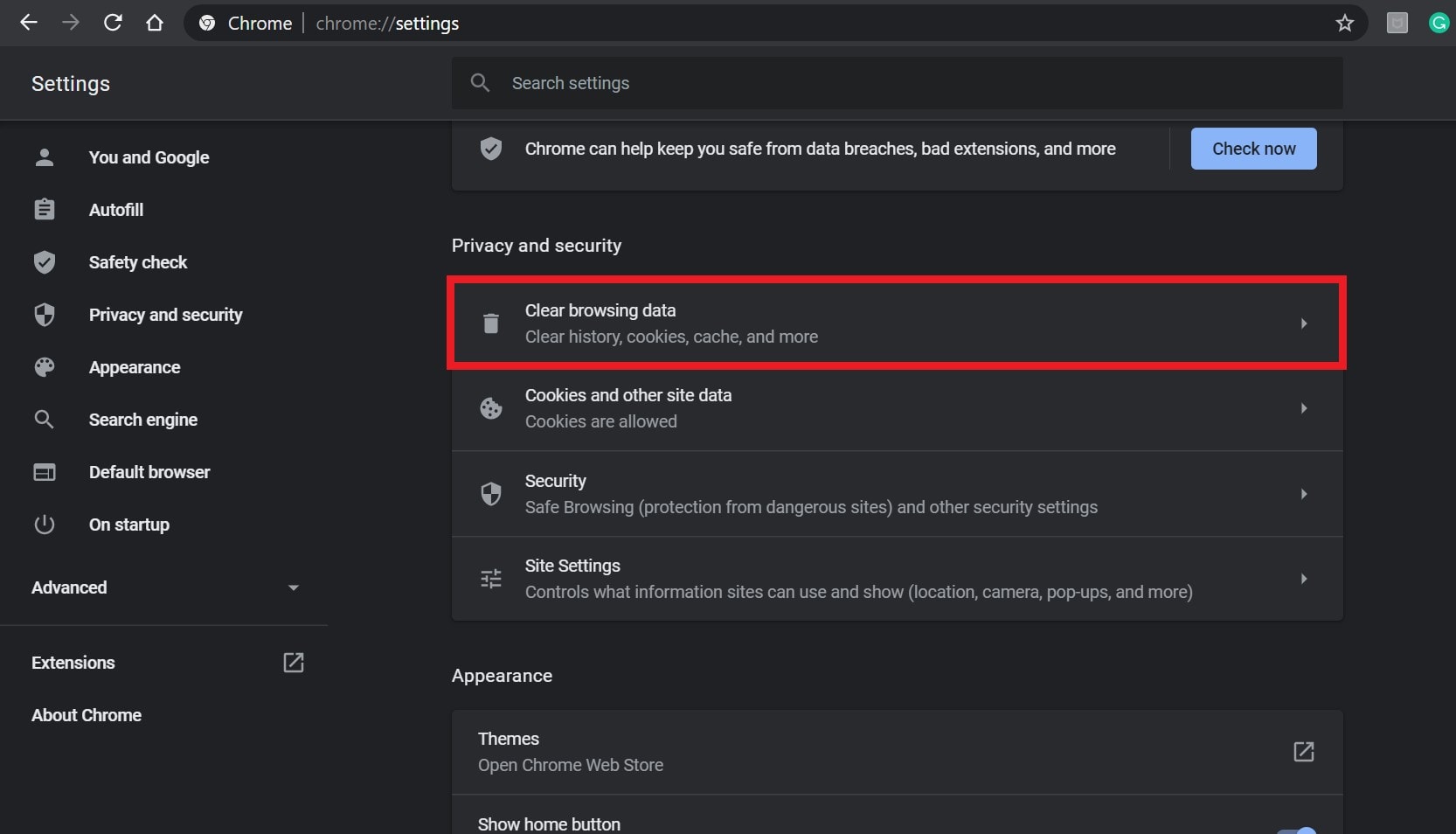 Next, under the Basic tab, select the Time range according to your preference.
Then click on the checkbox of Browsing history, Cookies and other site data, Cached images and files to select them.
Finally, click on Clear data.
Now, click on Cookies and other site data. [Deleting cookies and site data will log out of the accounts]
Once done, restart your Chrome browser, and check whether the problem has been fixed or not.
8. Check Chrome Extensions
Google Chrome extensions are quite useful to perform several tasks easily but these third-party extensions may also cause multiple issues with the performance and even accessing other webpages or web apps. You should disable all extensions one by one or all once to troubleshoot the issue.
Open Chrome browser > Click on the Menu (three vertical dots icon) from the upper right side of the browser interface.
Now, hover over the More tools field to expand the drop-down list.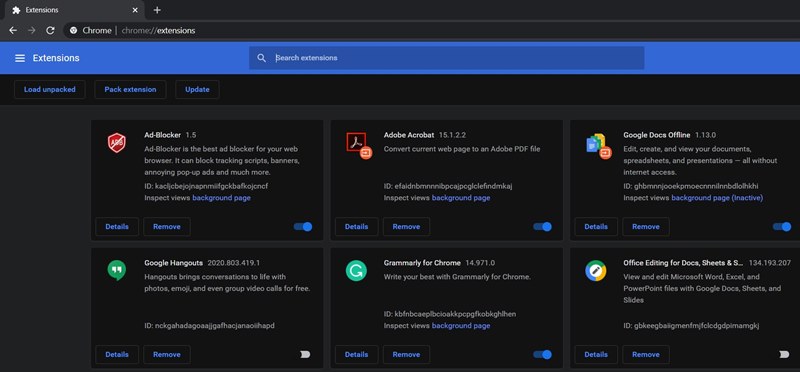 Click on Extensions > Disable all the extensions one by one (Turn off toggle).
Once done, exit the browser > Relaunch it.
Finally, try launching the EA FC 24 web app to check for the issue.
9. Set Up Time and Date Correctly
The chances are also high enough that somehow your Windows system isn't running the correct date and time. That's why the Google Chrome browser isn't working properly with the EA FC 24 web app or redirecting to the link too many times which will obviously cause errors or crashes.
Right-click on the time from the Taskbar > Select Adjust date/time.
Now, turn off the 'Set time automatically' option.
Click on Change from Set the date and time manually.
Once adjusted, select your Time zone accordingly.
Finally, turn on the 'Set time automatically' option again.
You're good to go. It's better to restart your computer once.
10. Log Out of the EA Account and Log Back In
Make sure to completely log out of your EA account and wait for a couple of minutes before signing back into it. Sometimes temporary account-related glitches can also trouble a lot of players. You should also keep in mind that use the same EA account and credentials to log into the EA FC 24 game to avoid issues. You can follow the steps below to do so:
Open the specific game launcher (such as Origin) > Head over to the main menu.
Make sure to Sign Out of the EA account.
Head over to Task Manager > Go to Processes.
Select EA FC 24 or the game launcher.
Click on End Task to close properly > Reboot the PC to apply changes.
Now, open the game launcher again > Sign into your valid EA account.
Finally, try launching the EA FC 24 web app to check for the issue.
11. Try Using VPN
Sometimes geo-restricted locations may become one of the possible reasons behind the EA FC 24 web app down issue or the FUT app not working issue. It's better to use a VPN service temporarily to check whether the web app is still having issues or not.
12. Check if Your Account is Banned
It may be possible that you're unable to open the EA FC 24 web app because your EA account has been blocked or permanently banned due to some unexpected reason. If you're not sure about it or can't understand what's the reason then make sure to contact talk@ea.com to try fixing it.
13. Contact EA Help
If none of the methods come in handy then make sure to Contact EA Help for further assistance. Make sure to submit the support ticket and elaborate on the issue with required details like screenshots so that devs can deep dive into it.
That's it, guys. We assume this guide was helpful to you. For further queries, you can comment below.