For the convenience of work, people like to move important files to a USB flash drive. It helps them to access the files from anywhere. Imagine you trying to copy a file, and suddenly an error comes up with a message that says, "Error 0x80070780: The file cannot be accessed by the system."
It is very frustrating to get interrupted by your work. You may want to know more about this error and why the error is affecting your Windows computer. Don't worry because you have stumbled upon the right place. Read below, and you will find out.
What is error code 0x80070780?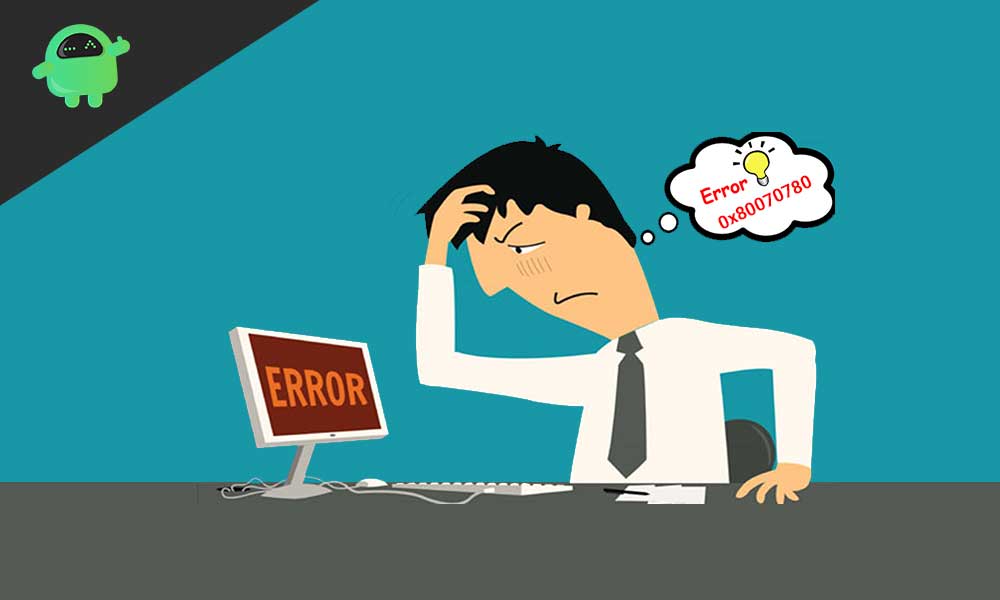 Error code 0x80070780 is a Windows error that restricts you from copying, deleting, editing, or backing up certain files. In short, it denies any kind of access to the file. Many users have complained about this error in their Windows 10 computer. This error may be a manifestation of a corrupted file or malware infection in your system. To know more about this error continues reading.
Reasons behind the File cannot be accessed by the system error 0x80070780:
We have searched and gathered some basic reasons that are responsible for the error code 0x80070780. A file becomes inaccessible if you have created it with administrative authority, and you are trying to open the file as a user. If a file is corrupted or damaged, the error comes up when you try to open it. Sometimes hard disk errors or bad sectors are behind the error 0x80070780. You don't have to look around elsewhere because we have provided the solutions for the problems mentioned above.
How to fix error code 0x80070780?
Solution 1: Changing your User account to Admin account
To open certain files you need to have administrative privilege. Follow these simple steps to change your user account to an admin account.
Press Windows key + I
Go to Settings and then click on Accounts.
Find the "Family and other people" option.
Go to that option and select a user account.
Now, you can change the account type by pressing the Change account type option.
Click on the "Administrator" option and press OK.
Retry accessing the file, which was showing the error. And if the error still comes, go to the next solution.
Solution 2: Fixing bad sectors
Running a Chkdsk scan will help you to get rid of bad sectors or corruption present in your hard drive. To run the Chkdsk utility, follow these steps given below.
Press Windows key + E
The File Explorer will open. Now, right-click on it and select Properties.
Go to the Tools tab.
Now, you have to press the Check button.
A prompt will ask you if you want to scan your drive. Scan your drive.
Then, restart your system and check for the error.
Solution 3: SFC scan
The error can also arise from corrupt system files. You can run an sfc scan to clear out any corrupted files. Follow these steps.
Press Windows key + Q to open Cortana.
Search for "cmd" in the Cortana's search bar.
When the Command Prompt opens, right-click on it and choose the option "Run as administrator."
Type these lines

DISM.exe /Online /Cleanup-image /Restorehealth

Click Enter.
Run the command line given below

sfc /scannow

Press Enter, then restart your computer.
If the error remains, go to the next solution.
Solution 4: Clean Booting your Windows
If users have a third-party Antivirus installed, then the chances are that this third-party Antivirus is causing the error 0x80070780. To fix this problem, you can clean boot your Windows by following this guide given below.
Press Windows key + R.
In the search bar, you have to type "msconfig" and hit Enter.
Go to Selective startup
Click on the Load system services.
Choose the "Use original boot configuration" option.
You have to uncheck the box beside the "Load startup items" option.
Go to the Service tab and choose the "Hide all Microsoft services" option and press the Disable all option to disable Microsoft services.
Click Apply and then OK.
When prompted, select the Restart button.
Solution 5: Enable the Volume Shadow Copy Service
The Volume Shadow Copy service allows users to back up files. So, when the error is still present, you should check if the Volume Shadow Copy service is enabled.
Press Windows key + R.
Type "services.MSC" and press Enter.
You have to find the Volume Shadow Copy and double-click on it.
If the service is not running, then click on the Start button.
You can choose the Automatic option, which will allow the service to back up your files automatically.
Now, click Apply and press, OK.
Solution 6: Erase Restore Points and Shadow Copies
You can try erasing the restore points and shadow copies to fix the error 0x80070780. The Disk Cleanup utility will help you with this process. You only have to follow this simple guide.
Search for Disk Cleanup in the Cortana's search bar.
Choose the drive you want to clean.
Select the C: drive and press Enter.
Click on the Cleanup system files option and choose C: drive again.
Go to the More Options tab.
Now, choose the Cleanup button.
When asked, click Delete, and the process is complete.
We have provided you with different methods to deal with; the system Error 0x80070780 cannot access the file. The error happens due to a lot of reasons. You don't have to try every solution if you already know what is causing the error on your Windows computer.
Choose a solution which is suitable for your problem. Fix this error to get easy access to your files. We hope this article comes in your use. After reading this article, if you have any queries or feedback, please write down the comment in the comment box.