2018's Far Cry 5 is one of the popular first-person shooter video games by Ubisoft that brings an open world called 'Montana' which includes a fanatical doomsday cult. Players can dive into the action solo or two-player co-op gameplay in the story campaign and use a vast arsenal of weapons and allies, and more. Although the title has done pretty well since it has released, there are some bugs or errors that still trouble many. Meanwhile, the Far Cry 5 Redhorn Error is frustrating a lot of players that need to be addressed.
Now, if you're also facing the same Redhorn error in Far Cry 5 then you can check this full troubleshooting guide to fix it. There are plenty of reports surfaced that the Far Cry 5 Redhorn error basically indicates two types of specific error codes such as Redhorn-4800002 and Redhorn-38000089. If we take a quick look at these error codes, whenever Far Cry 5 players try to get access the two-player co-op multiplayer mode, it eventually appears most of the time.
Fix: Far Cry 5 Redhorn Error
This specific error prevents players from connecting to the game servers and results in being unable to play Arcade mode unexpectedly. It's also worth mentioning that Redhorn Error in Far Cry 5 isn't new as several players started encountering such an error since the game was newly released back in 2018. As expected, Ubisoft is aware of the Redhorn error and deeply investigates it. However, there is no estimated timeframe mentioned yet officially.
Sorry to hear about this issue, @Lunarei919! Our team is investigating the error Redhorn-4800002 at this time. So we can look further into this, could you confirm if this was happening connecting to co-op in the main game or Arcade?

— Ubisoft Support (@UbisoftSupport) March 3, 2023
That means we'll have to wait for the official patch fixes. As per some reports, these two Redhorn-4800002 and Redhorn-38000089 errors are troubling players in some countries which also indicates that it might be a server-side issue. Even though it can be a server-related error, here we've shared a couple of possible workarounds for you that should come in handy. So, we'll recommend you follow all methods one by one until the problem gets fixed.
1. Reboot the Game and the PC
Firstly, you should try restarting the Far Cry 5 game & the PC manually to refresh the system as well as the temporary glitches of the game. Some players might find this trick useful. Though it's not for everyone, there is no harm in rebooting the PC.
2. Run Far Cry 5 as an administrator
Check out whether you're running your Far Cry 5 executable file as an administrator or not. If not then it could be one of the reasons behind such an issue. Just right-click on the game exe or Ubisoft launcher exe file and select Run as administrator then click on Yes (if prompted by UAC) to fix the issue.
Right-click on the Far Cry 5 application file on your PC.
Now, select Properties > Click on the Compatibility tab.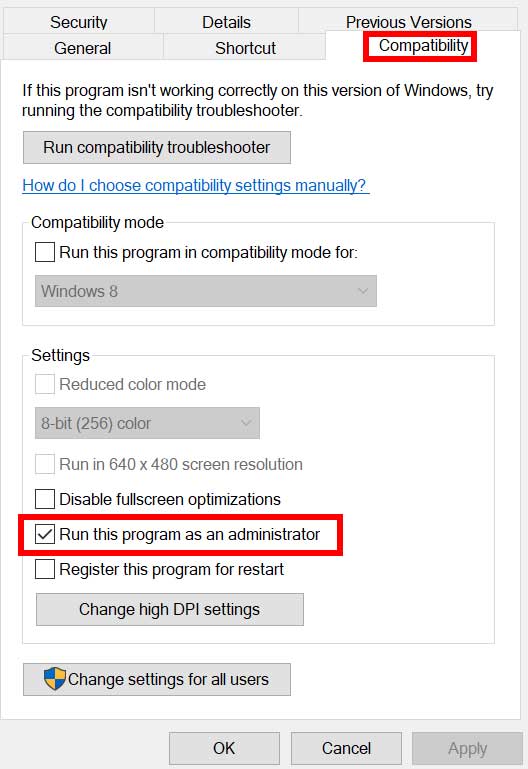 Click on the Run this program as an administrator checkbox to select it.
Now, click on Apply and select OK to save changes.
Additionally, you can also follow the same steps for the respective game client that you're using to allow the admin access to the launcher.
3. Update Far Cry 5
Sometimes it may happen that there is an update available for your game for a while and you haven't installed the update. In that scenario, you're still running the older as well as buggy patch version on the PC which can cause several issues whatsoever. It's not necessary that each time every patch update may trouble you. So, always keep your game up-to-date. To do so:
For Steam:
Open the Steam client > Go to Library.
Click on Far Cry 5 from the left pane.
It'll automatically search for the available update.
If there is an update available, click on Update.
Wait some time to install the update.
Once done, close the Steam client.
Finally, reboot your PC to apply changes and launch the game again.
For Ubisoft Connect:
Open the Ubisoft Connect on the PC.
Open the three-line menu icon in the top-left of your screen.
Select Settings from the drop-down > Go to Downloads.
Here you can select Enable automatic game updates for recently played games.

Otherwise, you can manually update the Far Cry 5 game from the library.
Then click on Update.

Once done, make sure to reboot the PC to change effects immediately.
For Epic Games Launcher:
Open the Epic Games Launcher > Click on Settings.
Scroll down to the Manage Games section.
Ensure there is a checkmark next to Allow Auto-Updates.
You'll have to expand the menu for the Far Cry 5 game.
Then select the Auto-update checkbox to enable it.
Finally, close the launcher, and relaunch it to check for the issue.
4. Verify and Repair the Game Files
Sometimes corrupted or missing game files can cause several issues with the game launching or can trigger multiple errors whatsoever. Therefore, it's recommended to verify and repair the installed game files on the PC by following the steps below. To fix this issue:
For Ubisoft:
First, launch the Ubisoft Connect desktop client on the PC.
Go to the Games tab > Click on Far Cry 5.
Select Properties > Select the Verify Files option.
If prompted, click on Repair.
Wait for the repair process to be completed.
Finally, reboot the PC to apply changes, and launch the game again.
For Steam:
Launch the Steam client > Click on Library.
Right-click on Far Cry 5 from the list of installed games.
Now, click on Properties > Go to Local Files.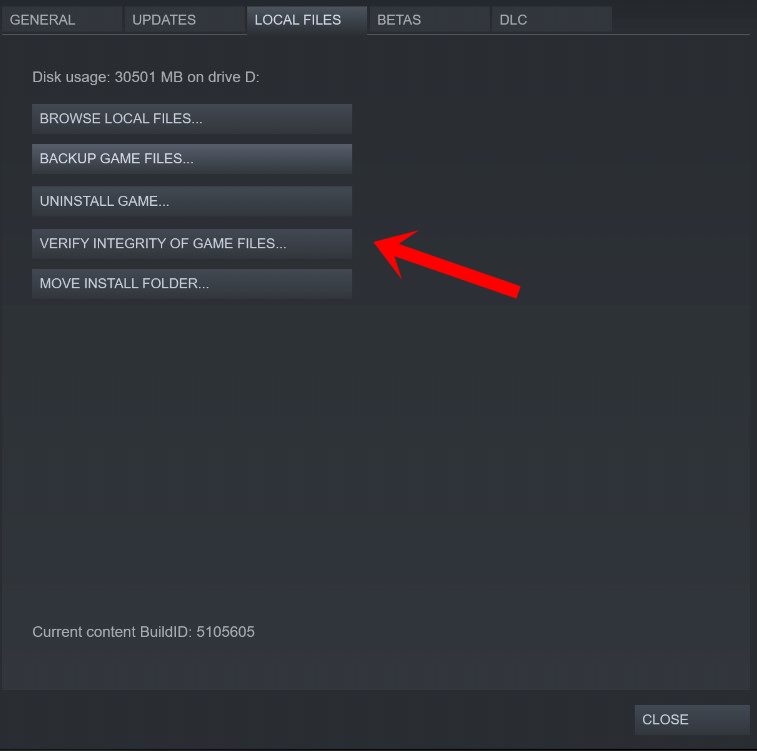 Click on Verify Integrity of Game Files.
You'll have to wait for the process until it gets completed.
Once done, just restart your computer.
For Epic Games Launcher:
Open Epic Games Launcher on the PC.
Click on the Game Library > Click on Far Cry 5.
Select Settings > Click on Verify.
Close the launcher then restart the PC to apply changes.
5. Disable Steam In-Game Overlay
It's always recommended to disable Steam overlay on your computer before running games because these overlay apps can easily ruin system performance or consume a lot of system resources.
Open the Steam client > Click on Steam from the top-left corner.
Click on Settings from the drop-down list.
Now, click on the In-Game section > Uncheck the Enable the Steam Overlay while in-game checkbox.
It'll Turn Off the Steam Overlay function.
Finally, click on OK to confirm changes.
6. Turn Off the VPN
Make sure to disable the VPN (Virtual Private Network) service at your end for a while to cross-check if the problem has been fixed or not. Sometimes the VPN service might help you to connect to a different region server or access the geo-restricted content but it eventually increases ping delay or latency which might obviously affect in multiplayer gaming experience as well as connecting to the game servers for a long.
7. Try Using Another Network Connection
You should also check out whether the internet connection is working fine or not. If in case, you're using the wired (ethernet) connection then make sure to switch it to the wireless (Wi-Fi) connection or vice versa to cross-check the internet issue. You can also try using a different internet connection to play Far Cry 5 to ensure that there is a problem with the network or the game server.
If in case, your internet connection was problematic, you should contact your service provider to audit technical issues.
8. Check the Server Status
The chances are high that somehow your game server becomes down or has any outage issues in specific regions. If you're also feeling the same and your game files or the internet connection seems good enough then you should check out the Far Cry server status via DownDetector. It eventually lets you know if there is an issue with the game server happening at that moment or not. At the time of writing this article, we can see that most reports are submitted regarding the server connectivity issue.
In that scenario, we'll suggest you wait for a few hours and then check the server status again or try running the game again. If the servers are operational then head over to the next method.
9. Disable Antivirus and Firewall Program
Sometimes the background running antivirus and firewall protection service on the system might prevent ongoing connections or unauthorized game files to run properly. It's recommended to disable the antivirus and firewall program manually for a while to check if the problem is still bothering you or not.
Open the Start menu and search for Control Panel.
Open Control Panel > Search for Windows Firewall in the search box and open it.
From the left pane, click on Turn Windows Firewall on or off.
Now, select Turn off Windows Firewall for the Private, Domain, and Public Network Settings.
Finally, reboot the PC to apply changes, and try checking the issue.
On the other side, you'll need to disable the antivirus protection (Windows Defender) as well by following the steps below:
Head over to Windows Settings > Privacy and Security.
Now, go to Windows Security > Virus & threat protection.
Click on Manage settings >Then turn off the Real-time Protection option.
Once done, make sure to reboot your PC to apply changes.
If in case, you're using any third-party antivirus software then open it, and turn off the real-time protection feature for some time to check for the issue.
10. Flush DNS
There are so many Far Cry 5 players experiencing the Redhorn error which becomes irritating for sure because not everyone is lucky enough to fix this issue using basic workarounds. However, some of the stated that after flushing the DNS cache on the PC, they resolved the Redhorn error. So, it's a better idea to flush DNS at your end to check if it helps or not. To do so:
Open the Start menu and search Command Prompt.
Now, right-click on Command Prompt > Click on Run as administrator.
If prompted by User Account Control, click on Yes.
Next, copy-paste ipconfig /flushdns and hit Enter to flush the DNS cache.
Once done, close everything, and reboot the PC to apply changes.
11. Contact Ubisoft Support
If none of the methods worked for you then make sure to contact Ubisoft Support for further assistance. It's recommended to submit the ticket for the respective issue with the required details or screenshots so that the Ubisoft team can deeply dive into it. You can also follow the @UbisoftSupport official Twitter handle for more updates and info.
That's it, guys. We hope this guide was helpful to you. For additional queries, you can comment below.