Bluboo smartphones provide you with the luxury of having a stylish android phone without the need to hurt your wallet. Bluboo android mobile phones are really considerably reasonable and also, of course, no less quality compared to some other similar widely used brands of smartphones. They are available in several models which makes them ideal for folks of any class or even age range. Moreover, they are generally efficient, long lasting with unique features that every phone user without a doubt would care for.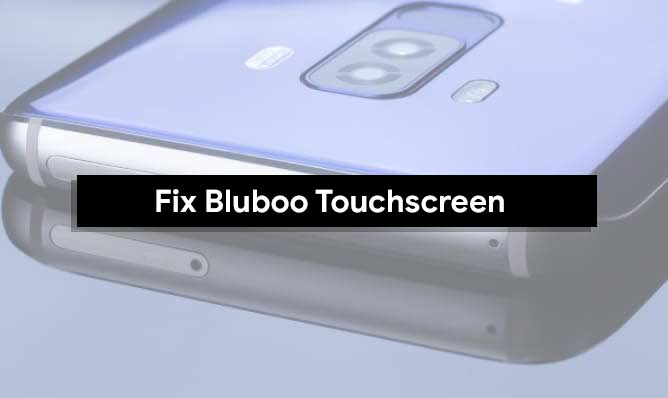 Although the Bluboo smartphone device may come with an impressive display, great specifications as well as smart technologies, it doesn't make it free from having issues or troubles. However, we could minimize the occurrence of such problems by using our device smartly to ensure an effective and efficient experience during use.
In this particular guide, I will be showing you different methods to fix Bluboo touchscreen problems.
Methods to Fix Bluboo Touchscreen Problems
If your Bluboo screen starts experiencing glitches and touch problem without any noticeable or known physical damage, these methods below could be used to fix the issues;
1. Reboot your Android device
When your Bluboo device suddenly stops responding to touch, simply reboot your Android device. This should be the first troubleshooting method to take to fix any glitches preventing the screen from working which could be caused by software. Press down the power button and wait for few seconds (30-60 seconds), and then power the phone back on. This is a form of soft reset. Then try using the device again to see if this simple trick helped to fix Bluboo touch screen problem. If it doesn't, kindly proceed to the next step.
2. Eject SIM card(s) & SD card
Faulty SD cards or SIM cards could sometimes be the cause of the touchscreen problem. It is therefore not out of place to eject both SIM cards and SD cards to see if they are the cause of the problem. To do this, turn off your Bluboo device by pressing and holding the power key, just in case the screen is completely faulty. Open the back cover of your smartphone device and eject both the SIM cards and the SD card. Then turn your device back on and check if the issue has been fixed.
3. Remove Screen Protector
If your Bluboo screen is covered with a tempered glass protector, it could be the cause of the screen troubles. Although a glass screen protector is needed to prevent cracks and scratches, it also has the capability of affecting the sensibility of the screen. If your device comes coated with a gorilla glass or any other anti-scratch material, you don't need a tempered glass protector anymore. Remove the screen protector so your screen can easily recognize your fingerprints.
4. Uninstall dormant apps
There are certain apps in your Bluboo devices that you haven't used for quite a while and you may probably not need them in the nearest future. Kindly delete such apps so as to free up your Android device. When the device is clogged up with apps, it tends to cause the phone's screen to have glitches. Touch and hold the particular app until an uninstall basket shows at the top of your screen. Drag the app you are still holding to the basket icon and then release it. This will uninstall the app. To close down an app completely, which includes the app's background services, locate "Apps & Notification" in the Settings menu of your Android device. Tap on "App Info" and select the app you don't need. You can either uninstall it or tap on "Force Stop" for apps that can't be uninstalled.
5. Boot into Safe Mode
Safe Mode allows your device run without any third party applications. This can help you to locate the set of apps that are causing the phone screen freezing issue. If your device works smoothly in this safe mode without having screen troubles, simply uninstall the recently installed app(s) that you believe might be causing the issue. To boot into safe mode, completely switch off Bluboo device. Now switch your phone back on. Immediately you see the Bluboo logo, press and hold the Volume Down key until the phone boots completely to the home screen. You should now see a watermark caption "Safe Mode" at the bottom left corner of your phone screen. This will now disable all apps. Check the performance of your phone screen now. If it works properly, uninstall apps causing the troubles. Then reboot your phone normally and check if your phone screen freezing issue has stopped. Then that should fix Bluboo touchscreen issues.
6. Calibrate Touch Screen with Apps
Your touchscreen problem could also be fixed with a calibration application. It fi touches screen that is either slow to respond to touch or doesn't read touches accurately, amongst others. Go to Google play store and download apps made for these purposes such as Touchscreen Calibration. It is quite easy to use and you could track the calibration process by checking the displayed calibration values when testing the app.
7. Clear Cache
Every device's cache partition contains files which could cause glitches and issues to the phone screen when they become corrupted. It could even affect other apps on your device. Whenever you are faced with any phone screen problem, then you would need to clear the cache partition so that your device gets to build fresh cache files. This cache files can be wiped when your device is switched off and turned on into the Recovery Mode. This gives your device a fresh feel. Once this is wiped, restart the device and check if the screen problem has been fixed.
8. Factory Reset in Recovery Mode
If your touch screen is still totally unresponsive, you should then consider factory resetting your Bluboo device in Recovery mode. This should be the last resort after all other steps have failed to fix Bluboo touch screen problem. Factory Reset wipes out every data and every third party apps from your Android device. It is advisable to ensure that every vital data in your device is backed up before you reset your Android phone to factory settings. To boot into recovery mode, switch off your Bluboo device. Then press the "Volume Down" key of your device and hold down for about 2-3 seconds. Press down the "Power" key while the "Volume Down" key is still being held down and release both keys. You are now in the Recovery mode. Scroll to "Wipe data/ factory reset" by pressing the "Volume Up" and "Volume Down" keys to navigate. Select it by pressing the "Power" key and then confirm for the factory reset process to commence.
Once the process of reset completes, you can try switching on your device to check if the phone screen issue has been resolved. If your problem is fixed then you can restore all the backed up data to your device.
I hope the methods mentioned above was helpful to fix Bluboo touch screen problem. If the problem persists kindly visit the customer support center for a permanent fix.