Sometimes it may possible that your Fitbit device won't sync or doesn't connect to the Bluetooth with the phone or computer. In such scenarios, it's quite frustrating that your Fitbit smartwatch won't connect to Bluetooth and that's why it's unable to sync with your phone as well. You may end up scratching your head that what happened actually. Well, if you're facing the same issue then check out how to fix Fitbit Sense not connecting to Bluetooth.
It's really necessary to fetch all the synced data on your smartwatch that's basically connected with a smartphone these days. Otherwise, a normal fitness tracker can also do the same job rather than having a smartwatch. So, if your smartwatch isn't able to sync with your mobile then you should follow a couple of workarounds that can help you out.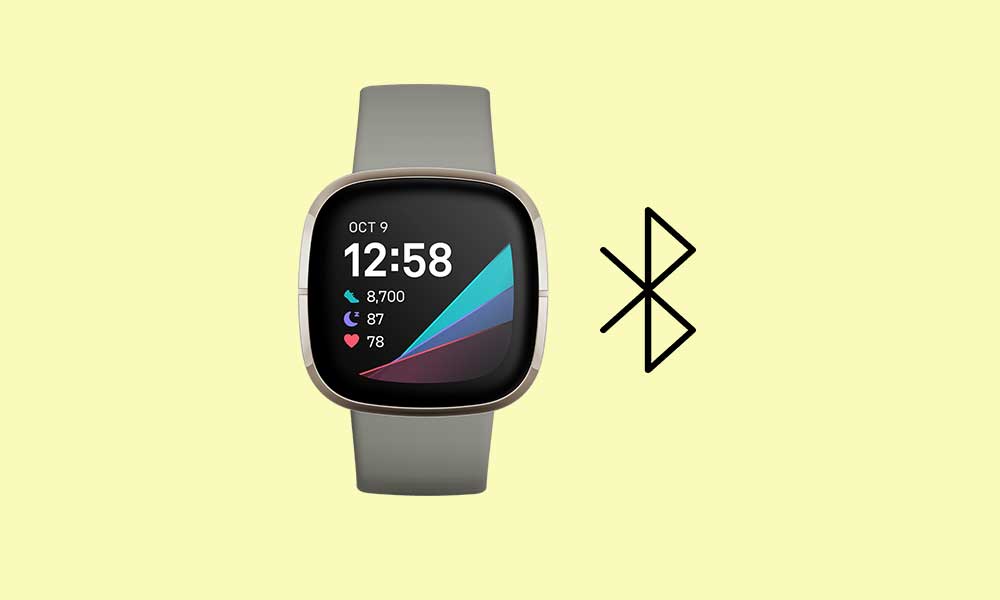 Fix: Fitbit Sense not connecting to Bluetooth
Once your Fitbit Sense smartwatch is fully set up and connected to your smartphone using Bluetooth, it'll be easier to get data directly on your wrist or the Fitbit mobile app. But sometimes connectivity issues with the Fitbit device or mobile device or even the Fitbit app itself can cause troubles. So, check out all the steps one by one until the problem gets fixed for you.
1. Turn off/on Bluetooth in your phone
Make sure to simply turn off and on Bluetooth on your phone then check for the issue. Sometimes a system glitch or connectivity glitch can cause such issues. You should also check whether your phone's Bluetooth is scanning other nearby devices or not. If yes that means there is some issue with the Fitbit device or the Fitbit app.
2. Force Quit the Fitbit app
Well, force quitting the Fitbit app on your phone can help you to remove any kind of possible system glitch or connectivity issues. Once force closed the app, try opening the Fitbit app again and connect to the Bluetooth.
3. Reboot both Fitbit Sense and the Phone
It's also worth mentioning to simply restart both the mobile device and Fitbit watch to clear out cache data or system glitch issues in no time. Although some affected users may not find it useful, we'll recommend you to do the same for once as one of the most common troubleshooting methods.
4. Turn on Bluetooth only on phone and open the Fitbit app
According to the Fitbit community support, it's recommended to turn on Bluetooth on your smartphone only and then open the Fitbit app to check for the issue.
5. Choose to Replace Device
It's also highly recommended to select replace the device and manually select the phone Bluetooth again to check if that helps you or not. To do that:
Open the Fitbit app > Tap on your profile picture.
Set Up a Device > Choose Sense > Select Replace Device.
Then make sure to follow the onscreen instructions to proceed with your Fitbit Sense watch with your phone. [If prompted, accept to pair]
6. Check Updates for the Fitbit App
Make sure to check updates for the Fitbit app from the Google Play Store or Apple App Store or Microsoft Store directly depending on which device you're using.
7. Keep Fitbit Sense and Phone closer
It's worth recommending to keep your Fitbit Sense smartwatch close enough to your mobile device for better connectivity as well as stable syncing. If you're going here and there inside your home or your office wearing the Fitbit Sense watch and it goes away from the Bluetooth range or reachability then the Fitbit Sense will keep disconnecting its Bluetooth connection or won't be able to connect to it.
8. Avoid Connecting Multiple Bluetooth devices with Phone
It may also be possible that your phone is already connected to a couple of Bluetooth devices once at a time and that's why the Bluetooth connectivity issue is appearing a lot with your Fitbit Sense watch. Just try disconnecting other Bluetooth devices from your phone and then only connect your Fitbit Sense watch with the phone to check for the issue.
9. Factory Reset Fitbit Sense
If none of the methods worked for you then try performing the factory reset of your Fitbit smartwatch may resolve the issue. To do so:
Go to the Settings app on your Fitbit Sense.
Tap on About > Select Factory Reset.
Confirm the task and wait for it to complete the reset process.
Once done, your smartwatch will reboot into the system again.
Finally, connect to the Bluetooth of your phone and check for the issue.
That's it, guys. We assume this guide was helpful to you. For additional queries, you can comment below.