When it comes to free-to-play action RPG, the Genshin Impact game is one of them that was released recently in September 2020. miHoYo has developed this game for all the popular platforms like PC, PS4, Android, iOS, and Nintendo Switch. Although the Genshin Impact game is quite optimized and the graphics are also better enough, some players are experiencing multiple error codes like Error Code 4201 and 9203.
Specifically, many affected PC players get an error message that says, "Failed to connect to the server Error code: 4201". If you're also one of them, make sure this is one of the server connectivity-related issues in most cases. However, it can appear due to some issues at your end.
Whereas some of the unfortunate players are receiving the "Failed to download resource files or network error. Please try again. Code:-9203" which seems to be a temporary glitch of the game or even issues with your internet connection as well. Well, luckily, there are a couple of fixes available that you can try to resolve both of these issues quickly. So, let's take a look.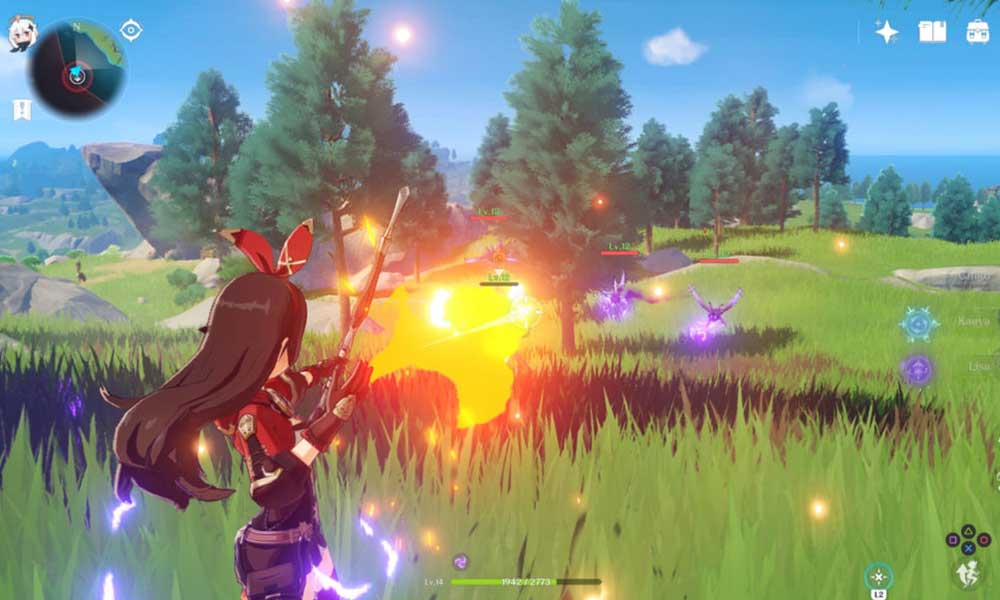 Fix Genshin Impact Error Code 4201
First, check out the server status info from the official Genshin Impact forum (miHoYo), whether the game server is down or up.
Next, you can follow up on the official Genshin Impact Twitter page to know all the latest updates and info regarding server status, announcements, patch notes, etc.
If there is any server downtime or an ongoing maintenance process, exit the game for a couple of hours and try playing it.
As the problem isn't specific to only one platform, always be up-to-date with the device firmware and game version.
You can also power cycle your device or Wi-Fi router to clear any temporary glitches or refresh the network connectivity.
Close all the background running applications on the PC and try to disable the Windows Firewall and the Antivirus program.
Additionally, check the active internet connection to see whether it's stable and fast enough. Try to increase bandwidth speed.
Whereas PS4 users can change the DNS server address to fix this issue. To do this, go to the PS4 main menu > Settings > Select Network Settings > Internet Connection Settings > Custom > Choose LAN for cable or Wi-Fi for Wireless (according to your internet type) > Select Custom > Change the IP Address Settings to Automatic > Do not specify for DHCP hostname > Select Manual for DNS settings > Input 8.8.8.8 for the Primary DNS and 8.8.4.4 for the Secondary DNS address > Select Automatic for MTU settings > Do not use for Proxy server > Save changes and restart the console.
On the other side, PC users can also do the same as follows:

Press Windows + I shortcut to open the Windows Settings > Click on Network & Internet > Select Change adapter options > Select the connected/active Network > Right-click on it and choose Properties.
Double-click on Internet Protocol Version 4 (TCP/IPv4).
Click on the toggle "Use the following DNS server addresses" > Input the Google DNS 8.8.8.8 as Primary and 8.8.4.4 as Alternate > Click OK to apply changes.
Finally, restart your computer, and you're done.

Meanwhile, if you're facing the same error code 4201 on your Android or iOS device, try clearing the network cache by enabling Airplane/Flight Mode for a couple of seconds and then turning it off. Next, you can try changing the Wi-Fi or Mobile Data connection or even using the Wi-Fi Hotspot to check for the issue.
Finally, if none of the steps fixed the issue, use a VPN service to change the region and check for the Genshin Impact Error Code 4201.
Fix Genshin Impact Error Code 9203
Ensure to close the game properly and restart your device first.
Do a power cycle of the Wi-Fi Router if you're using a wireless connection.
Try using a wired internet connection (if possible).
Also, make sure to check for the device firmware and the Genshin Impact game updates. Always up-to-date with the game version and software version.
Disable both the Windows Firewall protection and Antivirus program on the Windows system.
That's it, guys. We hope this guide was helpful to you. For further queries, you can comment below.