While you might occasionally face an issue or two with your Android smartphone, none is more dreadful than getting a No SIM card detected error message. Likewise, in some instances, you might not even get the said message but still, the carrier network signals will be all blacked out. This straightway translates to your inability to make or receive calls.
Also Read: All Fixes for SIM Not Provisioned Error on Android Device
And it needs no explanation of any sort as to the issues you might end up facing when such a situation arises. Fortunately, more often than not, you could easily deal with this issue within a minute or two. In this guide, we will be listing out ten different methods that will help you fix the No SIM card detected error issue on your Android device. Follow along.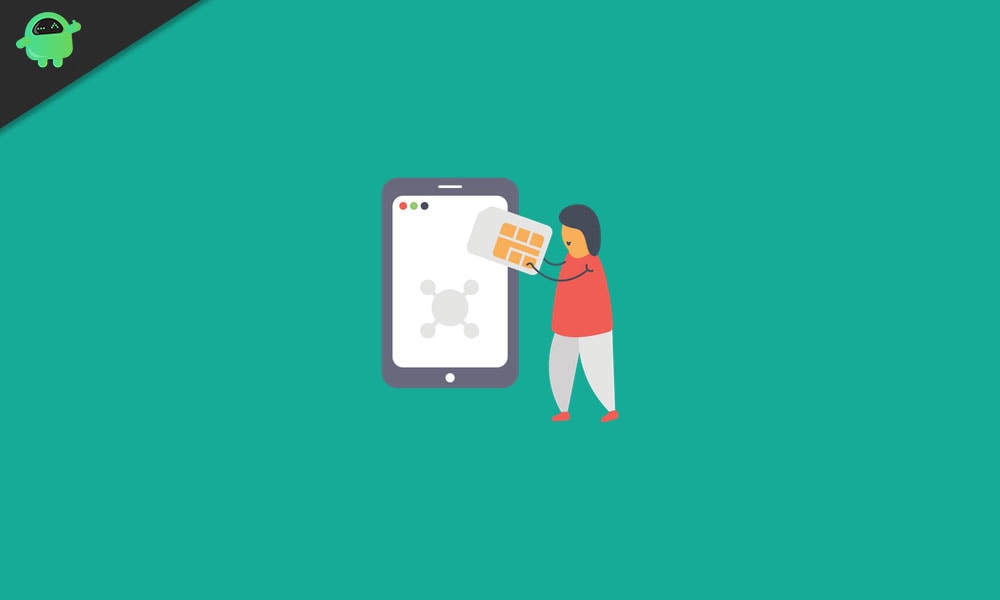 Fix No SIM Card Detected Error on Android Phone
To begin with, we would be starting off with some basic fixes. More often than not, these small tweaks are all that is required. With that in mind, let's get on with the guide.
Fix 1: Restart your device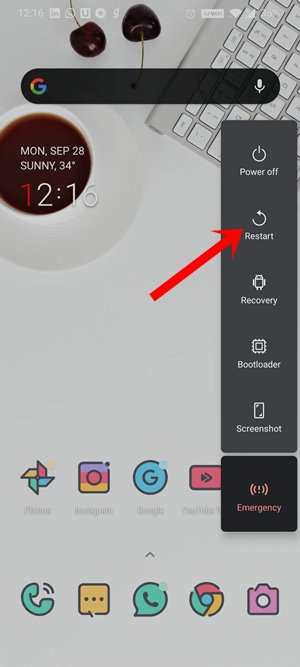 This belongs to one of those universal fixes that are able to rectify most of the network-related issues. So long-press the power menu and select the Reboot option. Now once your device restarts, check if the networks are up and running or not.
Fix 2: Reinsert SIM
An incorrect placing of SIM or the latter getting slightly misplaced from its position due to a bump to your device might also result in network issues. Hence, remove the SIM card and then re-insert it. See if it fixes the No SIM card detected error message or not.
Fix 3: Airplane mode
You could also try toggling in the Airplane Mode and turning it back off. This will refresh all network settings and could fix your issue as well. Most OEMs have quick settings toggle for the Airplane Mode. So swipe down from the top and tap on the Airplane Mode toggle.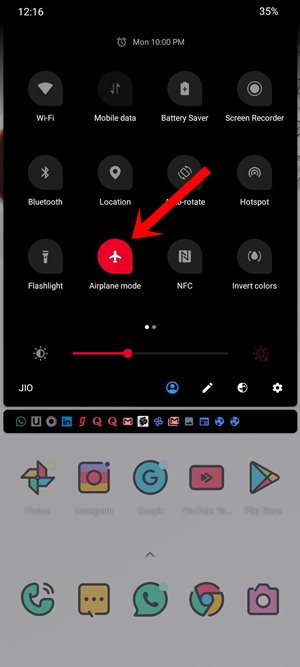 Then wait for a few seconds and re-enable it. However, if the said option is not there, then head over to Settings > WiFi and Internet > Airplane Mode. Turn on the toggle and then disable it a few seconds. Check whether the No SIM card detected error message has been fixed or not.
Fix 4: Re-enable the SIM Card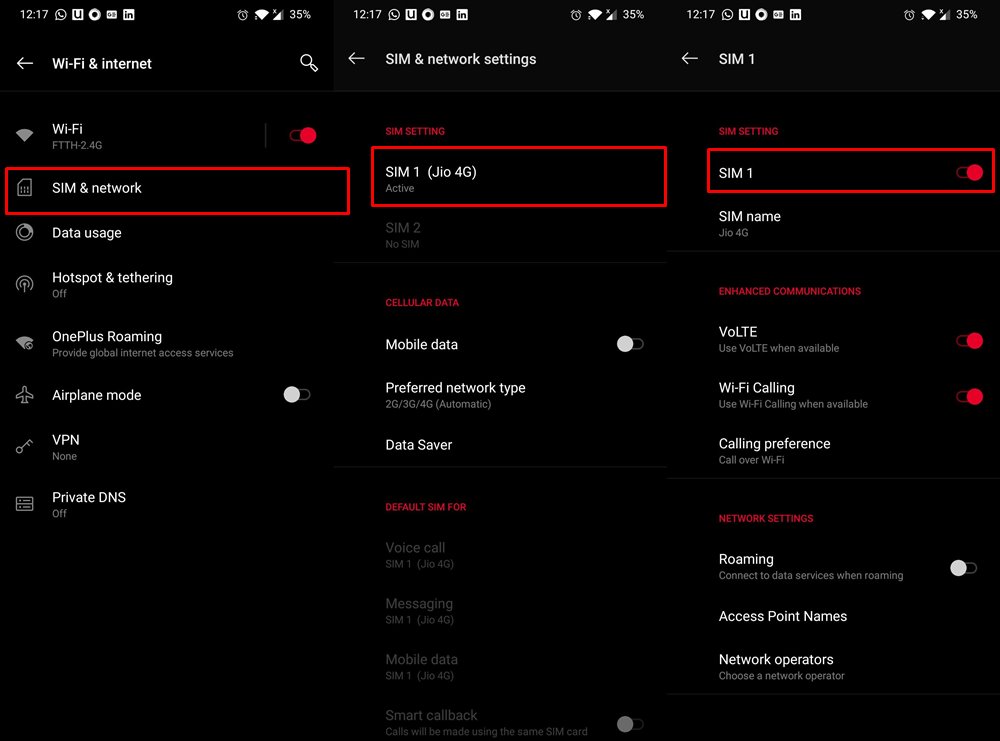 You could also disable and then re-enable the sim card to refresh its settings. This has managed to give out desirable results in some cases when it comes to rectifying the network settings. So head over to Settings > WiFi and Internet > SIM & Network > tap on your SIM Card Name > Disable the SIM Toggle and re-enable it. If you are still getting the aforementioned error, here are some other fixes that you could try out.
Fix 5: Switch SIM Settings to Automatic
You should also consider taking up the automatic route, as it will then select the best available settings when it comes to the network. In this regard, you could set the Network type and Network Mode to Auto. To do so, go to Settings > WiFi and Internet > SIM & Network > Set the Preferred Network Type to Automatic.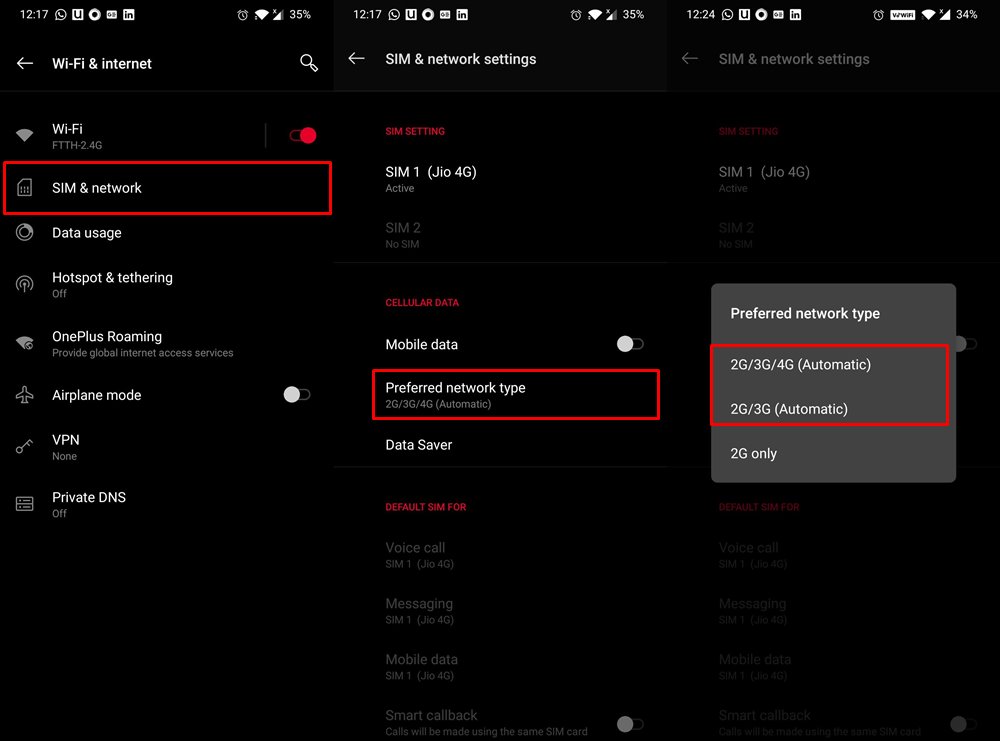 Likewise, under SIM & Network settings, tap on your SIM card name and go to the Network operators section. Now enable the Choose automatically toggle. See if both of these settings are able to fix the No SIM card detected error message or not.
Fix 6: Boot to Safe Mode
In some cases, a third-party app might also conflict with your device's network settings. The best way to check it is to boot your device to the Safe Mode. When you do so, all the third-party apps will be disabled.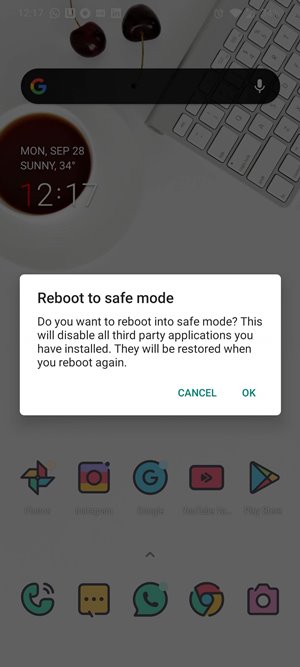 Now if you are getting signals in the Safe Mode, then make a list of the newly installed apps after which you are facing this error and then uninstall them one by one until you get success. With that said, to boot your device to Safe Mode, bring up the power menu, long-press the Restart option, and then tap on OK from the Reboot to Safe mode popup dialog box.
Fix 7: Check for Update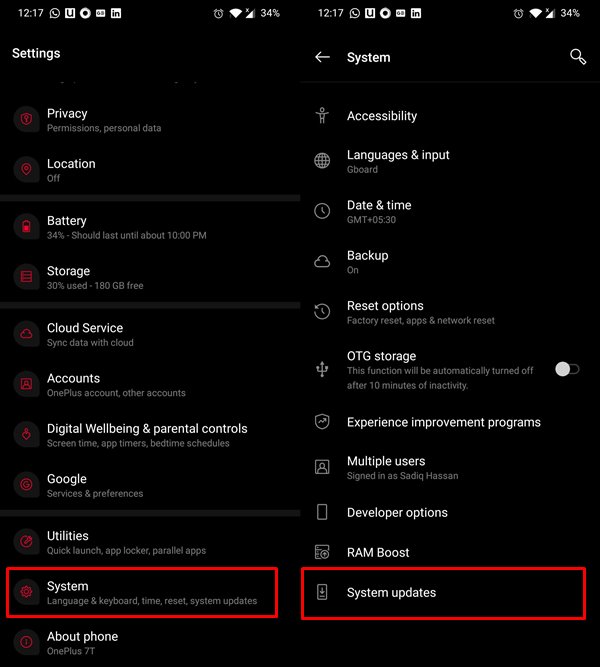 In some rare cases, these network problems might also be due to a software issue as well. In that regard, once the OEM gets to know about the same, it might release an OTA update that will patch that issue. So the best bet is to check if there is a new update available for your device or not. For that, head over to Settings > System > System Update. If you find any pending update, install it right away and see if the issue gets fixed.
Fix 8: Contact Support team
Before moving over to other advanced fixes, it is recommended that you contact your carrier's customer support and ask there is any network-related issue in your region. If they reply in the affirmative, then inquire about the estimated time of fix and wait for the said time period. However, if there is no issue from their end, then proceed ahead with the below methods to fix the No SIM card detected error message.
Fix 9: Reset Network Settings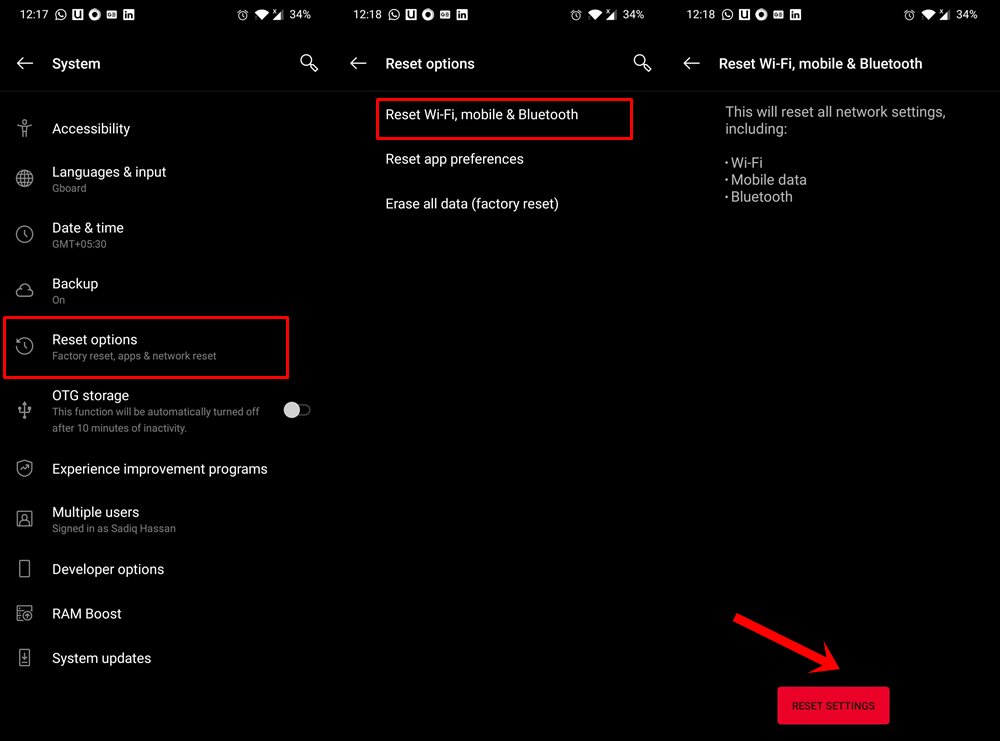 Resetting the network settings back to its default state might also spell out success for some users. Do remember that it will reset all the saved passwords and other related Network settings as well. With that said, to reset the network, head over to Settings > System > Reset Options > Reset WiFi, Mobile, and Bluetooth > Tap on the Reset Settings situated at the bottom. Now wait for the process to complete and once that is done, restart your device. See if the issue has been rectified or not.
Fix 10: Factory Reset
If none of the above methods managed to fix the No SIM card detected an error on your Android device, then the last option is to factory reset your device. Doing so will delete all the data from your device. So before proceeding ahead, we would request you to take a complete device backup.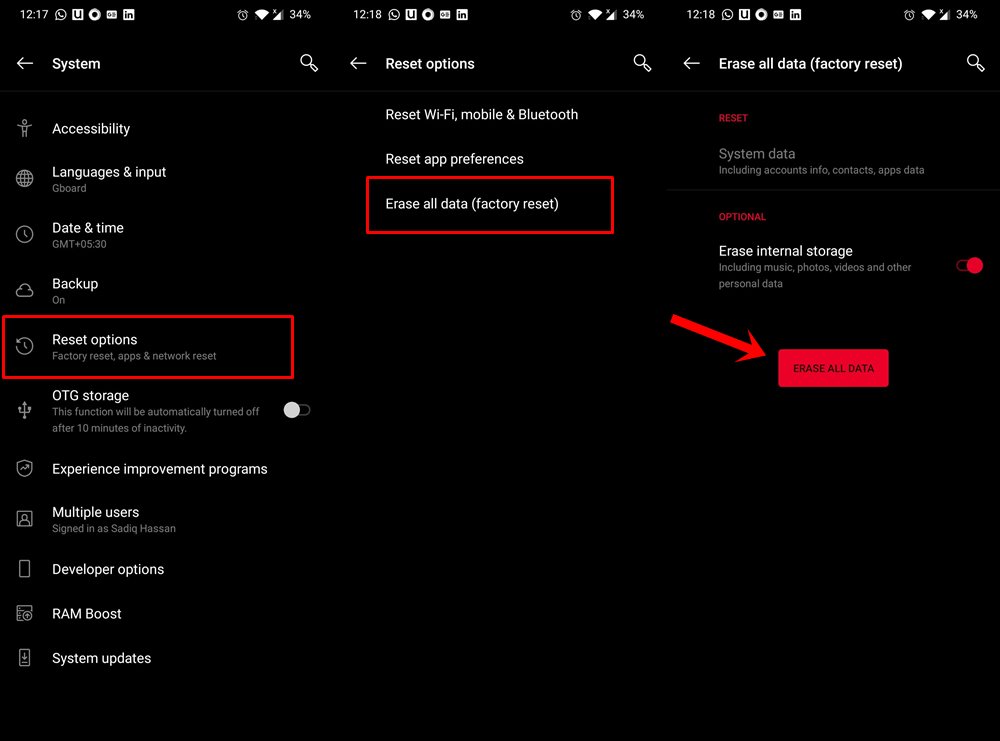 Once you have made the backup, go to Settings > System > Reset Options > Erase all Data (factory reset) > Again tap on the Erase all data button. The reset will then begin and could take some time. As soon as it is done, reboot your device and this should have fixed your issue.
On that note, we conclude the guide on how to fix the No SIM card detected error message. We have shared ten different methods to rectify this issue. Since there is no universal fix for the same, you will have to try each of them until you achieve success. Do let us know in the comments as well which method worked out in your favor. Rounding off, here are some iPhone Tips and Tricks, PC tips and tricks, and Android Tips and Trick that you should check out as well.