Torrents are a one-stop solution for any kind of entertaining content you want on your PC. Almost everyone in the world uses them. I mostly use it to download games, movies, TV series that are not usually available elsewhere on the internet. With good network connectivity, you can download large files weighing in gigabytes in very little time. However, it may not be easy for some people. These folks often complain that their torrent is stuck on the status Connecting to Peers. In this guide, I will tell you how to fix uTorrent when this problem happens.
What I have observed is people are not well-versed with how uTorrent works. All they know is just to see the target file and then download it. However, whether the torrent file will work or not depends on a number of factors. This guide covers it all. The various reasons for why the torrent is persistently staying on Connecting to Peers issue. Also, I have put up the various methods to fix up the problem.
Related | How to Fix Files Missing from Job Error on uTorrent
Why Torrent Files get Stuck on Connecting to Peers Issue.?
Here are some of the reasons that may lead to this issue.
Poor internet connectivity
the server of the designated alias region set on the VPN is slow or down
The torrent files have zero seeders or fewer seeders and more leechers
Your PC firewall is blocking the download for security issues
Fewer peers due to the torrent file being older and trackers are outdated
How to Fix uTorrent.?
Now, let's solve the problem.
Check your Internet Connection
First, you need to check whether your internet connectivity is working or not. If the issue is with your network, then you won't be able to run any application that requires the internet to run. You can try to run other websites and apps. If they do not work, then it's the internet at fault.
If you have multiple torrent files set for download, and some are downloading while one or two is stuck on Connecting Peers then there is no issue with the internet.
Wait for some time until the connection becomes stable on its own. Otherwise, try to disconnect and re-engage the router. If you are not acquainted with resetting network devices, then you can call up your ISP support and ask for help.
Update Trackers on the designated Torrent File
It's pretty easy to do.
Launch uTorrent
Right-click on your preferred Torrent file
Scroll down the menu and click Update Tracker

There is an alternative thing you can do as well.
Type %APPDATA% on the Windows Search box

Go to the uTorrent folder in the list. Open it

Look for a file that is named resume.DAT

Delete this file
Now, check the uTorrent and the file that is stuck. See if it resumes downloading.
Download A Torrent that Has More Seeder
While downloading a torrent, always remember this drill. The number of seeders must be more than the number of leechers. If you see a file that has 3 seeders but 10 leechers then do not download it. Either it will take too many days to finish downloading or worse it won't download at all.
While searching for a torrent on any site, usually the first top-five torrent files have maximum seeders and minimum leechers. Always go for that kind of file.
Check Firewall Settings for uTorrent
If you think the firewall is causing the trouble, then you can add an exception for uTorrent on the firewall. Here are the steps.
On the search box type Firewall & Network protection

Then in the next screen, click Allow an App through Firewall

Set High Bandwidth Allocation to the Torrent File
Often people miss out on a very important setting that can easily increase the speed of the uTorrent download.
Select the torrent you are downloading
Right-click on it > Scroll down to Bandwith Allocation

Set it to High (by default it is set to Normal)
Have you Set A Maximum Download speed
By default, if you right-click on any torrent and go to bandwidth, you should see the download speed is set to unlimited which means 0(zero). You have to change it and set it to a higher value from the corresponding list. Let' s say you can set the factor to 3000 kbps.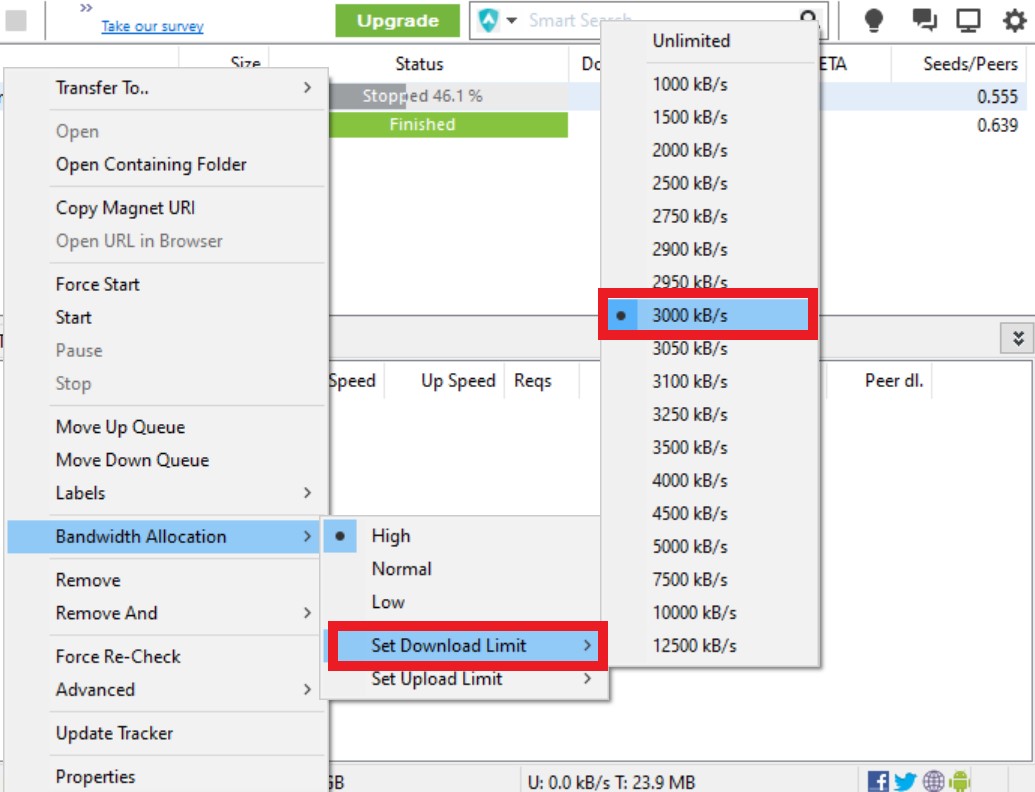 Change Server on VPN to Fix uTorrent Issue
Due to law regulations, in some countries, accessing torrent sites by using Torrent apps is prohibited. However, people make use of VPN to deal with this. It works as well. For example, I use a VPN that implements the server of Singapore, or the UK, or whatever region is available on the app.
When VPN is enabled, instead of routing your PC's IP address through your ISP(internet service provider), it is routed through a private server depending on the location you have set on a VPN.
Well, not every time the setting VPN to the same region will provide seamless connectivity. The server may be down. So, to fix that you have to change the region. If you are using a VPN set to Singapore, then maybe change it to the US or UK.
Use the Run Test Feature to check the Functional Status of uTorrent
To fix the issue with uTorrent, you can use the Run test feature that will run a test on its own and let you know if there are any issues with your torrent files or there are any other associated problems.
Click Options > Select Setup Guide
Next, click on Run Tests

Tweak the Status of BitTorrent Protocol Encryption
You can also make changes in the protocol encryption to fix the problem of uTorrent stuck on connecting to peers.
Launch uTorrent
Click on Options > click Preferences from the menu (otherwise directly press Ctrl + P)
A dialog box will show up with lots of options on the left-hand panel.
Select BitTorrent

Under that look for the option Protocol Encryption. Its status is set to Disable by default. Set it to Forced.
So, that's it, guys. Now you know how to fix uTorrent if it is lingering on the Connecting to Peers status. I hope that this guide was helpful to you. Let me know in the comments section which of the troubleshooting method worked for you.
Read Next,