Regarding torrent clients, uTorrent is among the most popular ones for downloading movies, software, and music. Despite that, even the best-performing programs experience a few hiccups here and there. Multiple users have reported having issues downloading files on uTorrent when they try to download them. This occurs because the uTorrent Client becomes unresponsive and does not show downloads.
But, do not fret as we have some fixes to resolve the uTorrent not showing downloads. Yes, after investigating this error, our team has found some of the best fixes that have the potential to resolve the uTorrent no showing downloads error. So, let's check out the fixes.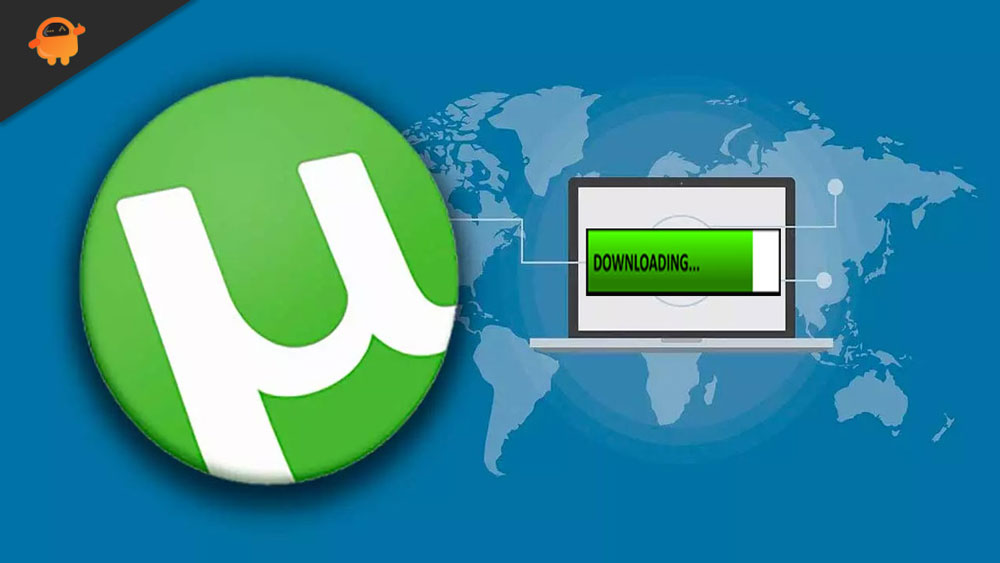 How To Fix If uTorrent is Not Showing Download
uTorrent is among the most popular torrent apps that can be used as a P2P client. But, if you are facing a download issue, perform the fixes mentioned below. So, let's check out the steps:
Fix 1: Restart the uTorrent App
You should restart the uTorrent App on your computer if it does not show downloads. This error may be occurring due to a temporary glitch or error. Using the Task Manager on your Windows computer, you can restart the uTorrent App to resolve this issue. For a step-by-step guide, follow these steps:
Initially, press CTRL + ALT + DEL on your keyboard and click on Task Manager while uTorrent is not showing downloads.

From the list of background programs, scroll down and click the uTorrent Client.

To close uTorrent, click on the End Task button.

Finally, open the uTorrent App on your Desktop.
Check if uTorrent still doesn't show download after downloading a few files using the Client. It may also be a good idea to restart your computer if the uTorrent downloading problem persists after restarting the program.
Fix 2: Run uTorrent as an Administrator
Your computer's resources may also cause uTorrent to not showing downloads if they cannot be accessed properly. Programs may not be permitted to access system files necessary for their proper operation if they lack permissions and privileges.
If you run the program as an administrator, any restrictions imposed by your operating system will be bypassed. To run uTorrent as an administrator, follow these steps:
Close uTorrent on your computer.

Select the uTorrent icon from your Desktop and right-click it.

Once that has been done, click Run as an administrator.

Last, a pop-up message will appear asking if the program should run as an administrator. Click on

Yes

.
Try downloading a few files with the Client again to see if the problem persists.
Fix 3: Check That uTorrent Is Already Running Before Downloading Files.
A few users resolved the not showing downloads issue on the uTorrent community forum by first running the uTorrent Client before opening any torrents. The uTorrent Client can crash or freeze when multiple torrent files are opened at once while the Client is launching.
It's pretty straightforward to work around this problem! From your Desktop, install and run the uTorrent Client first. You can now download torrent files from File Explorer.
If this method doesn't work, when you try downloading files, your uTorrent client may still enter a no showing downloads state, which you can also resolve by removing your proxy settings, as we will demonstrate next.
Fix 4: Disabling Proxy Settings on Your Computer.
Public networks and office connections are often connected via proxy servers. In this case, your proxy settings may be blocking some of the ports that uTorrent uses to connect to the internet when you use a public connection like Wi-Fi at your office or local library.
To resolve this issue, the proxy server on your computer can be disabled while you download files with uTorrent. On a Windows PC, following these steps will help you disable the proxy settings:
Launch the Run Command Box by pressing Windows Key + R on your computer.
Enter intecpl.cpl to access the Local Area Network Settings.
Select LAN Settings from the Connections tab.
Finally, hit the OK to save the changes and uncheck Use a Proxy Server for your LAN.
Then, go back to the uTorrent Client and try downloading a few files on the Client to see if the downloads are not showing error are resolved.
Fix 5: Restart Your Computer
You may experience performance issues when programs on your computer are not showing downloads properly, or your operating system may have encountered an error or glitch. This problem can be resolved by rebooting your computer and allowing the operating system to reload its files.
Check out the steps below to restart your computer:
To open your computer's Start menu, press the Windows Key.

To open the Power Options menu, click the Power button.
To reboot your computer, click Restart.
You can test whether uTorrent still fails to show downloads after you start the Client and download a few files after the computer has completely booted up.
Fix 6: Allow uTorrent on Your Firewall
It is also possible that your Windows Firewall settings can cause the uTorrent program to crash. Your computer is protected from malware by the Windows Firewall, which is part of the operating system.
Torrent uses a lot of internet bandwidth when downloading files, which may be considered malicious activity by the Firewall, causing the program to be inactive. It may help if you allow uTorrent through your Firewall settings to fix this problem. Here are some of the guidelines you need to follow:
Press Windows Key + S on your computer and search for Firewall.
Once you've completed this, click on Open to open the Windows Firewall and Network Protection Settings.
Click on the button to Allow a Firewall App.

Click on Change Settings and ensure both checkboxes at the side of the uTorrent Client are checked inside the settings page.

After making changes, save them and exit Windows Firewall.
To test whether uTorrent still fails to show downloads, go back to the App and download some files using the Client to see if the problem persists.
Fix 7: Disable Third-Party Antivirus Software.
In the case of uTorrent not working, you may want to consider whether third-party antivirus programs are to blame. Your antivirus program will most likely detect torrent activity on your computer as a virus or as a threat. Other torrent download services like BitTorrent, Vuze, and qBittorrent have experienced this problem.
You can, however, temporarily disable your antivirus software when you are using the uTorrent App if you are certain that the file you are downloading is safe. Doing so will avoid any problems with uTorrent and the file you are downloading. You can also try deleting the app data on your computer if uTorrent is still freezing after you disable your antivirus protection.
Fix 8: Reinstall the uTorrent Client.
It might be necessary to reinstall the uTorrent Client if none of the above methods worked. You may have accidentally damaged some of uTorrent's application files during use, which has caused the problem.
Make sure you have the latest version of uTorrent by installing a fresh copy. You will find the following steps below helpful in guiding you through the process of reinstalling uTorrent quickly and safely:
You can find the Control Panel by pressing Windows Key + S on your computer.
To open the Control Panel, click Open.
Click the Uninstall a Program.
Scroll down the list and click on uTorrent.
Select Uninstall from the right-click menu of the uTorrent Client. On the screen, follow the instructions to uninstall uTorrent.

Lastly, download uTorrent from the uTorrent website. After the uTorrent has been installed completely, you can download a few files to test it.
So, that's how to fix it if the uTorrent not showing downloads. We hope that the troubleshooting methods we have mentioned above have helped you. Let us know if you have any further questions in the comments below.