This game feels like the pinnacle of evolution for the rhythm-based music genre. Of course, it will not fully prepare you for life as an actual musician (in this case, a stage DJ). But, yes, it gives you the general feel of it wrapped in a very entertaining environment. However, the biggest problem that the users are facing several technical challenges in the Fuser game.
Due to this, they are not feeling to play the game anymore. One of the technical challenges is gaming crashing. Several users reported that while playing the campaign mode in Fuser, the game keeps crashing on PC. So, if planned not to play the game anymore due to this issue, first try these fixes and see if it works.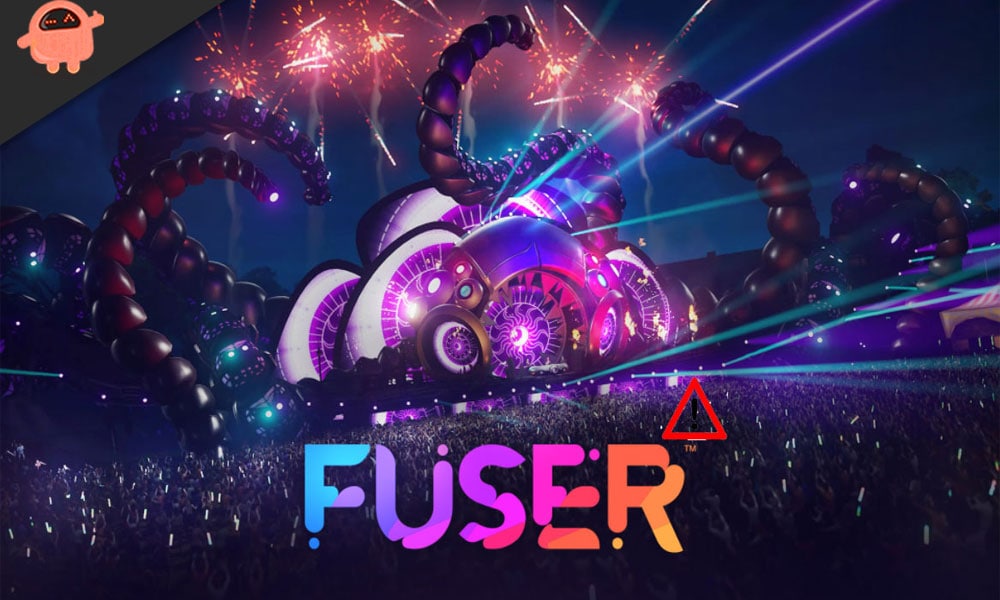 How to Fix FUSER Keeps Crashing On PC
Although Harmonix and NCSoft did a fabulous job with the mechanics of the game. But, still, there are a few flaws that easily bother the user and tends him to uninstall the game. Meanwhile, sometimes the technical error is not the reason for crashing the game. Yes, you heard it right.
Generally, our PC specs also play a vital role in running the game smoothly on your PC. So, before going through the complex troubleshooting steps, you may first check if your PC meets the minimum or recommended PC specs to run the game. Then, simply click here or compare your PC with the below-mentioned specs:
Minimum PC Specs Requirements For Fuser:
Processor: 8 Core AMD 1.75 MHz or Similar
RAM: 8 GB
Operating System: Windows 7 (64 bit)
GPU: AMD Radeon HD 7790 or NVIDIA GeForce GTX 750
P-Shader: 5.0
V-Shader: 5.0
Free Storage: At least 10 GB
VRAM: 1024 MB
Recommended PC Specs Requirements For Fuser:
Processor: Intel Core i7-4790k @ 4.0 GHz or higher
RAM: 16 GB
Operating System: Windows 10
GPU: AMD Radeon R9 390 or NVIDIA GeForce GTX 970
P-Shader: 5.1
V-Shader: 5.1
Free Storage: At least 10 GB
VRAM: 4096 MB
Fix 1: ReRun Game and Device
If you encounter the crashing issue rarely, then just restarting the game will help you to fix the issue temporarily. So, you may try restarting the game once and check if the crashing issue occurs anymore or not. If so, then reboot your system over. This will clear all the temporary cache memory from your device and give your PC a fresh start to run the game smoothly. But keep in mind to open the game first just after the reboot. Then, check if the issue gets resolved or not. Suppose you find this doesn't help you at all, follow the next fix to get rid of this error.
Fix 2: Check For GPU Update
GPU driver is a fundamental component to the proper functioning of any games on our PC. However, if FUSER keeps crashing on your PC, your GPU may be running on a faulty or corrupted, or outdated driver on your PC. So you should have to make sure to update your GPU driver to check if it fixes the Fuser crashing issues or not.
You can simply do it from the Display Adapter under the Device Manager. In case you do not find any update from there, visit your GPU manufacturer website and from there check if there's an update available for your GPU driver or not.
Note: There is a third method available to update your driver through a third-party driver update application automatically. But, we do not recommend that as it might not be suitable for your privacy in any situation.
Fix 3: Install the Latest Game Patch
Developers are regularly rolling out patch updates in order to fix various bugs, glitches and improve gaming performance. Therefore, it might be possible that the previous patch contains some bugs that have caused the game crash issue, and fix this, you need to update it again.
Generally, Steam or Epic Game Launcher has an in-built update detector. It will be detected automatically, and if there is any latest patch available, it will download and install it on your PC.
Now, rerun FUSER and play to check if it crashes anymore or not. However, if there's no patch update available, follow the next potential step to fix this out.
Fix 4: Turn off VSync
VSync is a graphics technology used for FPS synchronization of a game with your monitor's refresh rate. If your PC is experiencing screen tearing, flickering, etc., we recommend enabling VSync as this can be an effective fix.
Nevertheless, many gamers stated that the VSync feature might conflict with FUSER that causes the game to crash.
So, try turning off VSync and then rerun the game to check if the issue gets resolved or not. Wait! Don't know how to turn it off? Don't worry! Follow the steps we mentioned below:
These steps are for Nvidia graphics cards, but you can follow the same procedure according to your GPU.
First of all, open Nvidia Control Panel on your PC,
Then, click on the Manage 3D Settings followed by Program Settings.
After that, add FUSER.
Scroll down to set the VSync to OFF position.
Once done, simply launch the Fuser and check if it works properly without crashing or any other technical issue. If it still crashes, follow the next potential fix below.
Fix 5: Perform a Clean Boot
Performing a clean boot on your PC might help you to fix the crashing issue in Fuser. It is a very effective troubleshooting method that enables you to disable startups and services manually. This will help you to find out the main culprit program that crashes the game. Once you determine the main culprit program, uninstall it, and then again launch the game and check if the issue gets resolved or not. Here's how to do it:
Press the Windows logo key + R altogether to open the Run Dialog prompt. Then, simply type msconfig and hit the Enter key. This will open the System Configuration window.
Switch to the Services tab, checkmark the box in front of the Hide all Microsoft services, and select the Disable all option.
Then, shift to the Startup tab and select the Open Task Manager.
Now, inside the Startup tab, select the programs you want to disable and then click Disabled.
After that, again, come back to the System Configuration window and hit the OK button.
Now, Restart your PC.
Fix 6: Verify Integrity of Game Files
For Steam Client
Launch Steam.
Go to the Library tab. Then, select the Fuser.
After that, right-click on the Fuser and select the Properties option.
Go to the Local Files tab.
That's it. Now, click on Verify Integrity.
Please wait until it gets validate and install. If it detects anything wrong in installed files, it will be re-downloaded and installed on Steam.
Now, go and launch the game on Steam to check if the issue gets resolved or not.
For Epic Game Launcher
Open the Epic Game Launcher.
Now, head towards the Fuser app located in your Library.
Then, click on the three dots.
Once open, click Verify button from the appeared drop-down menu.
Fix 7: Open A Ticket
If none of the above methods worked for you, it would be best to open a ticket. To do so, we suggest you first run the DXDIAG, and the result of that attach to your support ticket. This might be the best way to contact to support team. Once you did this, wait for their reply, they will surely guide you to fix the issue.
Also Read: List of All Jobs in Miitopia
Author's Views
It's been a while since the game launched, yet encountering such kind errors is a little surprising. However, we hope that devs will soon find a way to fix this type of issue. Currently, the devs team is working on it to know the reason behind this error, and soon they are rolling out some patch update to fix this issue. However, until the devs provide any permanent fix, you can simply follow the above guide to get rid of the keeps crashing issue of Fuser on PC.
That's it; we have for you guys. Hopefully, this guide provides you some helpful information. Also, comment below if you've any queries. Furthermore, you can visit our website for daily gaming and tech updates.