If you have been on the lookout for some good fitness tracking apps, then you are absolutely in the right place. Read on to discover some of the best Google Fit alternatives for Android and iPhone that you can use in 2021 to get healthy!
Google Fit is probably one of the most well-known apps in the bubble of fitness tracking. It has seen several updates, both in terms of features and its user interface over the past few years, and stands as one of the best apps to track your health all around.
However, as is the case with most apps, some people just might not enjoy using Google Fit. Be it inaccurate measurements, lack of features, or just a design that doesn't appeal to you. In this guide, we will be going over some of the best Google Fit alternatives that you can download in 2021 on your Android or iOS device.
Top 5 Google Fit Alter­na­tives
1. Apple Health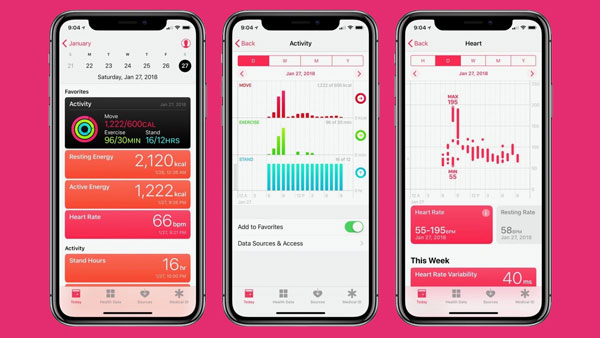 Kicking the list off, if you are an Apple user, then definitely give Apple Health a shot. Not only would it tie in incredibly well with the ecosystem, but it is also a very accurate fitness tracker. It has a simple to use interface and a dashboard that displays all of your important stats such as the number of steps you have walked, the calories you have burned, and so on.
You can connect your Apple Watch (if you own one) to get even better and accurate measurements using the Apple Health app. If you're afraid of losing your data while migrating from Google Fit, don't be, since you can easily import all of your information to Apple Health with the press of a button. Apple Health also gives you a glimpse of your week's or month's activity to keep you motivated.
You can even use Apple Health to track your sleep cycles and it learns over time your habits and displays information accordingly. You can add any kind of medical condition that you have in Apple Health so that it curates exercises and tracking with that in mind. Unfortunately, Apple Health is only available for iOS devices and it comes preloaded with your iPhone.
2. MyFitnessPal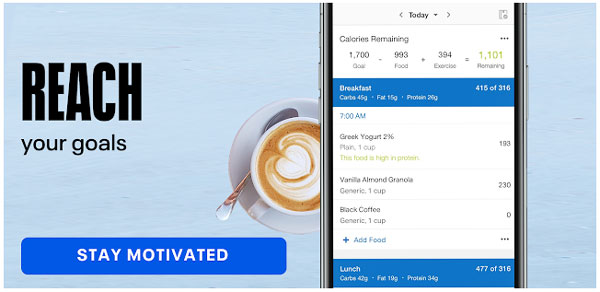 We have talked about MyFitnessPal several times on our website before, and it almost always tops every fitness apps list. While it isn't going to replace your workout apps, what MyFitnessPal does instead is that it helps you track all of your calories and plan your diet accordingly. I am yet to find an app that is as powerful and inclusive of all kinds of meals from around the world.
You can input your basic information such as body weight and age, and start counting the calories you consume every day! MyFitnessPal has an extensive library of cuisine and meals from all around the globe. Even if you are unlucky in finding a specific meal, you can simply create your own and save it as a meal to use later.
MyFitnessPal also does have a few exercise features that may help you reach your target even quicker, but for anything serious, we recommend a proper fitness tracking or workout app. Overall, if all you wanted was an app to keep track of the food you eat, MyFitnessPal is easily the best option out there!
Download for Android Download for iPhone
3. Fitbit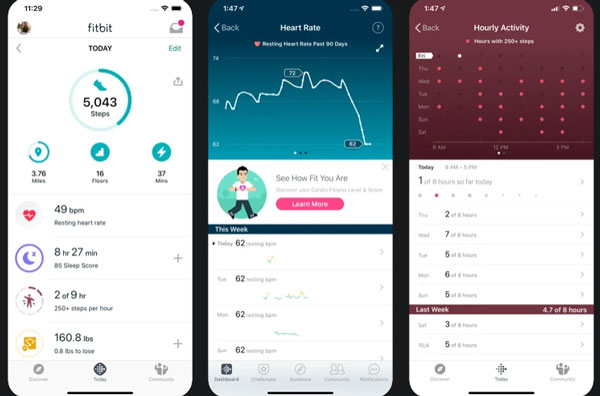 Coming up next on our list of some of the best Google Fit alternatives for Android and iPhone, we have Fitbit. While many people only think of Fitbit as a hardware manufacturer, they also make a really solid fitness tracking app that you can use even without one of their fitness bands or smartwatches.
The Fitbit app uses your phone's GPS to track your steps, and can also track various other exercises manually. It keeps track of all of your information such as calories burned, number of steps, heart rate, and much more. You can also use the app to track your sleep and find out if the hours of sleep you're getting is enough or not.
Fitbit also has a huge community of other fitness freaks and people who are just getting started. You can use the community tab to view what others have to share about their fitness journey and get inspired. Fitbit has occasional weekly and monthly challenges that you can take part in that is a great motivation for someone who might have been slacking off.
Download for Android Download for iPhone
4. Strava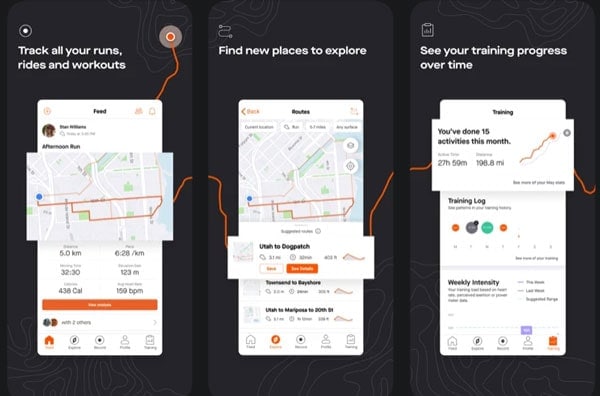 Strava is an app tailor-made for people who want to track their cardio exercises. Be it running, hiking, swimming, or cycling, Strava has got you covered. Strava has one of the best user interfaces for both Android and iOS devices that we have seen in a fitness tracking app by a long shot.
You can track all kinds of cardio workouts using Strava, be it a casual run down the alley or an intense biking session with your friends or loved ones. You can set the nitty-gritty such as the elevation, speed, and distance traveled to get an even accurate measurement out of Strava.
What makes Strava even better for people who love cycling or running is the amazing community that comes with it. You can interact with other people, view their progress (if they have publically shared it), and even share your own stories to motivate others! Overall, if you are someone who enjoys a lot of cardio activity and wanted an app to track it well, Strava is the one for you.
Download for Android Download for iPhone
5. Pedometer & Step Counter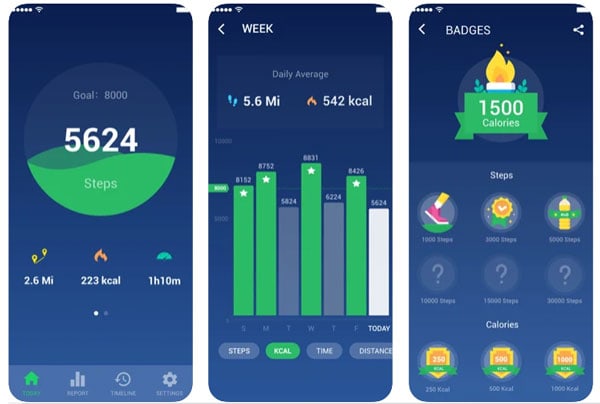 Ending our list of some of the best Google Fit alternatives you can use in 2021, we have an exclusive for iPhone users. If all you wanted was an app to track your steps throughout the day, then Pedometer & Step Counter is a great option. While it works similarly to Apple Health, it usually gives more accurate readings and it also helps that the app is built around the idea of just tracking steps, keeping you focused.
The app does need to be open in order to track your steps. The first time you launch the app, you will be required to input your basic information such as age, weight, and height, as well as set your goal. The app will then show you the number of steps you need to walk in a day in order to achieve your goal.
The app has a very minimal interface and displays only the things that matter such as the number of steps, distance walked, calories burned, and the total time you have been walking for. You can view your stats using the tab to the right which displays your daily, weekly, and monthly activity.
Download for iPhone
Conclusion
That's all folks! We hope you enjoyed our roundup of the best Google Fit alternatives for Android and iPhone to use in 2021! Which one among the list is your favorite, and how many of these Google Fit alternatives have you already known or have been using? Know other good fitness tracking apps that you feel people might find interesting and useful? Do let us know in the comments section below, we'd be delighted to hear from you guys!