There might seem to be no significant difference between Google's Pixel 7 and Pixel 7 Pro and its predecessor, the Pixel 6 and Pixel 6 Pro. After spending some time with the phones at Google's launch event in Brooklyn, I learned that they look similar but differ in several important ways from their predecessors.
There is a Camera Bar across the rear panel, one of the phones' most distinctive features. Rather than glass, Google is replacing it with an aluminum strap, which should be less likely to break.
But, there is still something missing in these smartphones due to which users are getting some errors while using both the new device. For example, recently, users are complaining that their Google Pixel 7 and 7 Pro won't turn on. We have already gathered some information about this problem that we will discuss further in this guide. So, let's start with the reason behind this problem.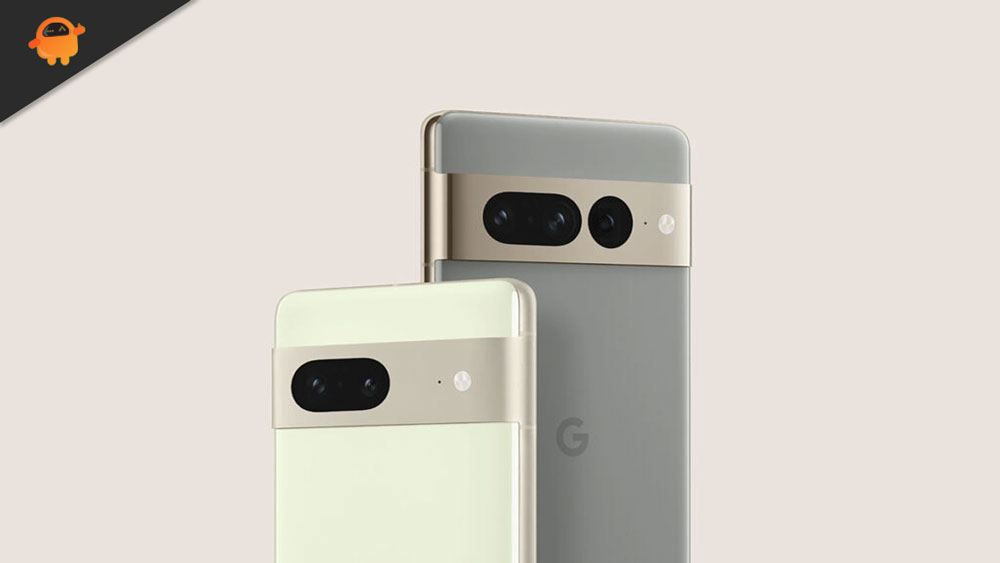 Reasons due to why the Google Pixel 7 and 7 Pro are Not Turning On
There are a number of minor and major reasons that can cause power issues on Google Pixel 7 and 7 Pro. Reasons for this include:
Low battery, charging issues, and other issues relating to batteries.

An example of physical damage would be a broken charging clip or moisture accumulation at the charging slot as a result of liquid exposure.

The Google Pixel 7 and 7 Pro device cannot function properly due to a corrupt file, an application, or a program affecting its entire performance.

Updates that are faulty.
How To Fix Google Pixel 7 And 7 Pro Won't Turn on Problem
Both devices are just launched; therefore, these kinds of errors aren't common. But, in case you are getting the Google Pixel 7 and 7 Pro that won't turn on problem, perform these fixes:
Fix 1: Check Physical Damage
It is important to check for any signs of damage first. Does your phone seem to have been dropped before this problem occurred? The phone was drenched in water, wasn't it? Dropping your phone from a certain height can sometimes damage it, causing it to shut down and not restart.
However, the Pixel 7 and 7 Pro can still suffer from water damage despite their IP68 water resistance rating. It is recommended that you have the issue repaired at an authorized service center if it is caused by water damage or physical damage.
Fix 2: Charge your Google Pixel
You might just have drained the battery on your Pixel phone, which is why it won't turn on. If your Pixel phone does not turn on after charging for at least 30 minutes, then you should try charging it for another 30 minutes.
Use a working electrical outlet to plug in the power adapter.

To charge your Google Pixel, you will need a USB-C charging cable that works.

Ensure the phone is plugged in for at least 30 minutes before using it.
It's important to make sure that both the charger and the outlet you're connecting to are working before charging the phone.
A red light indicates that the phone's battery is fully discharged when it is connected to its charger. After leaving the phone connected for 30 minutes, press and hold the power button, then tap Restart after leaving the phone connected for 30 minutes. You should follow these instructions if you see an Android robot that says start and has an arrow around it is as follows.
Turn off the device by pressing the volume-down button.

Select

Power off

by pressing the power button.

Make sure your phone is charged for at least 30 minutes before using it.

For a few seconds, press and hold the power button.

You can restart your phone by tapping Restart on the screen or by holding down the power button for about 30 seconds.
Fix 3: Force Restart Your Phone
Possible causes of this issue include software glitches. It is recommended that you force reboot the Pixel 7 and Pixel 7 Pro in order to resolve this issue. A reboot of the device's operating system and reloading of all services are required to complete this process. The data, files, and apps you have on your device will remain the same.
Fix 4: Connect Pixel 7 and 7 Pro to Computer
The problem can be fixed using a computer if you have one available.
Plug the charger into the wall outlet and unplug the cable.

Turn your computer on and make sure it is powered on.

Use the cable that came with your phone to connect your phone to your computer's USB port.

Wait 10 to 15 minutes.

The cable must be disconnected and reconnected within 10 seconds.

It's possible that you'll see a battery icon or a red light within a minute. The phone is being charged and powered off when the battery icon appears. It indicates that the battery has reached its full discharge if a red light appears.

At least 30 minutes should be spent charging your phone.

Your phone will restart after you hold down the power button for a few seconds. If you need to restart, tap

Restart

.
Fix 5: Factory Reset Pixel 7 And 7 Pro
If the problem persists, your phone will need to be booted into recovery mode and factory reset. Android's operating system is disabled while you access your phone's firmware in recovery mode. There will be no data left on your phone when you do a factory reset in this mode, so make sure to have a backup copy of it before starting. Here are the steps to factory reset your Pixel device:
You need to turn off the device.

In order to do this, you must hold down both the Volume down button as well as the Power button simultaneously.

You must release both buttons when you see the triangle with an exclamation point and Fastboot.

Then, power button should be held while you press the Volume Up button, and then you should release both buttons if you see an exclamation point and the words No Command.

Then press the Power button when you have highlighted Wipe data/factory reset.

The volume keys should be used to highlight. Yes, then the power button should be pressed. Let the deletion process take place while you wait.

Using the volume keys, select Reboot system now by pressing the power button and using the volume keys to select it.
So, that's how to fix the Google Pixel 7, and 7 Pro won't turn on issue. We hope that this guide has helped you. Furthermore, comment below and let us know if you have any doubts or questions.