The famous action-adventure sandbox game by Re-Logic, Terraria, received a very favorable response from critics and fans alike. Thanks to the enthusiastic response from fans and critics, the game's popularity remains exceptionally strong to this day. It has sold over a whopping 30 million copies as of April 2020. There has been much praise for its focus on compelling combat and tactical mechanics while staying true to the sandbox genre. With the efforts of the developers and the love of the gaming community, the game went on to win the glorious 2011 Indie of the Year Player Choice award on IndieDB.
The developers have done a lot to provide the classiest gaming experience for their fans with Terraria. The new Terraria Journey's End update 1.4 features a plethora of exciting new items to discover. One of these treasures is a very useful starter mining tool that is capable of mining up to nine blocks at a time! This is the Gravedigger's Shovel. We have brought you an all-new guide where we will show you how exactly you will be able to get the Gravedigger's Shovel in Terraria Journey's End.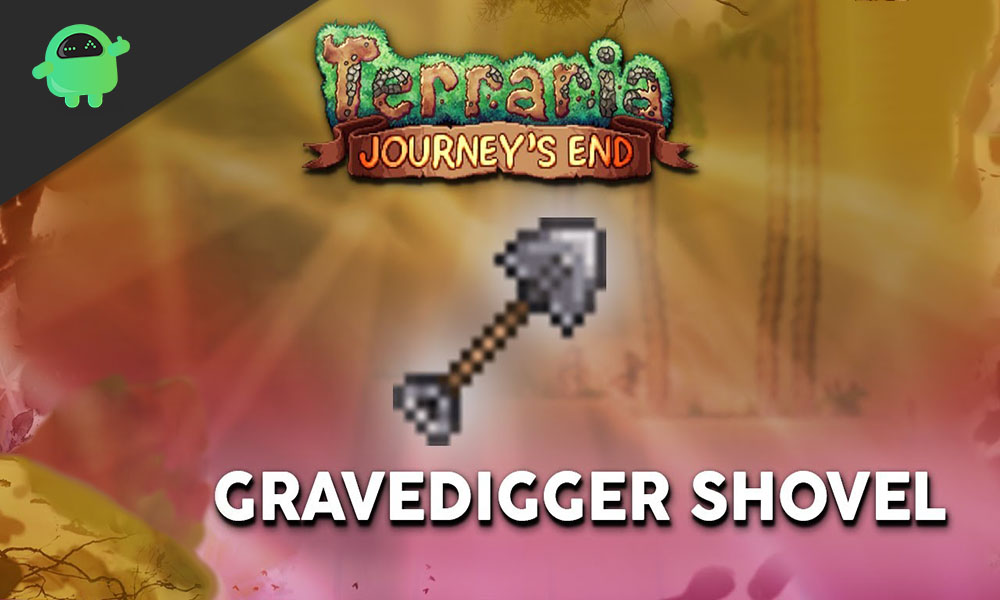 How to get the Gravedigger's Shovel in Terraria Journey's End
The Gravedigger's Shovel is one of the new items introduced in Terraria Journey's End with Update 1.4. Here's how you can dive into the process to obtain it in the game:
In order to craft this Shovel, you must first possess an anvil of any sort.
After that, you are going to need 12 Lead Bars and 3 Wood.
When that's done, you will have to set up a Graveyard Biome. In order to create a Graveyard Biome, you must set up around eight Tombstones next to each other. Put your anvil next to the Graveyard Biome. This will lead to the creation of some brand new items like the Gravedigger's Shovel.
With this Shovel in your possession, you can dig up soft tiles nine blocks at a time, which makes it great for digging graves (no prizes for guessing why it got its name!). You will be able to dig out huge heaps of dirt, snow, sand, and other soft tiles. Sadly, the pickaxe is no different from a regular pickaxe when we're dealing with blocks of rare minerals such as copper, iron, silver, etc. Concluding, this is an excellent tool for digging your way through biomes near the surface, and then getting to some good depth with speed as well.
We hope our guide comes in handy to help you obtain the Gravedigger's Shovel in Terraria. GetDroidTips works seamlessly for you people day and night to offer the best iPhone Tips and Tricks, PC tips and tricks, Games and Android Tips and Tricks. So it does become your task to subscribe to our YouTube Channel. Moreover, there, the benefit is yours. We are offering a $150 giveaway contest for all our subscribers who watches our videos there. Now signing off here, to prepare another best guide for you. You can also comment down below with your feedback and queries with your name and e-mail ID, and we will love to help Happy gaming!