With Nintendo continuing to come up with exciting new events to give their players the best gaming experiences during the ongoing tough times. Animal Crossing: New Horizons is one of the games that's continuing to be popular among Nintendo Switch users. Now that we've entered the summer of 2020. As you may expect, the time is ripe to some all-new varieties of fish and bugs in the game.
One of these new bugs and fish for May is the Great Purple Emperor Butterfly. It is a majestic and beautiful but interestingly elusive entity. That has been proving tough for some players to obtain. So, right here, we have come up with a brand new guide. That will help you to catch this royal winged arthropod in Animal Crossing: New Horizons. If you are one of those players, then look no further, because here you will get everything you require to capture that Butterfly. So let's get started.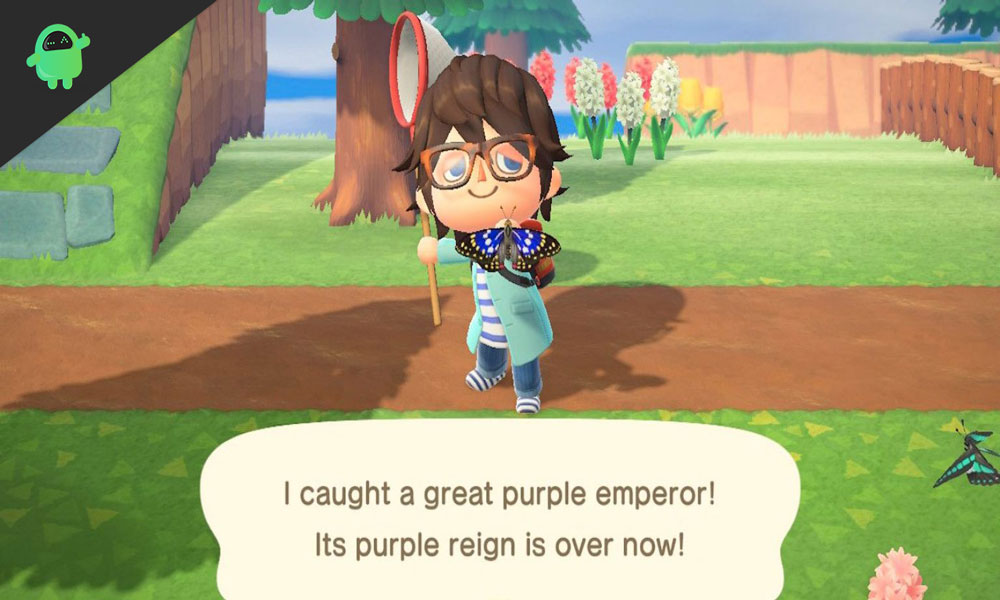 Capturing the Great Purple Emperor Butterfly
In order to catch this unique insect, you must first be familiar with the time period in which it can be found. The Great Purple Emperor Butterfly can be captured from May to August if your place of residence lies in the Northern Hemisphere and from November to February if you live in the Southern Hemisphere. In both cases, the Butterfly can be found from the early hours of the morning until the wee hours of the night. Given below are some more details related to this Butterfly.
Bug – Great Purple Emperor Butterfly
Available Time of Day – 4 AM to 7 PM Local Time
Northern Hemisphere Months – May to August
South Hemisphere Months – November to February
Selling Price – 3000 Bells
How to Capture?
Like in real life, Butterflies in this game are likely to be found near flowers, so that's where you need to keep looking in order to find one on your island. Our arthropod of concern is a large purple, black and yellow coloured Butterfly. It's easily noticeable and, thankfully, not an exceptionally rare one, so hopefully, you will be able to catch it without much of a hassle. Even if it flies away on you, all you have to do is to get it within the range of your bug net in order to seize it.
It's a good idea to have a good number of flowers on your island and maintain a vigilant watch near them so that your chances of encountering this butterfly increase significantly. You needn't worry too much about sneaking up to it once you do come across it since you won't be scaring it away even if you make a direct approach. Just keep in mind the specific months and time of the day in which it is available, and then get down to bug hunting.
Wrap-UP
This guide was to help the players of Animal Crossing: New Horizons to capture the Great Purple Emperor Butterfly. The players, after following our guide, will be able to do that easily. We hope this guide helped you. If you have any queries or feedback, feel free to comment down below with your Name and E-mail ID. Likewise, check out our iPhone Tips and Tricks, PC tips and tricks, and Android Tips and Tricks for more such tips and tricks. We urge you to participate in the $100 giveaway by subscribing to our YouTube Channel. Happy Collecting!