Launched in 2022, DaVinci Resolve is a very powerful video editing software that allows you to put visual effects just like you see in the movies. The software allows you to create a wonderful video and offers a wide range of features, including advanced color grading tools, audio editing capabilities, and visual effects. DaVinci is developed by the Blackmagic design and is available for both Mac and Windows. Despite all the features and robustness of the software, many users face a peculiar issue with GPU rendering and processing mode.
This can be a frustrating problem, especially if you have invested in a powerful graphics card for video editing. Whenever users are trying to do any heavy task on the software, they get the famous DaVinci Resolve 18 Unsupported GPU error Message. There are several reasons why DaVinci Resolve 18 might display an unsupported GPU error message. This includes outdated GPU drivers, compatibility issues, or even GPU configuration. Today in this article, we will share some troubleshooting methods to help you fix the same.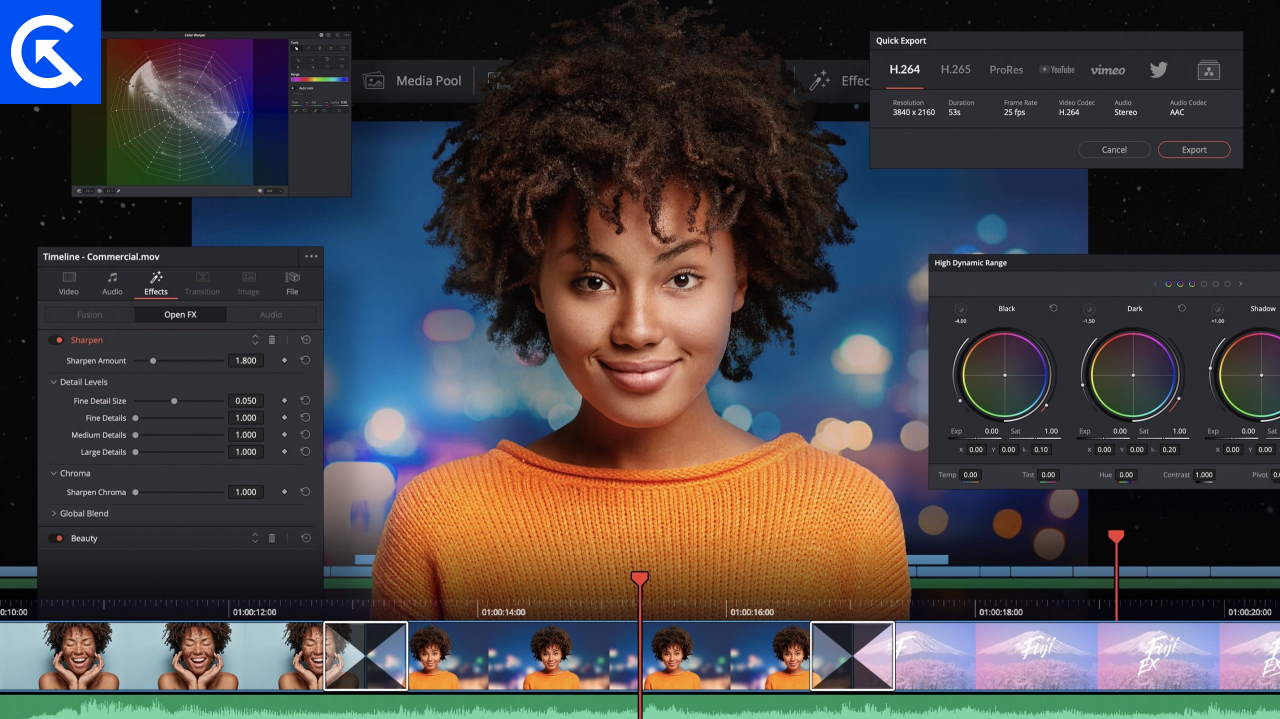 How to Fix DaVinci Resolve 18 Unsupported GPU Message 2023
If you have been using DaVinci Resolve lately and rely on this software for your daily life, you are getting this error. This must be frustrating for you, but you don't have to worry much, as this article has a proven solution to fix it.
Here are a few things you should check before you follow any of the troubleshooting methods below:
Your GPU should have at least 2 GB of VRAM, whether it is integrated or discrete
Your GPU must support OpenCL 1.2 or the CUDA 11
Your GPU drivers must be updated to the latest version
Method 1: Check VRAM of your GPU
VRAM stands for Virtual RAM and plays an important role in any GPU processing task on your computer. It's important that you set up a good amount of VRAM so you don't face any GPU processing-related issues. To check the VRAM of your GPU, you can follow these steps.
Go to your Desktop and press Win+R to open the run command.
Now, in the run command, type "dxdiag" and hit enter.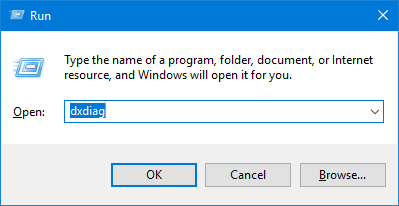 Your GPU driver diagnostics tools will open up, now click on the display tab, and you will see the VRAM amount.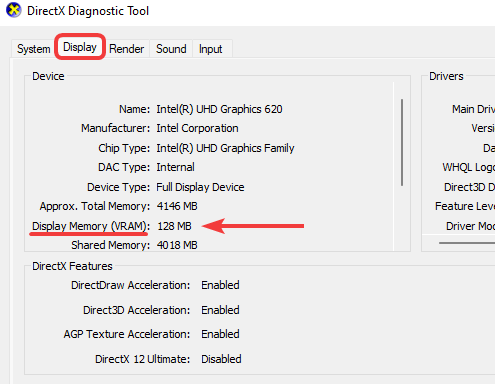 Update the VRAM if it's a small amount. Usually, you must keep VRAM as double of your PC's physical RAM capacity.
Method 2: Check OpenCL2 or CUDA 11 Compatibility
There is no proven way by which you can check the compatibility of the OpenCL2 or the CUDA 11 with your GPU, but there is a list that depicts which GPU supports which OpenCL version. You have to go through this list and ensure that the GPU you have in your system supports OpenCL version 1.2. If your GPU does not support the 1.x version of the OpenCl version then your GPU is too old to run the DaVinci Resolve 18 software.
If you have Nvidia GPY you must go through the CUDA 11 version support list. You have to review this list and ensure that your NVIDIA GPU supports a 3.5 or higher version of the CUDA 11. A lower than version 3.5 does not support the CUDA 11. As it is required to run DaVinci Resolve 18, you may get an Unsupported GPU error.
You can change your GPU processing mode from CUDA 11 or the OpenCl 2, depending on the GPU you have and how it performs in real life. To do that, follow these steps.
Open DaVinci Resolve 18, and on the top left, click on preferences.
Now select memory and GPU and press Ctr+ on Windows or Command+ if you are on a Mac.
Uncheck the automatic selection, and in the GPU configuration, select CUDA 11 or OpenCl2.
Method 3: Upgrade/Downgrade GPU Drivers
The DaVinci Resolve 18 is very sensitive to the driver's version, and any unsupported version of the driver can give you errors like these. You must upgrade or downgrade your drivers depending on your system to solve this error. You know how to upgrade your drivers, but here is how you can downgrade your drivers.
For Updating your Driver
Click on start and type "device manager" Open the device manager.
Expand the Display Driver tab to see your GPU driver.
Right-click on your driver and hit on update your driver.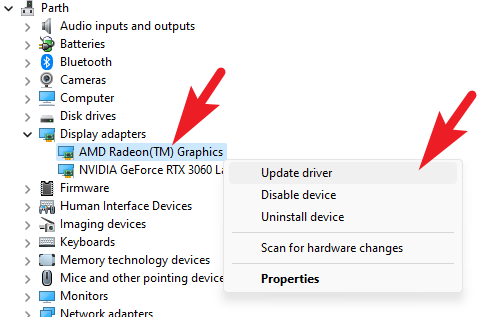 Now, choose the search automatically for drivers and click on it.
Follow the on-screen instruction and wait for it to get installed.
Restart your computer.
For Downgrading your Driver
Click on the start button and search Device Manager, and open it.
Now expand the Display Driver tab to see your GPU driver.
Now, right-click on the driver and hit on Properties.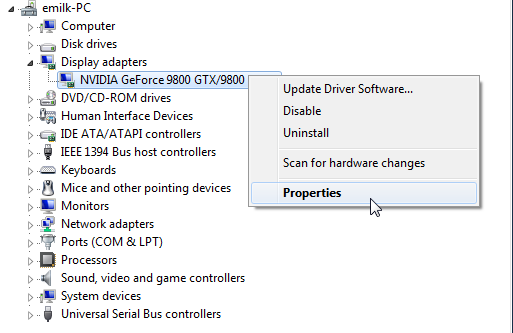 Now, select the driver tab and click on Roll Back driver.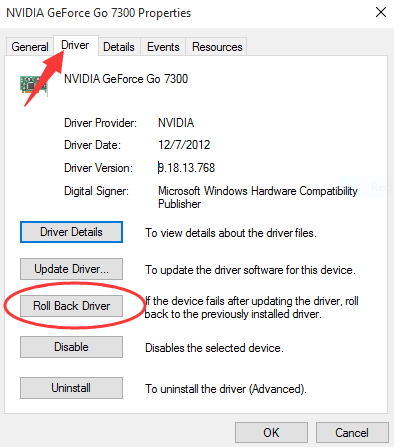 Select an appropriate reason why you are rolling back (if prompted).
Select Yes and Restart your Computer.
Method 4: Use DDU
DDU stands for display driver uninstaller; it basically uninstalls your current drivers and cleans them before you install a new one. You can use the DDU to clean your driver traces before you update your drivers to the latest version of the drivers.
Go to the internet, and find a DDU for your PC, or you can use this link to install a DDU to clean any traces of the display drivers. Once done, you can install a new version of the driver to solve this issue.
Method 5: Repair DaVinci Resolve 18
The last thing you can do is try repairing your software by using the inbuilt Windows option. You can repair DaVinci Resolve 18 software by following these steps.
Go to the Start menu and search for applications.
Now go to apps and select apps and features.
Select DaVinci Resolve 18, and select the advanced option. Select Repair.
You can repair DaVinci by going into the control panel too.
Conclusion
This brings us to the end of this guide for fixing DaVinci Resolve 18 unsupported GPU message. The unsupported GPU issue in DaVinci Resolve 18 can be frustrating for users, but several solutions can help. By following the troubleshooting guide above, you will be able to resolve the problem in no time. But in case nothing helps, it is better to connect with DaVinci customer service to help you configure the same.