Google Play Store is an essential app for Android Phone users. As it is an Official app store for Android Phones. Now along with apps and games, it is the home for various other Google services like Google Play Books, Google Play Games, Google Play Movies & TV, Google Play Music. Sometimes it's very annoying when an error pops up while we are downloading or browsing the play store. In this article, we will guide you to fix the Play Store Error Code RPC:S-7:AEC-0. It usually occurs while downloading an App from the Play Store.
It's very useful to tell you that we have also covered some other common Play Store error codes. That includes Play Store Error DF-BPA-09, Error Code RPC:S-5:AEC-0, Error code DF-DLA-15 , Error code DF-BPA-30, etc. You can go through them to read how to fix these errors. Coming back to the Play Store Error Code RPC:S-7:AEC-0 is a temporary error and might be automatically rectified within 1-2 hours. If you don't want to wait, then you can follow the methods below to fix Error Code RPC:S-7:AEC-0.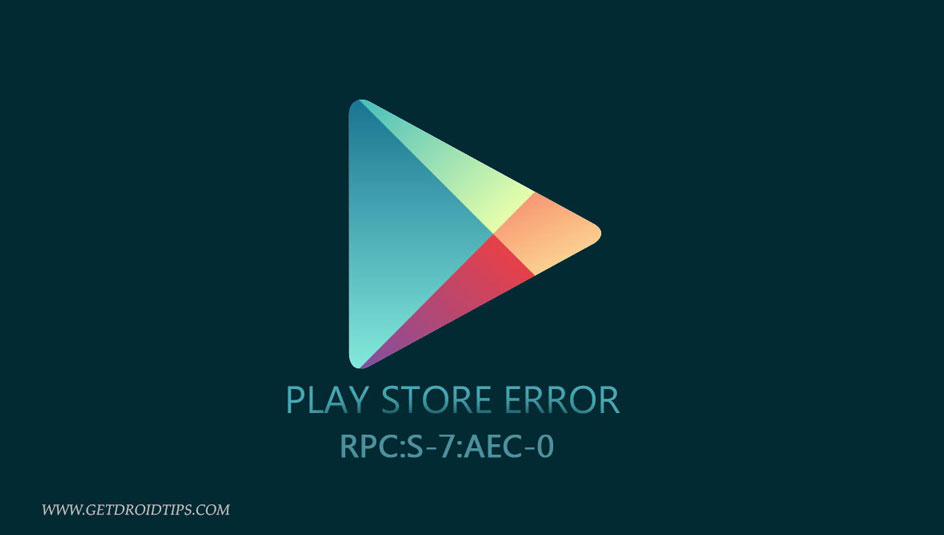 Guide to Fix Play Store Error Code RPC:S-7:AEC-0
Method 1- Remove your credit card from Play Store
If you have attached a credit card to Play Store and you use it even once to pay for content or App. Then it might be a cause of Error Code RPC:S-7:AEC-0. To remove the credit card from your play store follow the instructions below.
Open the Play store and Tap on the three horizontal lines.
Go the Payment methods and you will see all the payment methods used.
Now remove the Credit card you want.
Try to download the apps from Play Store.
If the Error doesn't appear now, attach your credit card again.
Method 2- Clear cache and remove Google Account
Clearing Cache and data of the Play Store is a very effective solution to this error. It deletes the cache and data of the Play Store which can fix Play Store Error Code RPC:S-7:AEC-0. You can follow the instructions below to clear the cache and data of Play Store.
Open the settings of your Phone and tap on the application manager.
Select the Play Store app and go to the storage option in it.
Now you will see the clear cache button, tap on it to clear cache and data of Play Store.
Come back in the application manager, now select the Play Store services and repeat Step 2 and 3.
Go back to the settings of your Android device
Head over to the Accounts and then Google.
Select the three dots top right and then Remove Google account.
Now Restart your Android device.
Add your Google account again.
Try to download an App from Play Store.
We hope Play Store Error Code RPC:S-7:AEC-0 is fixed following these methods. If You have any queries and feedback kindly send us via comments below.