Google Play Services, which includes Play Store, and it is an essential app on Android. Where error 403 is one of the most common errors seems by Android users. It generally occurs during an un-finished app download through the Play store but also failed Syncing on your Android Device could occur this error. There Were multiple factors such as Play Store itself updated to the latest feature, and Security comes with some error.
On the other hand, If you have downloaded an app that contains adware than Google Play protection stops some of the services because of the Violence guidelines. Meanwhile, App update sometime comes with adware that tries to make changes to your Google Play service. Android user commonly gets error 403 with a Prompt "Could not download due to an error (403)". Today we are going to teach you how can you resolve this error.
Alternatively, you can also check for pending Android updates or check services running in the background consuming more Ram and Battery than usual. We recommend you to disable or delete them if it is not necessary to need that app. Later you can download it from the Google Play store again.
What does Error 403 Means?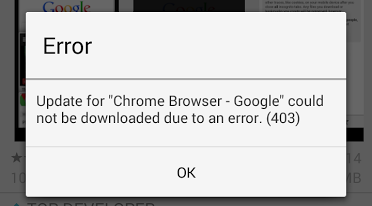 An error 403 means your request was forbidden, Which doesn't mean you did sometime incorrectly. Here it means that the Google Play Store server denies your request that you send.
Quick Check your Error 403.
Check your Internet connectivity: Turn on Airplane mode and Turn off to get better internet strength.
Delete Search History: Clear Search history of Google Play store and It Would not harm your existing Android application.
Reboot your device: Maybe your device had a Patch, but it requires you to Reboot, and you might forget that request after updating the application.
Security: You can also perform a Security check using Pre-installed or Third-party Security tool to repositories and replace the corrupt or the missing file
How to Fix Error 403
There were multiple ways to resolve the Error 403, and We will start from most preferred ways to solve and then move forward with the complicated method.
Method 1: Clear Proxy, Data and Cache.
Go to "Setting" app on your device.
Scroll and Go to "App Manager."
Select the "Google Play Store" app.
Tap on "Force Stop."
Then, select "Clear Data" and "Clear Cache."
Head over "Wireless and network."
Choose "Mobile Network", then TAP on "APN."
(APN Stand for Access Point Name.)
Select the "Clear Proxy" option.
That's it.
Note: This method of resolving Error 403 doesn't work on rooted or Discrepancy/Incompatibility between Google Play store app and Google Play Service app.
That's it you can Re-Open Google Play store after a few Minutes, Then you can Download and Continue with your Google Play services as Usual.
Method 2. Removing Google Account
If Method 1 Doesn't work for you, then follow Method 2. Sometime, Multiple Google accounts might cause error 403 in some scenarios.
Open the "Google Play Store" on your Android device.
Now, Click on the "Burger menu" to extend the Menu.
Select Account and then Remove your Gmail.
Sign in with your Google account
(Recommend: Select the Alternative Gmail Account.)
Now, You have to Follow Method 1 Means you have Clear proxy, Data and Cache of Google Play Store. Restart your Android and then Accept all the Google terms to Setup Google settings.
Method 3: Router Proxy Setting.
It is also possible that your Internet Service was interrupting.
Open your "Router Settings panel" or Configuration.
(Example:192.174.369.1.1 on your Browser to open router settings on my TP-Link router.)
Find or Filter the settings to find Unchecked Proxy and also Clear Cookies.
That's it, and you can now try to install the app from Google Play.
Method 4: Lastly, Factory Reset.
If none of the methods works on your device, then you can perform the Factory Reset. Before implementing a factory reset, make sure your data and Account is sync with your Google account to backup your device on Google, or you can take your data backup locally.
Hopefully, we assume that these methods might seem one of these methods to solve the 403 error for your Android. Let us known how it worked in the comment section down below.