This is in reference to the issue reported by many some Vivo users that they are facing phone not charging problem. Similar to any other smartphone, in the end, your handset is an electronic device which is prone to damage, develop issues for which, the underlying reasons could be perennial. Also, this issue is not confined to Vivo users but also, other smartphone users. Getting your phone charged is the basic requirement to do any task on your phone and thus, any fault in charging will stop you from doing anything on your phone and it will surely make you stranded and stagnant until you don't find a way to fix the issue. Trust me, a small issue can cause such a problem but like always, GetDroidTips is here to the rescue. We have gone through hundreds of comments posted by our users on our website and other forums and then, we created this list of methods to fix not charging problem on your smartphone and especially in Vivo.
How To Fix Vivo Not Charging Problem?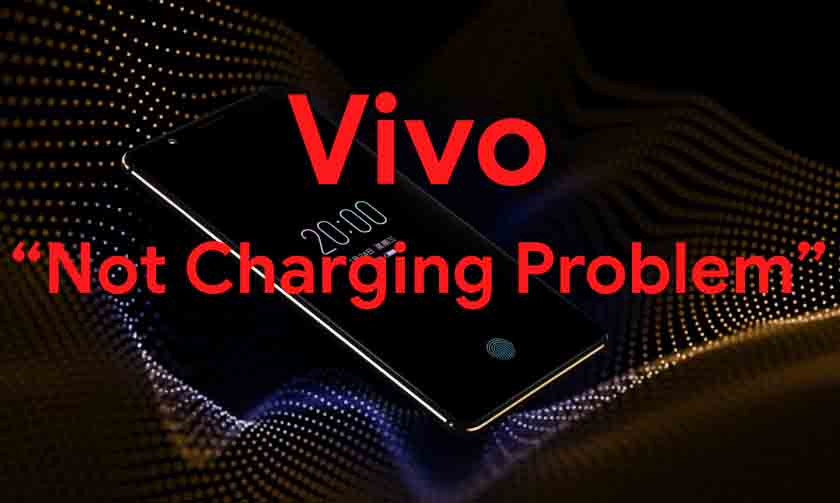 Get Ampere from Playstore
Ampere is an app available on the Google Play Store that lets users check the power being drawn on to the phone or the power being consumed. This is essential since you can check whether how much power is being drawn by your phone to charge its battery. This will help you contemplate the next step if it is charging slowly or if it is not charging at all. It shows details such as battery status, health, temperature, etc which can help you understand more about the battery installed.
When the reading is in blue, that means your phone is charging well. Look for the desired range of current drawn just below the actual reading. If the phone isn't charging or it is charging slowly, the reading will fall. If it is in orange, that means your phone is disconnected and presenting using its own power.
Try different power source
Are you facing any issues with charging your phone? There is a possibility that nothing is wrong with your battery or phone or even charger. Blame it on the power source you are using for charging. It can be a wall unit or socket or USB port of your computer or laptop which might pose difficulty in charging. What you need to do is to change the outlet and try different socket to charge the phone. If it did work, you'll save hundreds of bucks that would otherwise spend on rectifying the issue.
Turn off the phone
Not everybody follows the protocol regarding not to use the phone when it's charging. If you have connected the phone with a power outlet for charging and you are playing an intensive game or browsing the internet, it is possible that your phone is using up more power than it is actually gaining which loosely translates as it's not charging'. If that's you, next time please turn off your phone or at least lock it and keep it aside until its charging. Switching over to the airplane or flight mode can make a huge difference.
Is the charging port clean?
Your phone has a USB-C port that you can use to charge the phone and connect to a computer. It is small in size and has a metal tab protruding outside where the USB cable actually lands and makes contact with it. If you are observing phone not charging problem, it could be due to clogged port. Dust particles, debris, and lint can escape into the port making it hard for the USB cable to make proper contact with the USB port and thus, you have developed a problem.
Take a flashlight and inspect if the port is clogged or filled with dust and debris.
Now, don't take start blowing air into the port, switch off the phone first.
Then, take a toothpick or a needle and carefully scratch the walls of the port to remove dust stuck to it.
Gently trace the walls and then, the metal tab which is way too delicate.
If in case the metal tab is out of shape or distorted, apply a gentle little pressure on it to counter its distortion.
Applying more pressure will cause it to deform permanently.
Once all the debris and dust particle are removed out of the port, turn ON the phone and try charging the phone.
What if the port is damaged?
Different phones have varying battery capacity based on which, users either charge too frequently or fewer times. If you belong to 'too frequent' category of people, then a lot of plugs IN and plug Out is involved and that is what causes hardware problems. If you cleaned the port but still, it isn't charging properly, there is a strong chance that the port might be damaged. Take a flashlight and check whether the metal tab is in its shape or not. Another method to contemplate it is to take the cable and plug it into the USB port. Check if the wire is firmly connected or not since it has an interlocking mechanism which is able to firm a secure and tight connection with the port. Try to shake the cable a bit and check if it's too dicey along the port. If yes then I must say that the charging port of your phone has been damaged due to frequent usage.
Unless you are an expert in phones or a technician, do not try to replace it by yourself. Get help from experienced technicians who will replace the USB port and it mustn't cost much though. On the flip side, if you didn't observe what I quoted above, then the port is not the culprit. There are still other hardware items involved in the charging process that you need to check.
Check the USB Cable
Even the original cable that comes with the phone goes haywire or frayed after a while and that's how you can contemplate the difference between an original and a third-party cable that you bought as a replacement. These cables are cheap and aren't required to perform for quite long and that is why there is no warranty associated with it. The cable is used to connect the phone to the adapter for charging or to the computer for exchanging data.
It is possible that the cable must have been damaged due to inappropriate use or due to excessive twisting. But the question is, how can you check if the cable is damaged or not? Well, it is very simple. You just need a replacement cable that you can borrow from someone for some time. Now, check if the replacement cable is able to charge the phone or not. In case if it is able to charge the phone, you know that the cable was always the problem. On the contrary, if the phone isn't charging that means there is something else wrong with the software or hardware.
Check the charger adapter
Your phone has a USB port which is connected to the USB cable which in turn connects with a charger adapter which connects to the power outlet. Is it possible that this adapter is at fault? It is surely possible. Similar to how you did replace the cable to check if it is working or not, do the same but with the adapter. Your friend must be too generous to help you out though. Replace the adapter and plug in the phone and check if it is charging or not. If yes, the adapter is at fault.
Try Custom ROMs for a change
Custom ROMs allow users to extend the features they can use as well as it provides access to various apps and services that weren't available with the Android OS version. If you have been using Custom ROMs for a while now, you know that it needs a constant update similar to Android. Failing to update can incur bugs and issues with the phone. Go to the related website and download the update for your respective ROM and that, install it and check if the problem is sorted or not.
Upgrade or rollback to previous Android Version
Failing to upgrade the OS has its side-effects such as you won't be able to get new features and services that others would. It is important to upgrade because latest updates have patches to fix previously discovered or reported bugs and issues as well as, these are pre-optimized which means your phone will start running faster than it would otherwise run earlier.
First, go to Settings > About Phone > Software Updates.
Check for the available updates and download it.
Once downloaded, install it and try the new update.
On the contrary, consider a scenario where you just downloaded and install a new update on your phone and then, you tried plugging in the USB cable to charge the phone but it won't. This is an apparent issue and thus, you can associate it with the upgrade that you recently did. The fix for this issue is to roll back to the previous version for which, you can find it on GetDroidTips.
Get a battery replacement
Smartphones are sophisticated electronic devices that work on a combination of hardware and software. Take a simple example of charging and you will see that there are a lot of parts involved in the process. For instance, adapter, cable, USB port, battery are just a few components involved in the charging process and in case, if one gets damaged, the process comes to a standstill.
If you think or it was suggested that the battery is the problem, get it replaced. It will bore some money but it is worth since you won't be able to the smartphone you bought for thousands of bucks if the battery which worths just hundred bucks or so. Check for the replacement on shopping websites like Amazon, eBay and get exciting deals on it.
Plan B – Take it to the service center
Don't worry if no method in this explicit guide on how to fix Vivo phone not charging problem because we have a Plan B ready with us. If the problem is still there, walk into the nearest service center, raise the ticket regarding the issue, talk to the technician and get it fixed. It might 2 to 3 business days to get the phone back but it is worth if the problem has been fixed. Moreover, if you recently bought the phone, there is a chance that it is still under free look period which ranges between 7 to 15 days within which, you can get a free replacement without any hassle. If your phone has a warranty, then choosing the service center is the best option since the cost will be lower comparatively and it wouldn't affect the warranty on the phone as well.
Hopefully, we were able to sort out the issue that you were searching the fix for in this guide. What's next? Stay tuned to this website to check out more tips and tricks and troubleshooting techniques to fix any sort of problem with your phone.
Read More: