You may have seen plenty of online screen recorder tools or software that could be complicated and has not user-friendly interfaces. Most of them are pretty not applicable in the case of HD screen recording without lag. If you want to capture the screen record with HD quality and minimal effort, you can do it simply by choosing one of the best screen recorders in the marketplace. Undoubtedly, it can be hard to select a suitable one-screen recorder, but we strongly recommend using iFun Screen Recorder with various bewildering features that will blow up your mind. This article will talk about the features of IObit and how to use it in a more precise way with a step-by-step guide. Get reading!

Features of iFun Screen Recorder
iFun Screen Recorder is one of the best in the marketplace that significantly use to capture the entire portion or screen of your computer in a much easier way. These are the following worth mentioning features or key points that come up with HD recording capabilities and more. Let's Get Started!
Facecam Recording Functionality
Suppose you're doing online video calls or PowerPoint presentations and want to capture the face in a video. In that case, you can do it using the iFun Screen Recorder with Facecam recording functionality.
Flexible screen capturing is crucial and worth considering functions that allow you to capture the screen area according to your need. And you will also avail of the multiple display support by capturing your desired screen area.
A screen recorder with HD quality considers vital if you want to create quality videos. And this screen capture tool provides you the HD quality recording without any lag and watermarks.
Support Multiple File Formats
After capturing the screen recording, everyone wants to have various file formats that should be easily playable for different devices. However, iFun supports the multiple File Formats functionality available, including AVI, FLV, MP4, MOV, MKV, TS, MPEG4, and many more.
Screen recording via System or Microphone
If you want to stream a gaming video or any other tutorial videos, you undoubtedly wish to screen recording via system audio or Microphone. And you can do it using an iFun Screen Recorder.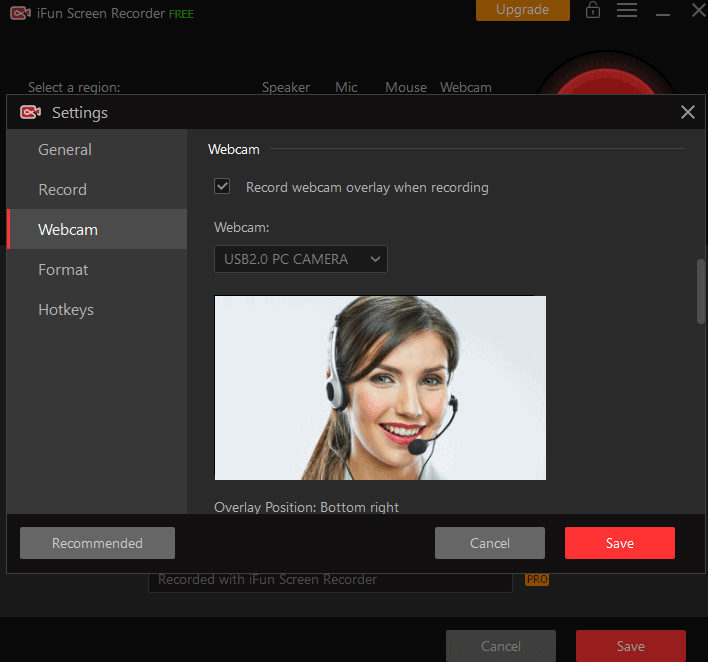 Suppose you want to record a video for a business or educational presentation. In that case, iFun is worth considering software that allows you to mix up scenes and edit audio in videos. Further, it supports the image editing feature for adding annotations in the videos or images.
Compatibility and Easy to use
IFun Screen Recorder is exclusively available for windows operating systems with no compatibility problems, and it is undoubtedly free plus easy to use because of its user-friendly interface.
Step by Step Guide for screen recording with iFun
Once you have done the installation process, you can do screen recording easily with the best free screen recorder by following the below step-by-step guide. So, let's jump on it!
Steps
Firstly, open the iFun app by simply double-clicking on it.

After that, go to the record option to choose the entire screen or selected portion from the "Select a region" option.

Now, let's do screen recording with audio; you can do it simply by turn the ON option under the Speaker. Further, if you wish to record your voice during video recording, do it by enabling the Mic.

Finally, it's time for the recording to pressing the "REC" button to initialize the recording process with HD quality. And you can save the recordings and then access them by going to the "Video List Tab" in a much precise way.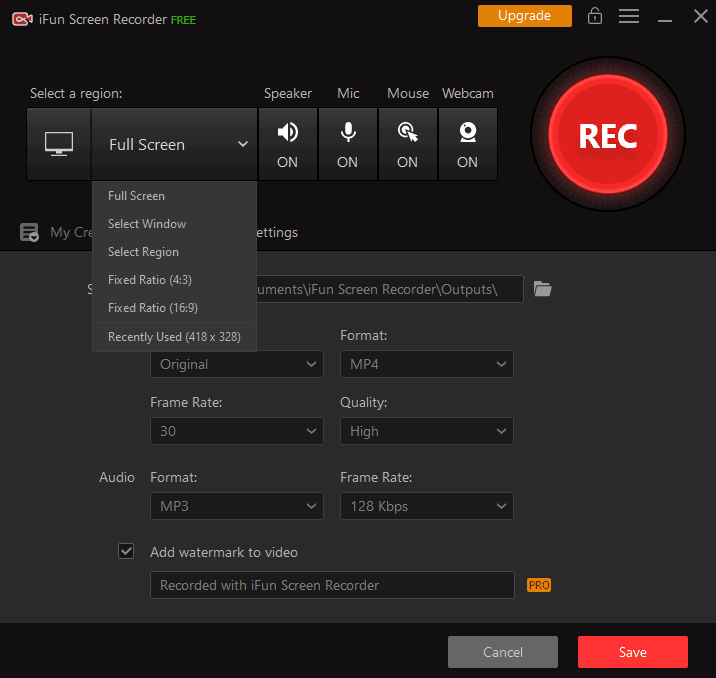 In a nutshell
You can customize the video size, video quality, perform the video editing, and transfer your video into 17 mainstream formats that play on various devices.