The game is now available to those who purchased the WWE 2K23 Deluxe or Icon Edition. And a lot of players from all over the world are already using WWE 2K23 Face Scan. Like NBA 2K's MyTeam feature, WWE 2K23 players may add their own photos to the game. In WWE 2K23, your image can be applied to rooms, outfits, and visuals for wrestler-featured photographs.
If you are not knowing how to import the face photo on WWE 2K23, then don't worry because this guide will help you. We are here with a guide in which we have discussed about the steps for How to Import the Face Photos on WWE 2K23 Image Upload Mode. So, make sure to read the full guide to do it. Now, let's start the guide without any further ado.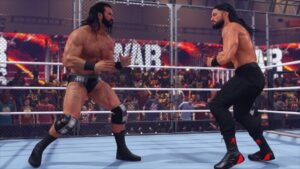 How you can Import the Face Photo on WWE 2K23 Image Upload Mode?
Below down we have mentioned the steps that you need to follow to Import the Face Photo on WWE 2K23 Image Upload Mode.
Step 1. You will have to link the WWE 2K23 with your Mobile
The first step you will need to do is take out your smartphone and scan the QR code that the game has provided. You can choose to link your WWE 2K23 account to the device of your choice. After you have chosen your platform, you will be prompted to add a photo of your choice.
Step 2. Click A Clear Photo of Yours
You can take a more professional-looking shot by using a tool like FaceApp, but you can also just take a typical selfie. Just make sure your face is visible in the shot and that it is well-lit, without glasses or facial hair in the way.
Step 3. Now, import your photo into WWE 2K23
After you have uploaded your photo, head to the Internet Menu in WWE 2K23. Now, you will have to select the Community Creations. After that, click on Image Manager. You can then import your most current images into the game.
Step 4. After that, select your Creation Option
Once your photo has been imported, navigate to Creations and pick your preferred option.
Step 5. Now, customize your selected creation
To add your photo to your Build A Wrestler in WWE 2K23, pick Face and then Face Photo Capture. Then, you can alter your character as you desire to make them appear like you.
Step 6. After that, Save Your Creation and then Get Ready to Wrestle
Once you have finished personalizing your wrestler, save your work and get ready to face the best in the WWE. You may design a superstar that looks and feels just like you thanks to the updated facial texturing and other customization possibilities.
Conclusion
This was all for the guide on How you can Import Face Photos on WWE 2K23 Image Upload Mode. We hope that with the help of this guide, you were able to import and upload your face. Do let us know in the comment section below about which wrestler you selected. Also, if you have any queries or questions, then do let us know in the comment section below. So that, we can help you in solving them and provide you with a guide on them.
Moreover, if you want more guides on WWE 2K23, then do check out our website.