Premium headsets from JBL are known as being among the best. You can find something for every user here, such as JBL Partybox if you're a party animal or JBL Quantum 100 headphones if you're a gamer. But today, we talk about the Quantum 100.
Well, due to its low price point, the Quantum 100 gaming headset does not boast a luxurious design or superior build quality. But, still, give you a feeling like a premium headgear. However, many users recently started complaining that their JBL Quantum 100 gaming headset is not working on PC, but that wouldn't be very difficult to fix.
Yes, you can resolve this issue just by performing some simple and easy methods. Therefore, if you find that your JBL Quantum 100 gaming headset is not working on your PC, here are some fixes to perform them.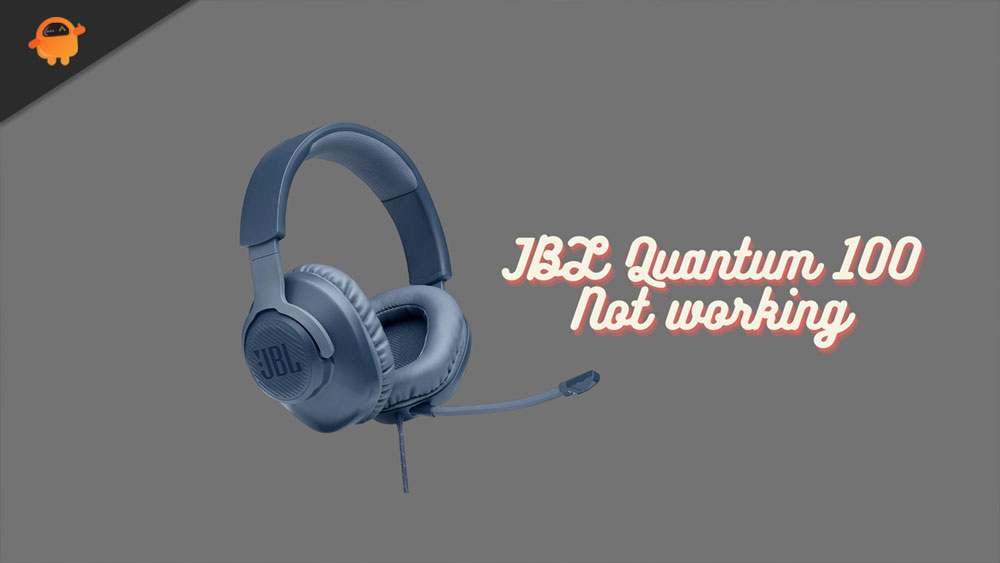 How To Fix JBL Quantum 100 Not Working on PC
So, here are some fixes that you can try in order to get rid of the JBL Quantum 100 not working issue. Therefore, if you are also encountering the same, make sure to follow these fixes to deal with it.
Fix 1: Reconnect Your Headset
Initially, we suggest you try reconnecting your JBL Quantum 100 headphones as possibilities are there that your device may not read the headset properly due to some random glitches. Therefore, when you unplug and then replug your headset, your PC starts recognizing it again, and then the not working issue gets resolved automatically.
Fix 2: Reboot Your Device
So, in case you have tried to unplug and replug the method, but the headset still doesn't work, then it is better to again unplug your headset and then power cycle your PC. However, do not plug in the headphones until your PC boots up completely.
Once done, you will find that your headset again starts working on your PC as your device software now recognizes it.
Fix 3: Make Sure You Haven't Mute
There are chances that you may have previously muted the speaker and forgotten to enable them from the Windows settings. Therefore, you must have to make sure to unmute yourself on your PC. However, to do so, you must use these steps:
Go to your desktop and click the speaker button. It will be at the bottom right corner of the screen.

Click on it and check if the volume slider is set to a minimum. If so, then slide it to the max and then check if your JBL Quantum 100 not working issue gets resolved or not.
Fix 4: Check If Your Audio Driver is Updated
Have you checked if your device's audio driver is updated or not? Well, in many cases, we have seen that when users update their Audio driver, this type of minor issue automatically gets resolved. Therefore, why not this time? So, to check if your audio driver is updated or not, you must follow these steps:
Go to the desktop and right-click the Windows button.

After that, select

Device Manager

from the pop-up list.

Thereafter, look for the

Audio inputs and outputs

tab and tap on it.

Now, right-click on your audio device manufacturer name and select the

Update Driver

option.
Once you have followed the instructions on your screen, wait until the process gets complete. However, once your audio driver gets updated, the not working issue gets resolved automatically.
Fix 5: Update System OS
Yes, an older operating system affects the computer's performance. Having said that, since the OS manages all processes, including backgrounds, you might not use certain apps or hardware processes, but they are adversely affecting your computer.
Your device may have a compatibility issue with your JBL Quantum 100 just because your operating system is not updated. To determine whether a Windows update is available for your device, you can follow these steps:
To know whether an update is available for your Windows device, click

Settings

.

Thereafter, from the

settings

menu, you'll find a list of options on the left side.

Windows Update

is the last option. Click it.

Finally, click on

Check for updates

to manually update Windows on the right pane.
Fix 6: Make Sure The Cable Won't Have Any Damage
Did you check if your headphone cable has some issues like cuts, damage, wear-tear, etc.? If not, you must first check your JBL Quantum 100 cable properly and suppose there is any damage occurring, except buying a new one is the last option.
Fix 7: Disable Audio Enhancements
In spite of the fact that third-party speaker manufacturers like JBL often use these enhancements, they typically emphasize quality over compatibility. But still, sometimes, it is possible that your device may have some compatibility issues with your headgears.
There are several reasons why the integrated audio enhancement feature of Windows can malfunction. Thus, the best way to find out if it helps is to first disable it. Here's how you can do that:
First, go to the

Sound Control panel

and click on the

Playback

tab.

By right-clicking the audio device, select the

Properties

tab.

Next,

de-select

the audio enhancements under the Enhancement tab.
Fix 8: Change Your Audio Device
In general, you should always check the device to which you have connected your speaker before dealing with anything sound-related issue, as the issue most often is not with your sound system but with the device. If your JBL Quantum 100 does not work when connecting to your PC, then you might need to follow these steps:
Restart your PC. If the JBL Quantum 100 not working issue does not resolve, it may be necessary to replace your audio device.

In order to do this, select the

Playback

tab in the

Sound Control Panel

.

Next, select

another audio source

.

After that, click

Set Default

.
Fix 9: Check For Dirt and Debris
There are chances that your PC's 3.5mm jack may have some dirt or debris due to which you are facing this problem. Therefore, we advise you to check and clean it by blowing air.
However, we do not recommend you to use tooth pin or sharp object to clear it as you may damage the pins located under the jack. So, once you have done cleaning, again connect your JBL Quantum 100 and check if the issue gets resolved or not.
Fix 10: Contact To Support Team
There's a chance none of the above solutions will work for you as the issue may be due to a different issue. If your speakers are under warranty, it would be good to contact the JBL official support page. So, you can use the given link to contact the JBL official support team and claim your warranty.
After that, depending upon your location, they will set a pickup date, and after repairing or replacing your headset, they will deliver the product to your doorstep. Therefore, you do not have to go anywhere to repair it. But, before that, make sure to read the warranty claiming terms and conditions.
Also Read: Fix: JBL Partybox Not Charging Issue
From Author's Desk
So, that's all on how to fix the JBL Quantum 100 not working on the PC issue. We are hoping that the troubleshooting methods discussed earlier in this guide have helped you. But, in case you still want to ask any questions or have any suggestions for us, make sure to comment below and let us know.