When you open your PC, you're welcomed by a blue screen saying that a problem has been detected, and the problem is "Kernel Data Inpage Error." In order to save your files, your computer shuts down. This blue screen error can happen to all Windows 10 users.
It is nothing but a result of Kernel Data Inpage Error, which is a Windows blue screen stop error with an error code 0x0000007a. First, we need you to log into your computer. If you are not able to do so, perform a hard reboot, and log into Safe Mode. Let's start with the tutorial.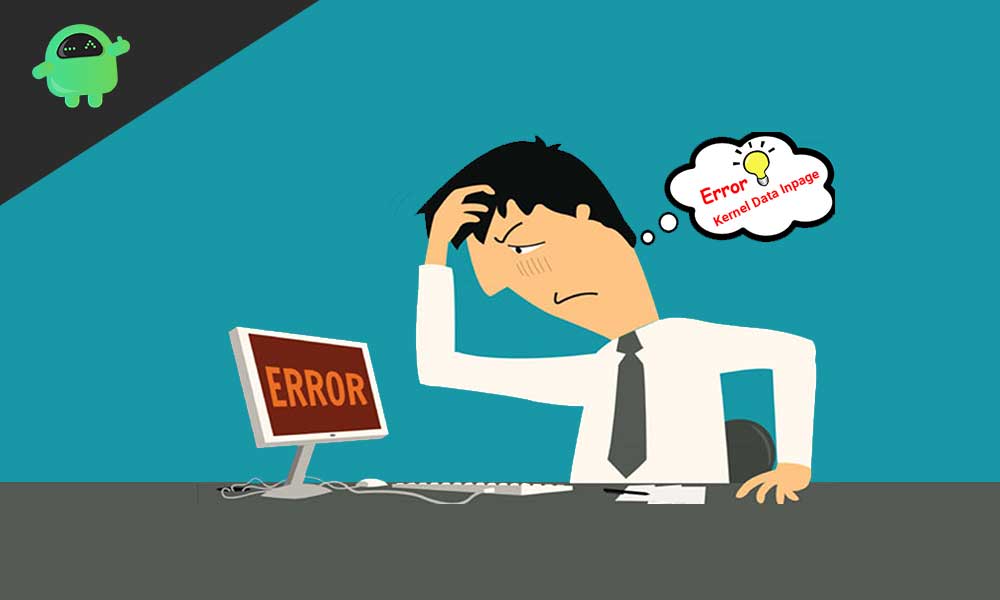 Reasons for Kernel Data Inpage Error:
The error happens due to the following reasons-
Virus infection
Hard disk error
Failure of RAM memory
Presence of a bad sector
Chances of error in the disk file system
Incompatible software installation, etc.
How to Fix Kernel Data Inpage Error On Windows 10?

We have listed below several solutions. Go through them and pick the one which suits your problem.
Restart your computer:
If the Kernel Data Inpage Error issue welcomes you, then the first general thing to do is to restart your computer. Restarting your Windows computer can save you if this is happening for the first time and as a result of any minor issue.
In case the reboot attempt fails, go down to the next method.
Perform an antivirus scan:
The simple way to do this is by running the Windows built-in antivirus software Windows Defender to scan and kill potential viruses that were causing trouble to your PC. But the most reliable method would be to use a third-party antivirus tool. You can use any top-rated antivirus. It will help you to kill the virus and give future protection to any malicious programs that can harm your data. You can also use MiniTool Power Data Recovery to recover any deleted files or lost data.
Fix the Error with CHKDSK (Test for Hard Disk Drive):
CHKDSK helps you with solving various file system errors and in repairing hard drive bad sectors. Follow the guide given below-
The first step includes opening the Windows RUN window. Press Windows key +R.
Then search for cmd and to run Command Prompt as an administrator, press OK.
The next step includes putting this command line:
chkdsk c: /f /r. Then, hit Enter. Keep it in mind that you must replace "c" with the exact drive letter of the operating system drive.
Performing a RAM Check:
If running the CHKDSK didn't fix the error, then you should check for any issues in the RAM. Here's a step by step guide:
Press Windows key +R to open the Run dialog box.
After that type "mdsched.exe" (no quotes), then click Enter.
You can click restart and check for any issues. You can check the status of your memory card. You can also go to the box that says, "Check for problems the next time I start my computer."
Restart your computer to see the Windows Memory Diagnostic Tool.
Fixing the error by changing the paging file management to automatic:
The issue can be happening by a bad sector in a paging file. You only need to follow these steps given below to fix this issue-
Start by launching File Explorer by pressing Windows key + E together on your keyboard.
By right-clicking select "Properties" from the options.
You must go to the left-pane menu to choose Advanced System Settings.
Then, from the Advanced Tab, from the Performance Category, go to the Settings.
Click the Advanced tab once again.
Before exiting, choose "Automatically manage paging file size for all drives."
Update the Device Drivers to fix the issues:
You should update all your device drivers to prevent any problems in the future. Any type of issue in the device drivers can cause the BSOD 0x0000007a stop code. Update the device driver by going to the manufacturer's website. You can download the right drivers for your PC. But this method does not apply to all. For a person with no tech skills can also follow this simple guide given below-
Press Windows key +X.
Go to the Device Manager and then select on Disk Drives.
By right-clicking, you can see the option for properties.
Go to the Driver tab, and here you can find the option "Update Driver." Click on this and wait for your device driver to update.
Uninstalling Incompatible or dangerous software:
There is a chance that a newly installed software or any third-party application is giving rise to the Kernel Data Inpage Error. To uninstall any problematic software follow these steps-
You can either choose the Control Panel shortcut key or press Windows key +R. Input Control Panel in the Run Window.
From the control panel, go to the Programs, then "programs and features." Finally, go to the "Uninstall a program."
Check the list below "Installed on" to see the recently installed programs.
Checking Hardware:
Kernel Data Inpage Error can also occur due to defective IDE/SATA cables or any dangerous external devices connected to your Windows computer. The best option is to check if the IDE/SATA cables are properly connected or not. Check on both ends. Remove the externally connected devices like printers or USB cord. Restart your system to see if the error is fixed.
There are several kinds of Blue Screen of Death (BSOD) errors. Kernel Data Inpage Error is one of those errors that are common but can cause extreme damage to your files. When any Windows computer suffers from a software or a hardware problem, the computer stops. It's a defense mechanism to save your precious information/data.
Kernel Data Inpage Error is a general computer endemic that many people face. You need not panic because there are many ways to fix this problem. We have provided you with different kinds of solutions. Use the one which suits you accordingly. If you have any queries or feedback, please write down the comment in the below comment box.