The Legends of Runeterra is a Card game for PC and Mobile devices. The Game focuses on Skills, Cleverness, and creativity. Hence all three are essential to determine your success. The game is based on strategies that you use. The gameplay is dynamic, and every action you make has a reaction. This means you can react to it and take countermeasures, so can your enemy. In this game, champions enter the game as powerful cards. If we play smart, they level up and get more abilities. But recently, the game is having issues while updating. Many users have reported about Legends of Runeterra error code 230104 where the update fails, giving error message "An Error Was Encountered for New Update" on the screen.
The game is addictive and fun to play with friends through the internet. But with such update issues, the fun is spoiled of many gamers. The game is around 600MB to download from the play store. Later, it will download and update the required files over an internet connection from the app itself. But many players have encountered some bugs or issues while updating the game from the app.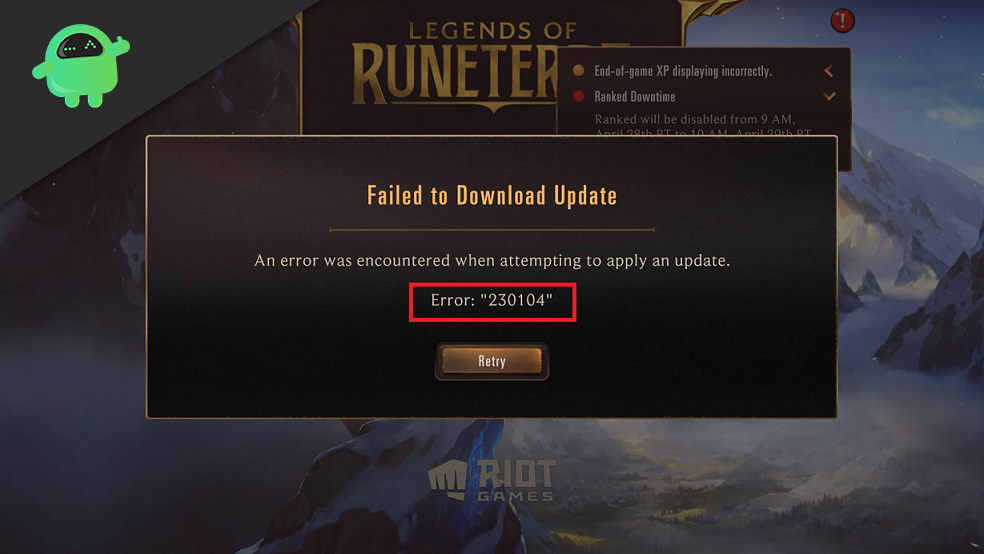 Fix Legends of Runeterra Error Code 230104 An Error Was Encountered for New Update
The game throws an error code of Error: "230104" along with the text "An error occurred when attempting to apply an update." This is because the app couldn't download the required files to update the game. The reason could be due to denied storage permissions or network-based. So to solve the issue, follow these guidelines, and find out which solves your issue.
Anyone else getting an error when trying to access the mobile version? from LegendsOfRuneterra
Storage Permission
Every app asks for permission to interact with your phone's hardware—for instance, Storage, Microphone, Camera, etc. The so-called permissions to be allowed for the specific app for it to function properly. If you didn't allow Storage permission for Legends of Runeterra, then the game won't be able to download files and store on your phone.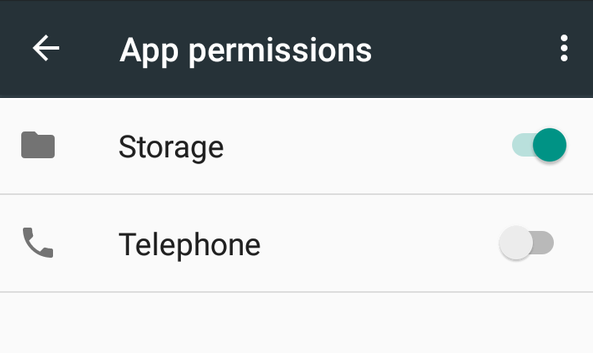 To allow storage permission Go to Settings>Apps and Notification > See all apps, then tap on our game and then tap on Permissions. Then enable Storage permission from there. This option may vary based on your phone; for some phones, you have to turn on the toggle switch; for some, you have to tap and select enable.
Check Pre-requirements
For the update to complete the update, your phone has to be in condition. You should have enough space left on your phone. Also, you should have at least 1GB of RAM free on your phone to enjoy the game. As you already know that internet connection is a must for the update to download, the connection should be stable and fast in order to download the update. So check on these facts and confirm everything meets the requirements.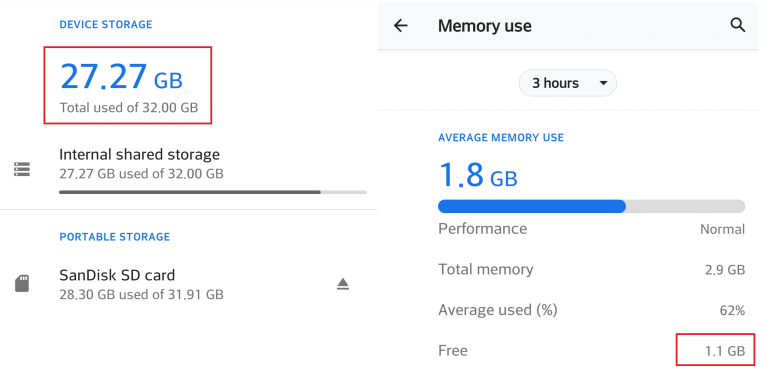 Background Apps
Some background apps running on your phone will interfere with the update process either by taking up system resources or by consuming most of your bandwidth. Close all unnecessary apps running in the background like Spotify, Whatsapp, Facebook, etc. and try the update process.
To close an app, Go to Settings>Apps and Notification > See all apps. Then, tap on the app you wish to close and click on Force stop.
Clear the app Data
Clearing an app's data will solve many issues. This clears any data that is corrupt, which prevents the smooth operation of the app.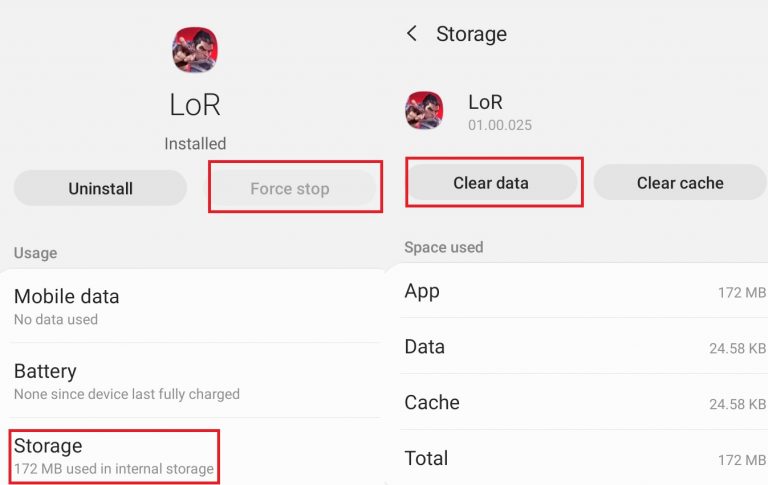 To clear the app data, go to Settings > Apps and notifications > All apps and tap on Legends of Runeterra and tap on storage, then tap on Clear Storage. It is also recommended to Force stop the app before clearing the data to relaunch the app in a new state.
Reinstall the app
If none of the above methods worked for you, the final solution is to reinstall the game. Go to app details as mentioned above and click on Uninstall. Now Open play store and Search for Legends of Runeterra, now click on install. This will reinstall the game. Once you've downloaded, launch the game, and it will start to update your game. Wi-fi connection is recommended, but you can also use Mobile Data if you wish.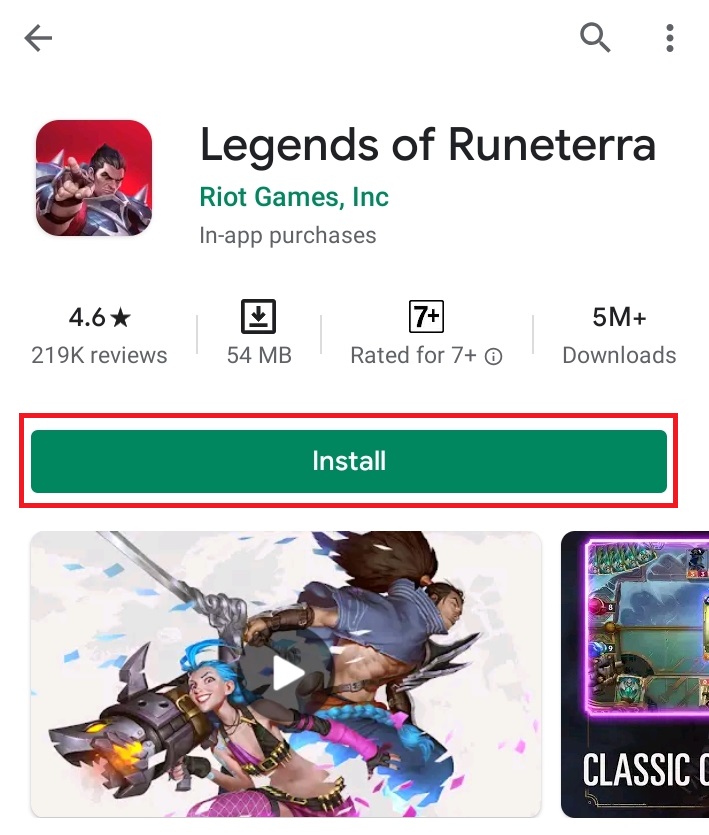 App source
If you installed any app from unknown or untrusted sources other than the play store, the game would not work properly. It won't also work in case of modded apps that you get from the web.
[googleplay url="https://play.google.com/store/apps/details?id=com.riotgames.legendsofruneterra&hl=en_IN"]
Hence it is always recommended to obtain apps or games from the play store or your manufacturer's app store. The apps obtained outside the store may contain malware that may cause problems on your device. Your device will be vulnerable if you sideload such untrusted apps.
Conclusion
So, these were the solutions to the update related issues with the Legends of Runeterra game for mobile. I hope your issue is solved. If these don't fix your issue, then it's an app-related bug that you might need to notify to the developer to fix the issue. Contact Riot games developer details are provided in the Google play store.