Logitech G Hub software is an easy way to manage and customize functionalities of the Logitech gears. You do not need separate software for customizing mice, keyboards, headphones, and other Logitech gears. The Logitech G Hub is the only software you need. Though the software works pretty well on Windows, some users face issues with Logitech G Hub. The common issue users report is that Logitech G Hub does not detect the headset, mouse, keyboard, or controller. If the software can't recognize any of your Logitech gear, keep reading this article, as we'll look at various methods to fix it.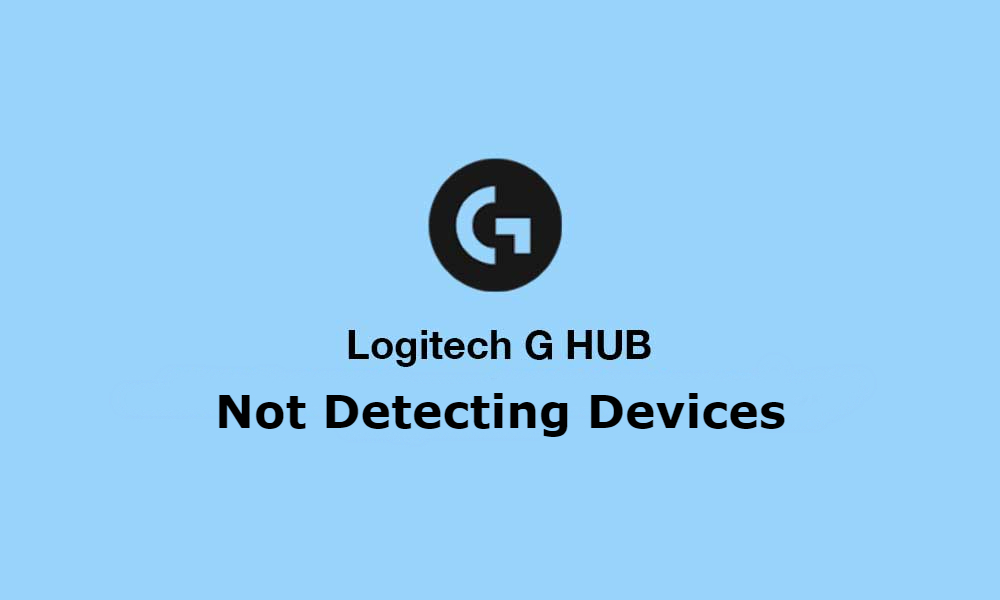 You can use the Logitech devices without installing the Logitech G Hub software on your computer and tweaking the settings. However, to get the most out of your Logitech gears, you need to pair the device with the app to use the customization features. For example, you can customize the RGB lighting, set custom DPI for each game, and more you can do with the software.
Let's now look at the solutions to fix the Logitech G Hub is not detecting the mouse, keyboard, controller, or headset issues.
How to Fix Logitech G Hub Not Detecting Headset, Mouse, Keyboard, or Controller
the Logitech G Hub can't detect the attached Logitech device to your computer if there's a software bug, system glitches, or outdated drivers. It could also occur if your computer is not running the latest Logitech G Hub software version. Below are some effective solutions to help you fix the problem. You might not need to test all the fixes. Simply work your way down until you find the one that scores.
Method 1. Reboot Your PC
Rebooting the computer cleans up the physical memory, temporary cache, and running processes. Not only can it fix minor software bugs, but your computer also becomes fast. This method can fix common problems. You should reboot or restart your PC and check if the Logitech G Hub software can detect your devices.
Method 2. Run Logitech G Hub As Administrator
By default, the software has limited access. Sometimes this limited access to resources becomes the source of the problem. Running the software as an administrator can fix the issue in such a case.
Something similar could be playing out with Logitech G Hub, as this method as worked for many users. Hopefully, it will work for you too. To run the software with admin rights, type Logitech G Hub in the search box, from the search list, right-click on the software and select Run as administrator. You should close the app first before trying this solution.
Method 3: Update Logitech G Hub Software
Your PC might be running an outdated version of Logitech G Hub. For the app to work, you need update it to its latest version. In addition to bug fixes, the latest version could also bring new features and improvements.
Method 4: Update Your Drivers
The Logitech G Hub software can't detect devices if an outdated driver is installed on your computer. Either you can updated specific device drivers through Device Manager, or updated all drivers at once using Windows Update feature.
Here's how to update a driver via Device Manager:
Right-click on the Windows logo and select Device Manager.
Expand Mice and other pointing devices. If you are facing an issue with your Logitech headset, expand the Audio inputs and outputs option. For issues with Logitech keyboard, expand the Keyboards option. In a nutshell, expand the list of the device you're having problem with.
Right-click on the device and select Update driver.
Click Search automatically for drivers.
Windows will look for driver updates. If found, follow the on-screen instructions to update the driver. If your computer already has the latest driver version, you'll see a message "The best drivers for your device are already installed".
Here's how to update drivers via Settings:
Open the Settings app and select Windows Update.
Tap on Advanced options.
Under Additional options, you'll find Optional updates. Tap on it.
Expand Driver updates.
Select the drivers updates and click Download & install.
Method 5: Reinstall Logitech G Hub
If you're still having issues with the Logitech G Hub software, you need to uninstall and install it again. It can fix connectivity issues.
Here's how to reinstall Logitech G Hub:
Open the Settings app on your PC.
Go to Apps > Apps & features.
In the search box, type Logitech G Hub. Or, you can scroll down to find the app.
Tap on the three-dot icon next to Logitech G Hub and select Uninstall.
Now, go to the Logitech G Hub download page, and tap on Download for Windows 10. Even though the download page says Windows 10, it works pretty well on Windows 11 computers as well.
Once the software has been installed, connect your Logitech device to the computer and launch the app. Check if the app can detected the your Logitech gear.
Method 6: Update Windows
There could be a software bug related to the connectivity of external devices. Windows keeps sending new updates that includes fixes to known issues and improvements. It can also bring new features. You should therefore update your Windows PC and check if it can fix the problem.
Steps to update Windows PC:
Open the Settings app on your PC.
Tap on Windows Update. Now, Windows will automatically check for new updates.
If updates are available, download them.
Restart your PC.
Once the PC is updated, launch Logitech G Hub, and connect your Logitech device.
Conclusion
Using a device with the default settings does not offer the experience that we get after customizing it as per our need. Logitech G Hub software does offer us customizations for Logitech products. It can be disappointing when you have a device and you can't customize it. Through this article, we looked at many ways to fix the Logitech G Hub not detecting headset, mouse, keyboard, or controller issue. Have any questions or suggestions? Write them in the comments section below and we'll get back to you at the earliest.